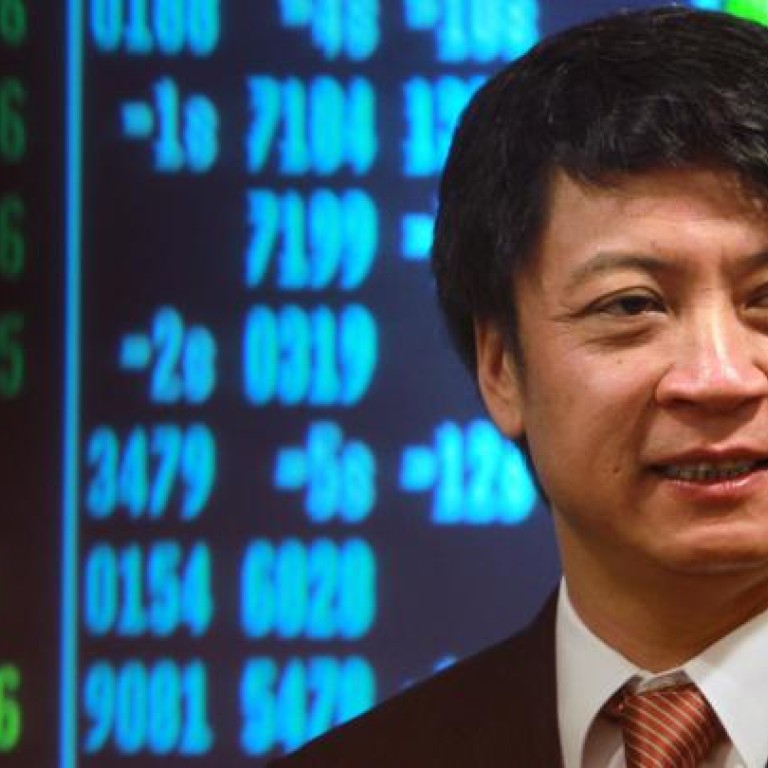 Sun Hongbin of Sunac, from jailbird to billionaire
Sun Hongbin rose spectacularly and fell hard: jailed and then cleared. More ups, downs and ups later, and he is now an inspiration to many
Sun Hongbin bills himself as a man who has successfully waded through the sometimes muddy waters of the mainland business world.
Sun, the chairman and chief executive of Sunac China Holdings, a Tianjin-based property developer, revels in hard work, and believes that he was born to do business.
"I feel that work is an enjoyable part of my life," Sun said. "Recreational activities and hobbies such as travelling are of no interest to me.
Sun, now 50, is hailed as a national hero in corporate China, and his comebacks from adversity have inspired thousands of mainland entrepreneurs.
He became a billionaire at the end of last year after the company's Hong Kong-traded shares more than trebled in price, as investors bought into the idea of a sustained recovery in Chinese property prices.
However, that success was not achieved without some tough times.
Sun obtained a master's degree in engineering from Tsinghua University in 1985 before joining the computer giant Lenovo, where he was highly rated by Lenovo's founding chairman, Liu Chuanzhi.
He was touted as one of the most promising business stars in China because of his talents and enterprising spirit, and was put in charge of the corporate development department of Lenovo.
However, Sun fell from grace shortly afterwards, found guilty of embezzling 130,000 yuan (HK$160,000) and sentenced to five years in prison.
After he was released in March 1994, Sun, a native of Shanxi province, appealed against his conviction, and in 2003 a judicial review found him innocent of the charge.
Today, Sun is happy to be questioned about his time in prison, saying that it taught him to be calm. "I didn't feel unhappy in prison," he says. "It was just a lot of toil and drudgery, but it wasn't enough to work you to death."
After coming out of prison 1994, Sun set up his own property agency, Sunco, in Tianjin, which expanded into property development after just a year.
Sunco's business tactics provoked ire among other major developers, who accused the Tianjin-based company of distorting land prices with its bold and aggressive bids.
In 2003 Sunco won a parcel of land for residential development in Beijing, offering a price that was 28 per cent higher than the second-highest bid.
He then entered into a war of words with Wang Shi, chairman of China Vanke, the mainland's largest developer of residential properties.
Sun openly flaunted his intention to surpass Vanke in terms of housing sales, but he became a laughing stock when his company ran into a capital crunch and he was forced to sell a majority stake in 2006 to Road King Infrastructure.
"A businessman can't be too smart," Sun says now. "A super-smart person will lose by the end of the day. I've learned to get back to simplicity and do businesses calmly."
Once again, Sun made a strong comeback. Sunac, which Sun had founded in 2003, prospered enough to successfully launch an initial public offering on the Hong Kong stock exchange in October 2010.
Sunac, backed by a clutch of investors, including Bain Capital, is now the largest developer in Tianjin and the No12 nationwide with annual sales of 35.64 billion yuan last year.
In January Sunac announced it was selling 300 million new shares to independent investors, looking to raise around HK$2 billion to optimise the company's capital structure.
"Sunac will still grow on a fast track in the coming three to five years," Sun says. "But for me, the growth rate, fast or not, is not a concern any more. I've experienced failures and I just enjoy being a workaholic now."
Sun says he strongly believes that opening his mind to optimism can help him seize opportunities ahead.
In June last year, Sunac bought some of the assets of the then debt-ridden Greentown China, when mainland developers fell victim to Beijing's clampdown on the property sector.
The deal was described by Greentown's chairman, Song Weiping, as support from Sun, rather than a co-operation.
Sun, admitting that he was turning a blind eye to the measures being brought in by Beijing to try to cool the property market, says he believed Greentown's assets, enhanced by the company's principle of building quality houses for mainlanders, were worth investing in.
He says he is still bullish on the long-term outlook for China's property sector, because of people's increasing demand for improved housing conditions.
"China's mega-cities, like Shanghai and Beijing, could each have a population of more than 50 million," Sun says. "With support from sustainable industries in these metropolises, the property market will keep growing."
He believes strongly that opportunities abound in the mammoth mainland market: "The setbacks I have suffered in the past were more than enough to teach me how to avoid making mistakes in future."
This article appeared in the South China Morning Post print edition as: From jailbird to billionaire