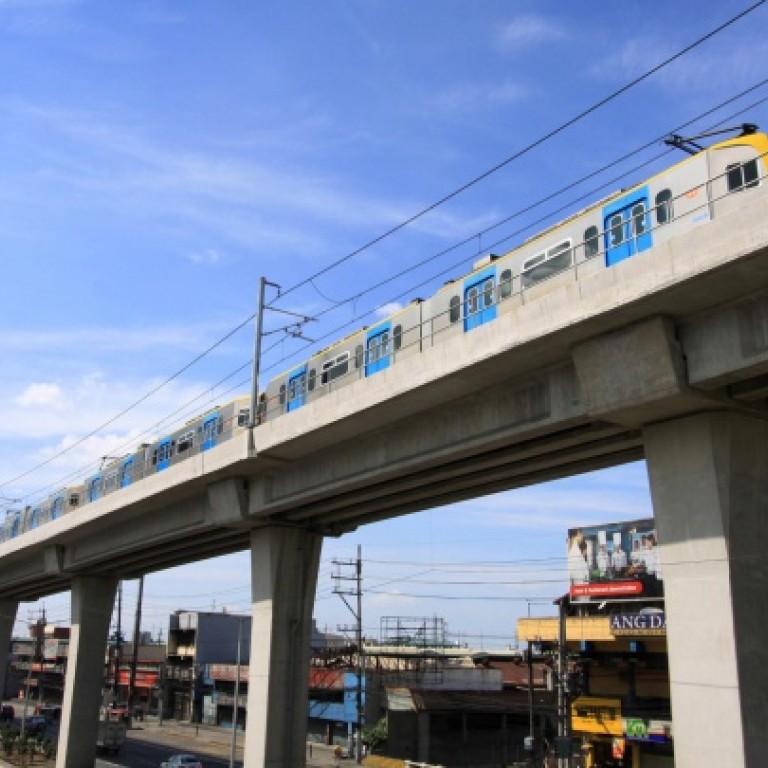 Chinese bidders on a roll with Asia rail projects
With China's achievements as a model, manufacturers and construction firms are fanning out across the region in the hunt for contract billions
Chinese companies are seeking to win a share of the billions of dollars of upcoming rail contracts in Asia, including a metro line project in Manila.
The companies had expressed interest in winning transport contracts in the Philippines, said Rene Limcaoco, undersecretary of the Philippine Department of Transportation and Communications, at the recent Asia Pacific Rail conference in Hong Kong.
Some Chinese companies, in particular, were looking at the project to extend Manila's metro Line 1 by 12 kilometres, which would cost US$1.48 billion, Limcaoco said. The financial tender for the project would start in a few months, and the extension was scheduled to be completed in 2017, he said.
Chinese companies were also interested in supplying train coaches to transport projects in the country, he said, without naming the projects.
Other projects in the Philippines include a 4.2km extension of Manila's metro Line 2, costing US$238 million with an expected completion in 2016, and the supply of 48 railway cars to Manila's metro Line 3, at US$109.8 million. Delivery is expected in 18 months.
Ties between China and the Philippines have been tested by arbitration in Hong Kong between the Philippine government and state-owned China National Machinery and Equipment over the aborted US$500 million North Rail project near Manila. In January, the Philippines launched arbitration at a United Nations tribunal to challenge China's claim to virtually the entire South China Sea, despite Beijing's objections.
Limcaoco dismissed the North Rail dispute as purely a business issue. "The politics should have no repercussion on the projects."
Separately, the Cambodian and Chinese governments were discussing Chinese financing for a 250km railway from the Cambodian capital Phnom Penh to the Vietnam border, costing US$780 million, said Sokhom Pheakavanmony, secretary of state of the Cambodian Ministry of Public Works and Transport. This railway will be part of a planned line linking Singapore, Malaysia, Thailand, Cambodia, Vietnam and Laos with Nanning, the capital of Guangxi Zhuang Autonomous Region in southern China.
For Thailand, Chinese companies had expressed interest in virtually all the planned metro rail projects in Bangkok, said Yongsit Rojsrikul, governor of the Mass Rapid Transit Authority of Thailand (MRTA). The Thai government has budgeted US$21 billion to build 230km of metro railway in the Thai capital by 2019. The rate of metro rail construction from now till 2019 is 12 times faster than that from 1996 to 2004, said Yongsit. "It's a big jump."
One of the proposed Bangkok metro rail projects includes the US$2 billion Pink Line, a 34.5km monorail, said MRTA technical director Somprasong Suttayamully. Bidding for the Pink Line would take place later this year, with completion targeted for 2017, said Somprasong.
CSR, a mainland state-owned train maker listed in Hong Kong and Shanghai, is interested in supplying trains to the Pink Line, while a Chongqing railway company was keen to partner CSR in the project, Somprasong said.
Somprasong led a delegation of MRTA officials to Chongqing recently to look at the city's monorail system, at CSR's invitation, he said. "CSR is exploring to provide the same system in Thailand. We're happy with the results. I like that monorail. I like the design and comfortable ride. The quality is okay."
CSR executives had further talks with MRTA officials in Bangkok, Somprasong said.
Chinese companies, and European and Japanese rivals, were keen to build a high-speed railway in Thailand, said Prasert Attanandana, deputy governor of the State Railway of Thailand. At the end of this year, the Thai government will call a tender to build four high-speed rail lines for a total of 400 billion baht (HK$104.6 billion), said Prasert. "The Thai government has forecast a lot for high-speed rail."
With trains running at up 250km/h, the four high-speed rail lines will link Bangkok with regional centres, with the longest line at 745km reaching Chiang Mai in the north. However, the Thai government did not envisage a high-speed railway linking Bangkok with Laos and China, Prasert said. The high-speed rail lines were expected to be built within 10 years, he said.
Meanwhile, train manufacturer CNR Changchun Railway Vehicles exported six billion yuan (HK$7.49 billion) of rolling stock last year, up from about 4.5 billion yuan in 2011, said Ma Lie, the sales director of the state-owned company. Exports account for 25 per cent to 30 per cent of the revenue of CNR Changchun, a subsidiary of China CNR, a Shanghai-listed rolling stock manufacturer, Ma said.
Chen Renrui, assistant to the general manager of CNR Changchun, said: "Southeast Asia, the Middle East and Latin America are our major markets. We have also exported 626 carriages to Australia."
In Chennai, India, Shanghai Underground Construction Group was part of an international consortium building a 4km twin tunnel, as part of the 45km Chennai Metro Rail Project, said V. Somasundaram, the chief general technical manager of Chennai Metro Rail. Costing US$3.5 billion, this would be the first metro line in the southern Indian city. It is scheduled for completion in 2015.
This article appeared in the South China Morning Post print edition as: Mainland bidders on a roll with Asian rail push