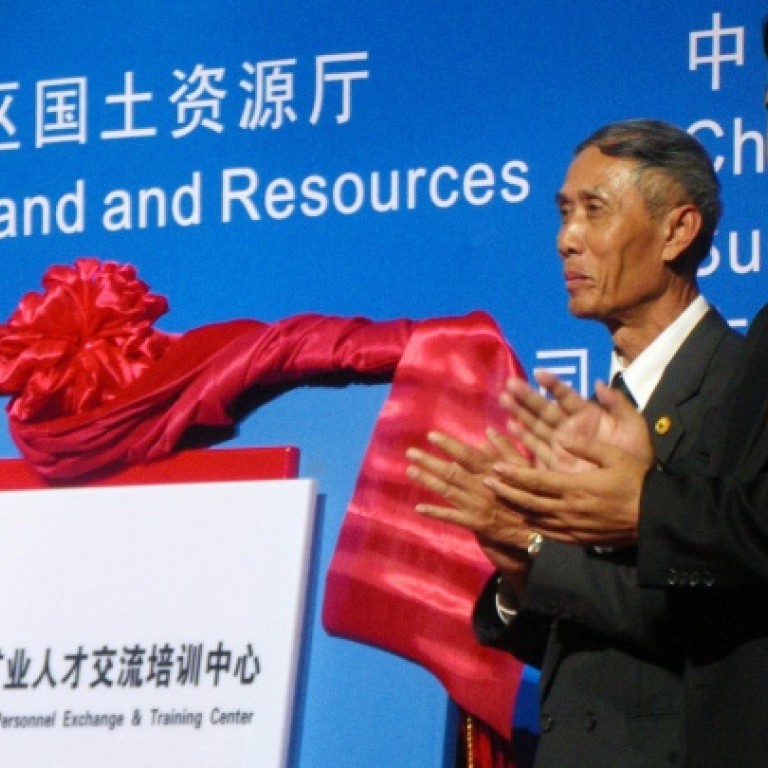 Laos looks to Beijing for minerals help
Country needs aid and assistance in surveying its mineral wealth as it struggles with finding the resources to regulate its mining industry
Laos is seeking Beijing's help to conduct detailed surveys of its mineral wealth, to help bolster the country's ability to regulate its mining industry, currently rife with firms looking for short-term trading gains.
Less than 5 per cent of the 355 mining projects that have been granted mining licences in Laos have met their contractual exploration commitments to the government, said Somboun Rasasombath, vice-minister of energy and mines in charge of minerals mining regulation.
Many of the companies are trading and investment firms, which are sitting on their exploration licences waiting for their projects to be bought out by others at a premium.
"Most of these firms have done a poor job in delivering their promises, while some have caused environmental damage and affected the livelihood of our communities," Rasasombath said.
Some firms have managed to extend the validity of their exploration licences to more than 10 years, although they are supposedly not extendable after six years, as Vientiane has taken an accommodative attitude in the past to encourage more investments.
The existence of a large number of unexploded cluster bombs in Laos, dropped by the United States during the Vietnam war, means investors have to spend money to clear them before mining.
The government of Laos, a sparsely populated and land-locked country surrounded by China, Vietnam, Thailand, Myanmar and Cambodia, suspended approvals of new mine exploration licences in June last year until 2015.
"Our government has approved too many projects in the past, which our regulatory resources cannot cope with," Rasasombath said. "We also need to improve laws related to mining and better train our staff to thoroughly review all 355 projects on their progress."
With a land mass the same size of Guangxi Zhuang autonomous region, the country's population of 6.5 million is one-seventh that of Guangxi.
It has ample resources of gold, copper, iron ore, potash, lead, zinc and sapphires.
Rasasombath said he would ask the Chinese vice-minster of land and resources, Wang Min, when he met him on Friday at the China-Asean Mining Co-operation Forum for China to give Laos aid to conduct a more detailed survey of its mineral resources.
For that support, the Laos government would give mainland firms priority when approving their applications for mine development rights.
The Laos government only has a rough idea of the locations of many mineral deposits, since it lacks the resources to conduct detailed prospecting and had to rely on preliminary geological surveys conducted many years ago by countries such as France, Russia, China and Britain.
It once set up a geology bureau but was hampered by a lack of funds, experts and technology.
"A lack of knowledge about our mineral wealth meant it was difficult for us to challenge our investors, even if we suspected some of them were lying about the amount of work they had done and the resources they had found," Rasasombath said.
"My advice to would-be investors is that they'd better conduct their own geological work before purchasing any projects."
Liu Jianmin, the vice-president of China Poly responsible for the state-owned conglomerate's new overseas mining ventures, said the company had recently invested in a gold mine in Laos which its partner has already conducted exploration on for four years.
Liu said he hoped the mine, the company's first mining project, would enter production within three years and the investment budget would not exceed one billion yuan.
Hao Chuanfu, vice-president of the state-owned China Minmetals Non-ferrous Metals, the parent of the Hong Kong-listed MMG, said MMG had no new exploration projects in Laos but would seek to expand on its Sapon copper mine.
The mine's output grew 7.1 per cent last year to 85,150 tonnes. With sales of US$806 million and operating profit of US$491 million last year, it contributed 9 per cent of Laos's gross domestic product and 20 per cent of the government's revenue.
Hao said MMG is also conducting exploration for bauxite in Indonesia and copper in the Philippines.
This article appeared in the South China Morning Post print edition as: Laos looks to Beijing for minerals help