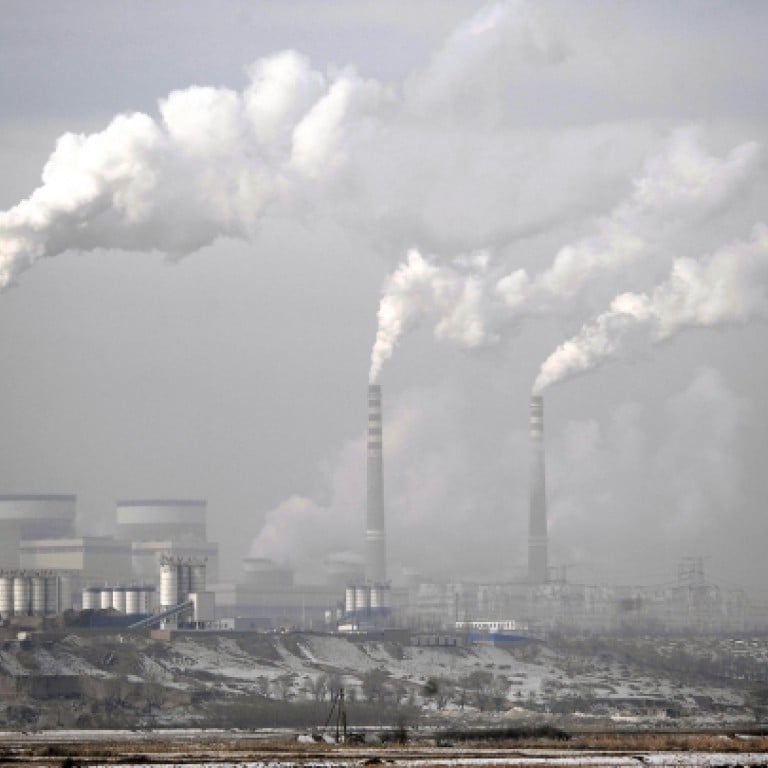 Carbon trading with Chinese characteristics
Mainland's cautious steps towards a nationwide scheme skirt around EU-style caps on emissions in sticking to a path that safeguards growth
From economic reform to the internationalisation of its currency, the mainland is known for its step-by-step approach, with "Chinese characteristics".
Controlling carbon dioxide emissions is no exception.
In the European Union, the world's first region to impose a "cap-and-trade" system on carbon emissions in 2005, more than 11,000 power stations and industrial plants have been subjected to caps that are reduced over time. This will see the region achieve its self-imposed goal of cutting emissions in targeted sectors by 21 per cent in 2020 from levels in 2005.
To leave room for economic growth, Beijing has not agreed to binding caps on its emission volumes, but has set a target to cut emission intensity - carbon emissions per unit of gross domestic product - by 40 to 45 per cent by 2020 from the 2005 level.
"China cannot impose absolute caps like in the EU as it needs to leave room for growth, including that of heavy industries," said Wu Changhua, greater China director at The Climate Group, a not-for-profit organisation that campaigns for action to mitigate climate change.
But sharp reductions in emissions will be needed since the mainland has relied too heavily on exports and materials- and energy-intensive industries to drive economic growth, resulting in unsustainable growth and severe pollution. The public's tolerance of air pollution was pushed to the limit in January when Beijing was shrouded in dense smog, with concentrations of PM2.5 - inhalable particles less than 2.5 microns in diameter that can damage health - in one 24-hour period reaching almost 40 times the safe limit recommended by the World Health Organisation.
Beijing said in August the mainland would spend US$372 billion on conservation and anti-pollution measures by 2015.
To reach its carbon emission target, Beijing has called for pilot exchanges to be set up in Shenzhen, Beijing, Shanghai, Tianjin, Chongqing and the provinces of Guangdong and Hubei, so that cap-and-trade market mechanisms can be rolled out.
A national exchange is envisioned between 2016 and 2020 to cover other regions, including those with heavy exposure to energy-intensive sectors like metals smelting. Some are suffering losses due to overcapacity.
The Shenzhen Emissions Exchange, which on June 18 became the first of the seven pilot carbon exchanges to go online, said it would impose emission caps on 635 industrial firms and 197 government buildings that contributed 40 per cent of the city's total carbon emissions in 2010. They are estimated to have each emitted more than 5,000 tonnes of carbon dioxide last year, based on power and fuel consumption data obtained from state-owned energy suppliers. The scheme will gradually expand to cover the transport sector and other buildings.
The caps require the emitters to collectively cut their carbon intensity by 6.7 per cent a year between this year and 2015.
Shenzhen is the first of the seven pilot exchanges to pass local legislation to compel targeted emitters whose emissions exceed their quotas to buy emission rights from those whose emissions are short of their quotas. Otherwise, they will be liable to penalties three times the market price of the quotas. By extending mandatory caps to more targets, increasing the types of emission products traded and coverage outside Shenzhen, the exchange said it aimed to "build a trading system with Chinese characteristics and national impact".
Wu said the mainland had learned from the EU's experience and had left more flexibility in its trading system so that it could adjust demand and supply of quotas and maintain incentives for emission reduction. In the EU, where the caps are on absolute emissions and not tied to economic volatility, the recession depressed emissions more than expected and resulted in a build-up of excess quotas and sharp drops in their prices.
The European Commission has said the surplus "risks undermining the orderly functioning of the carbon market" could limit its ability to meet tougher emission cut targets in a cost-effective manner in the longer term. It is considering options to restore the balance between demand and supply.
Another example of the mainland adopting a different approach to the EU was explained by David Tang Yue-tan, secretary of the board of the Tianjin Climate Exchange, which aims to start trading before the end of the year.
He said many of the mainland's pilot emissions exchanges would adopt a "hybrid" approach, targeting both direct emissions - from the burning of fossil fuel and from industrial processes - and indirect emissions attributable to the use of power and heat. This is different from the EU, where only direct emissions are targeted. Unlike in the EU, mainland power and heat prices are regulated and higher compliance costs may not be passed on to end-users. To give incentives to end-users to reduce energy consumption, they will also be targeted.
Wu said Beijing was also considering separate "sectoral regimes" to drive emission reduction in some heavy industries on a national basis, so that their individual circumstances - including financial health - were taken into consideration. Such industries are often dominated by large, national state-backed firms.
Tom Luckock, a Beijing-based lawyer, said that while heavy industries in Australia, the United States and Europe had been successful in lobbying their governments to be more lenient when imposing carbon emission reduction requirements on them, Beijing seemed inclined to push through with reduction schemes despite some hardship for such industries. But the burden would not be too heavy for at least a few years, he said.
Luckock works at international law firm Norton Rose Fulbright, specialising in renewable energy and water-sector cases. "The government needs to balance avoiding too much hardship for these sectors, and forcing them to move to nations without carbon limits," he said.
This article appeared in the South China Morning Post print edition as: Carbon trading with Chinese characteristics