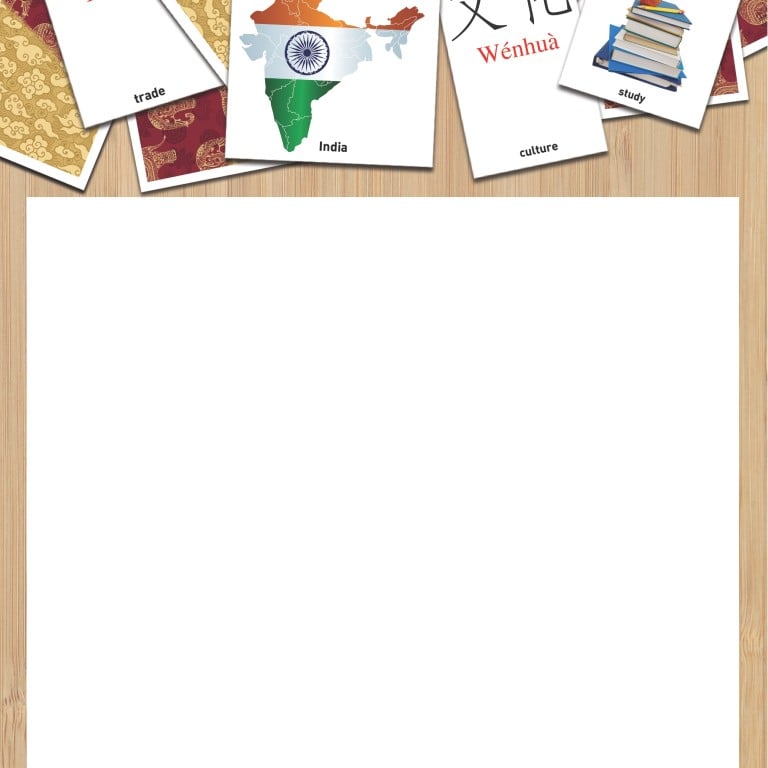 Sino-Indian trade is growing fast, and driving a boom in Putonghua-language schools among professionals and entrepreneurs in China's giant neighbour
The 21st floor of Mumbai's landmark Trident Hotel overlooking the Arabian Sea carries an uncharacteristic whiff of tobacco, which the Thai aroma-oil lamps lining the five-star hotel's lift corridor have failed to tame.
Plumes of cigarette smoke waft out into the corridor through the slightly ajar door of Room 2109. Closeted in the room are Zhejiang businessman Li Liangguo and his entourage, in intense negotiations with Ajoy John, an Indian supplier who owns a Hong Kong company that operates in Yiwu. Li's Jinjiu Crystal Ornaments is looking to source earrings from India through John's AVH International (HK).
At the centre of the talks in the smoke-filled room is Kevin, an eager twenty-something translator flown in from Beijing for the meeting. It's Kevin's language skills that will determine how well John and Li understand each other and cut through the maze of offers and counter-offers to reach a deal - a heavy task for young Kevin's slender shoulders. And, given his halting English, a fairly risky one at that.
A few blocks away, in a classroom on the second floor of the city's hallowed St Xavier's College, that's the kind of risk Kavit Mehta is trying to eliminate. That is why the 27-year-old Mehta, who runs his family-owned drugs supplier KD Life Sciences, opts to spend his Sunday afternoons attending Putonghua classes.
"I'm totally dependent on my translators and have no idea what the other side is discussing among themselves in a negotiation. I could secure much better deals if I knew Chinese," says Mehta. "Familiarity with a language also helps in establishing a personal rapport, which is now absent in my relationship with Chinese vendors. That's not good for business."
KD Life Sciences deals in active pharmaceutical ingredients, or bulk drugs in industry parlance. As over half of bulk drugs used by Indian pharmaceutical companies come from China, Mehta's profits depend largely on the margins he can wring out of his Chinese opposite numbers - or rather, the margins his translator manages to secure for him.
Mehta is among the 70-odd students who have been gathered in two separate classes - beginners and advanced - for a language training programme run by an organisation imaginatively named Inchin Closer, which describes itself as the "premier India-China language and business consultancy".
India-China trade, which was a mere US$2.92 billion in 2000, shot up to US$66.57 billion last year, with both sides aiming to take it to US$100 billion by next year. Impressive as the growth may be, especially given that India and China officially resumed trade only in 1978 after severing all contacts following the 1962 border war, it falls far short of the potential given the size and proximity of the Asian giants.
India accounted for just 1.72 per cent of China's overall trade and 1.1 per cent of China's total imports last year, an indicator of the room for growth that young entrepreneur Nazia Vasi is looking to turn into money with Inchin.
"Bilateral trade will be driven by small and medium-sized enterprises. These are the companies we are trying to reach. Besides, large companies either go to top consultants or have their own teams," says Vasi, Inchin's co-founder and chief executive.
Vasi was a financial correspondent with newspaper when she "decided to find out what the big deal was with China". She quit her job in 2006, went to Shanghai and took a job as an English teacher on a whim. She immediately fell in love with the city.
After living there for three years, learning Chinese at Fudan University and travelling extensively in the country, she decided to come back to India and set up Inchin along with Xiaojie Wang.
Wang had lived in India for four years, working as a corporate strategy manager for Indian firm Mahindra & Mahindra.
The idea was to create a unique business-cum-cultural platform helping Indian and Chinese companies explore each other's markets without losing much in translation. Inchin has handled language lessons for about 20 companies, many of them asking for customised courses for their staff to fit their business needs.
"For example, we have a running contract with the Taj group of hotels because a lot of Chinese tourists are coming to India now. We teach them elementary Chinese needed for check in, check out, laundry, room service, etc. We also coach them in Chinese hotel etiquette, such as arranging hot water for tea, and simple things like not putting four of anything in the room," she says.
Apart from the corporate clientele, a look around Inchin's classroom reveals how individual Indians are taking to learning Putonghua, not just for the opportunities in China but also for professional advancement in an increasingly Sino-centric global economy.
Tarun Gupta, a foreign exchange dealer at Axis Bank believes Putonghua will increase his options. "The first thing employers in Hong Kong, Singapore, and even in the US these days, want to know is whether you know Chinese."
Girish Pai, a stock analyst, is preparing for the day when "the Chinese stock market becomes the most important in the world" and "Chinese and Indians begin to invest in each other's stock markets". His Chinese-language skill, he says, will help him "stand apart in the crowded market".
Shiv Putcha, a technology research consultant at Ovum, sees Putonghua skills as a social lubricant. "If you go to Beijing to talk to a start-up, it makes no difference if you speak only English: that is, after all, the default language of business. But when you are at a post-meeting banquet with the same people, even a few words in Chinese make a difference. It creates a whole new comfort level."
Prashant Narayan agrees. He is a strategic consultant at management consultancy multinational Accenture, who says much of his company's business now comes from Asian centres like Hong Kong, Singapore and mainland China. "Some familiarity with the language helps bond with the client, and it's true for all cultures. Initially it was difficult but I have made my peace with tones."
Narayan is no exception. Karen Ma, who teaches Putonghua at an international school in New Delhi, says she sees that kind of easy adoption of Chinese all the time in India. "Indians are naturally better at picking up languages, as they live in a multilingual society," she says.
The Anthropological Survey of India lists 25 scripts and 325 languages in India, and finds more than 65 per cent of its communities are bilingual, with many even trilingual. It's not uncommon for middle-class urban Indians to grow up learning three to four languages, including English.
"We are either visually oriented or good at listening. In Chinese, you have to be both, which is why you don't have that many natural Chinese learners. Indians are an exception," says Ma, a naturalised American originally from Qingdao.
But in the course of her teaching career, she has often found that the Indians are the most interested in learning. Chinese are generally the ones looking to do business in China rather than seeking to explore an alien culture.
"The problem is, the pursuit of Chinese language is mostly commerce-centric here," she says. "Most people want to learn it as fast as they can, and take the next flight to Guangdong. I once taught at a Chinese-language school that didn't even bother with the tones. They said it takes too much time."
Kong Lu, a teacher at Inchin, has also noticed the emphasis on the spoken language. But she says that's because Indians pick up that part of the language more quickly.
"There are similarities in pronunciation, so speaking comes easily," Kong says. "But since they come from a background of alphabet-based languages, they struggle with characters."
To aid a wider and more thorough adoption of the language, the Indian government is pushing Putonghua in schools. The country's Central Board of Secondary Education (CBSE), which has more than 11,000 affiliated schools, has introduced Putonghua from the sixth grade. It is getting 25 teachers from China for schools in New Delhi from this month with the help of Hanban, or the Chinese National Office for Teaching Chinese as a Foreign Language.
Under an agreement signed last year, 300 secondary school teachers will go to China to take a half-year intensive language training course, while Chinese experts will come to India and help the CBSE develop a Mandarin curriculum.
Similar initiatives are afoot elsewhere in the country. Mumbai University, for example, in July launched India's first Confucius Institute. The project, in collaboration with the Tianjin University of Technology, will also fly in teachers from China.
Jawaharlal Nehru University, Delhi University, Vellore Institute of Technology and The School of Chinese Language in Calcutta are among other centres offering Putonghua lessons.
But getting native speakers from China to teach, as Inchin already does, is a relatively new trend as more and more Indians take to Putonghua. Inchin's student intake has grown 200 per cent in the last six months.
A lot more Indians are also heading for China these days to learn the language.
"When I was studying Chinese in Shanghai in 2007, I was the only Indian there doing it. Now you'll see a lot more," says Vasi.
Clearly the competition is heating up for her. But so is the market, and Inchin will not let its first-mover advantage go to waste.
"Employment opportunities for Mandarin speakers have increased exponentially, with companies looking for talent familiar with Chinese language and culture. We plan to enter two new cities this year and be in five by 2015," she says.
This article appeared in the South China Morning Post print edition as: Learning the lingo