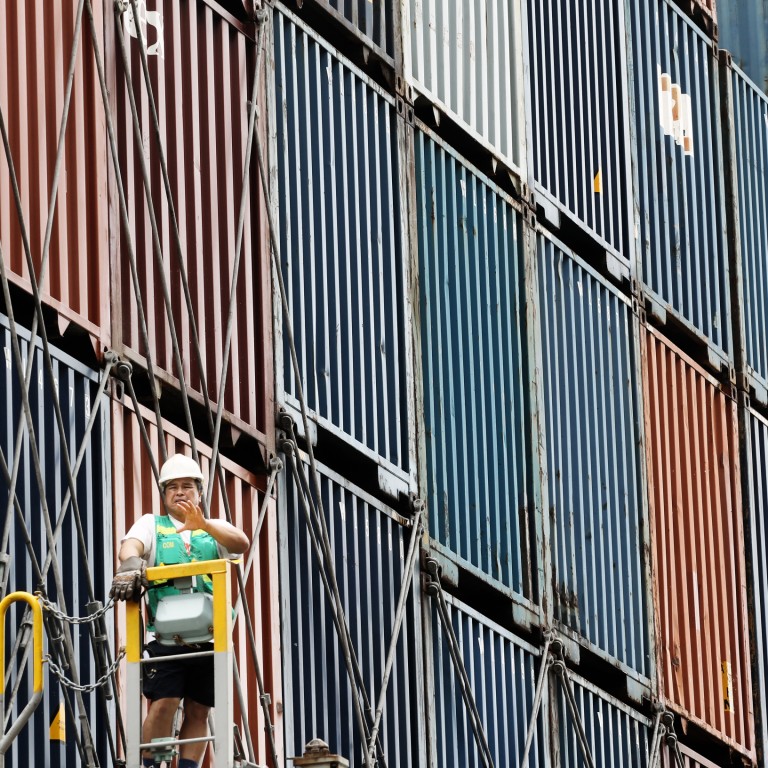 Hong Kong port loses out to bigger berths in Shenzhen
Tight space at Kwai Tsing container terminals will see shipping alliance deploying its larger vessels to newer port facilities in the north
Hong Kong port could lose further business to Shenzhen because an alliance of three shipping companies would need bigger berths for their large vessels and more space at their docks.
The consolidation of Maersk, CMA CGM and Mediterranean Shipping Co (MSC), which has been dubbed P3, would lead to a cut of 10 sailings per week from 18 at the Kwai Tsing container terminal, said Sunny Ho Lap-kee, the executive director of the Hong Kong Shippers' Council, quoting a report by shipping consultant Alphaliner.
The packed layout of berths and shorter berth lengths at Kwai Tsing, which opened in 1972, means only 15 of the 24 berths in Hong Kong can accommodate large container ships or vessels carrying 11,000 to 18,000 20-foot equivalent units (teu).
The port facilities in Shenzhen are newer and can handle large vessels.
"The area of hinterland per berth at Hong Kong is just half of the international standard because of the acute shortage of land," Ho said. "Bunging (congestion) is very serious in Hong Kong even though our throughput was down last year."
A port operator in west Shenzhen said its business would increase after P3 was up and running.
"The number of calls to Shekou will increase according to the new rotations deployed by P3," said David Deng, a vice-president of China Merchants Holdings International. "Some ports will face call cuts while others will benefit from the consolidation."
Shenzhen overtook Hong Kong as the third-busiest container terminal in the world last year by handling 23.3 million teu.
Hong Kong, which handled 22.3 million teu last year, saw shipments diverted to Shenzhen during a strike at the dock last summer.
Gerry Yim Lui-fai, the chief executive of Singapore-listed HPH Trust, said it had been talking to CMA CGM and MSC on how to improve their productivity. He said the P3 members were all "adequately served" in Hong Kong.
The P3 shipping alliance, which has yet to be approved by mainland China, European Union and the United States, is likely to have a 37 per cent share of the Asia-Europe trade and 24 per cent of the transpacific trade.
The rationalisation of the services of P3 members, with 255 vessels on 29 loops, will come through consolidation in vessel rotations and the replacement of small vessels with bigger ships.
Maersk operates a Triple-e vessel, which has a capacity of 18,000 teu, which will require a deeper berth to dock. Dredging will be done in Kwai Tsing in the next two to three years to deepen the berth.
The Tonggu channel in Shenzhen is also being dredged to make it deeper and this will be completed in April to allow Triple-e vessels to use the port.
This article appeared in the South China Morning Post print edition as: HK loses out to bigger berths in Shenzhen