Tencent
Get more with myNEWS
A personalised news feed of stories that matter to you
Learn more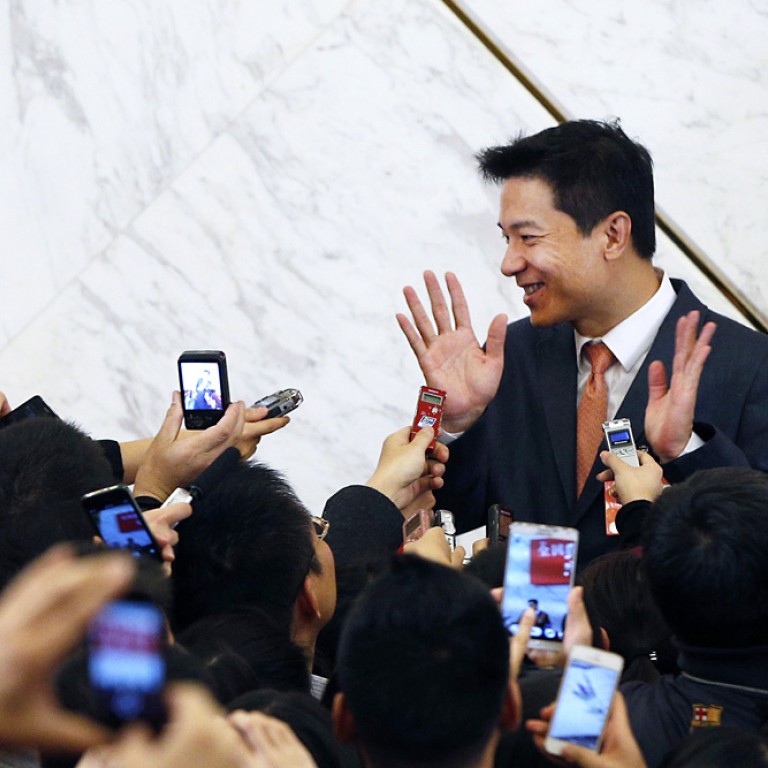 Baidu cautious on acquisitions as giants rush to strike deals
While Tencent and Alibaba set the pace on acquisitions, the search giant is easing up as it hones a strategy that favours controlling stakes
China's internet sector recorded its busiest period for mergers and acquisitions last year as cash-rich online giants Tencent, Alibaba and Baidu led the way with a spate of major transactions.
It could be a busier period this year, except for online search kingpin Baidu's apparent decision to slow down the pace rather than join its peers in a pell-mell rush to strike deals.
There was no bigger acquisition in the market last year than Baidu's takeover of mobile applications platform 91 Wireless, a subsidiary of online games developer NetDragon Websoft, for US$1.9 billion.
That transaction, which was executed in July, was considered an "important turning point" because it helped boost overall market sentiment and set a high bar for valuation in acquisitions, Alicia Yap, the head of China investment research at Barclays, said in a report.
Yet Baidu has opted to remain quiet on the acquisition trail after making other significant purchases a year ago, including online video platform PPS, group-buying site Nuomi and Beijing Huanxiang Zongheng, the online literature business of games company Perfect World.
"Baidu is trying a different approach. So far this year, Baidu has not been as active as either Tencent or Alibaba," said Jeff Hao, an analyst at China Merchants Securities.
Tencent, Asia's largest-listed internet company, made deals to buy stakes in integrated logistics operator China South City in January, restaurant review site Dianping in February and online retail services provider
JD.com
last month. Mainland e-commerce market leader Alibaba was busier than ever in the first quarter, snapping up interests in drug-data firm Citic 21CN, online mapping provider AutoNavi, film and television show producer ChinaVision Media, mobile messaging firm Tango, ride-sharing service Lyft and department store chain operator Intime Retail.
Robin Li Yanhong, chairman and chief executive of Nasdaq-listed Baidu, acknowledged the company's divergent acquisition strategy during its financial results announcement last quarter, according to a transcript of his conference call with analysts.
"We have kind of a different style when looking at [investment] opportunities. We tend to take a controlling interest in acquisitions so that the real synergy can be realised and tighter integration can be implemented," said Li, who co-founded Baidu in Beijing in 2000.
He said Baidu would also be open to the kinds of partnership deals and investments Tencent and Alibaba had been making.
"We will do necessary partnerships with the right commercial collaboration, but we are not that interested in pure minority-stake investments," he said.
"We do not think a minority investment in a partner would really make that much of a difference. Those [partners] are still independent companies. They have their own shareholder base, and they will make independent decisions going forward."
Baidu's focus this year would be on investments to bolster its mobile and cloud-computing businesses; location-based search service; consumer products such as music, literature and social media; and international expansion.
While the appetite for mergers and acquisitions remains healthy for the mainland's internet sector, aggressive deal-making by companies could be tempered by their falling share prices.
Tencent's share price dropped on Monday to a two-month low of HK$497 in early trading as concerns lingered about the high valuation of internet stocks. Tencent rallied yesterday, after the company bought its shares, which closed at HK$509.50, up 1.6 per cent.
Li said Baidu's pursuit of new deals would "depend on the market condition, the right candidates, our resources and current position".
"Whenever there is an opportunity to do acquisitions to buy us either time, resources or talent, we will be open for that," he said.
This article appeared in the South China Morning Post print edition as: Baidu keeps a cool head on deals