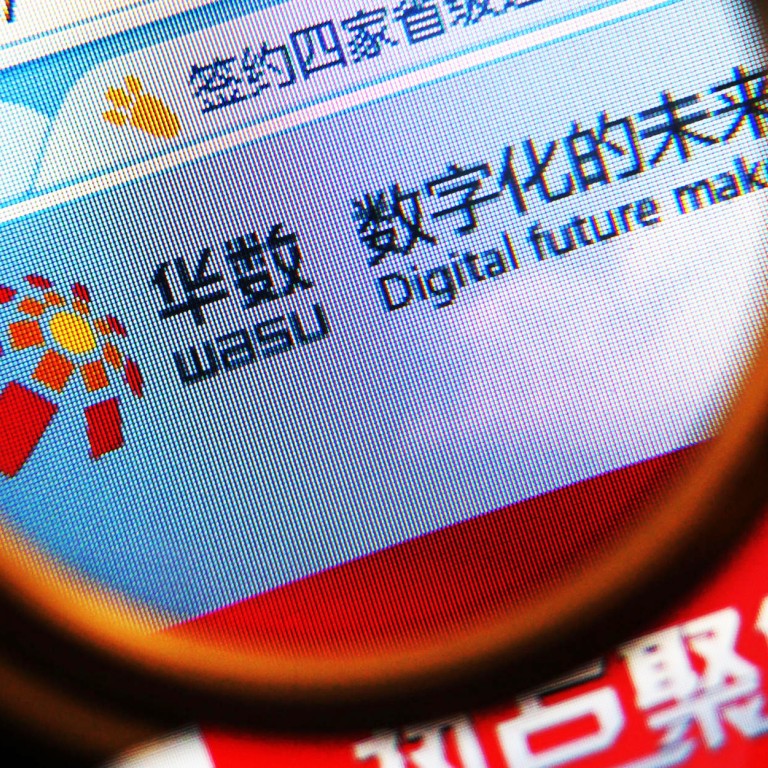 Wasu stake adds to Ma's TV interests
Shares of mainland cable television network operator surge by daily limit after Alibaba founder and two partners take 20pc stake
Shares of Shenzhen-listed Wasu Media surged by 10 per cent yesterday, the daily limit for mainland stock exchanges, after it agreed to sell a 20 per cent stake to billionaire Jack Ma Yun and two partners.
Ma, the founder of mainland e-commerce firm Alibaba, will team up with Giant Interactive chairman Shi Yuzhu and another "limited" partner to pay 6.54 billion yuan (HK$8.16 billion) for the stake. Alibaba and Wasu are both based in Hangzhou, Zhejiang province.
Wasu operates cable television networks on the mainland, where it is also one of seven holders of an internet television licence.
Its shares closed at 28.09 yuan yesterday, the first day of trading following a 42-day suspension. The company will sell 286.7 million new shares for 22.80 yuan each to Hangzhou Yunxi Investment, a company established by Ma and Shi on April 2 for the transaction.
"Jack Ma might be eyeing the television retail market through acquiring the stake in Wasu," said Guosen Securities analyst Bill Fan, adding that Ma also had plans in the cultural and entertainment markets.
Alibaba announced last month it would launch a fund product called Yu Le Bao (entertainment treasure) which would allow people to invest 100 yuan to 1,000 yuan in entertainment products, ranging from films and television programmes to online games.
Alibaba also paid HK$6.24 billion last month for a 60 per cent stake in ChinaVision Media, a company engaged in the production and distribution of films and television dramas, satellite television advertising and mobile digital content delivery. Shares of Hong Kong-listed ChinaVision surged 1.9 times the next day.
Wasu said in a statement to the Shenzhen exchange that the investment would help it hasten expansion in new media and data services, fund purchases of cable television networks to achieve economies of scale and cut the company's debt-to-asset ratio to 28.2 per cent, from 64.3 per cent at the end of last year.
The mainland's leading internet firms, including Alibaba, Tencent and search engine company Baidu, have been active in mergers and acquisitions since last year in bids to strengthen their positions as internet users migrate from computers to smartphones and tablets.
Meanwhile, Qunar, a travel website controlled by Baidu, is in talks to merge with
Ctrip.com
International, the mainland's largest online travel agency, Bloomberg reported.
The talks included a range of possibilities, from a merger to a partnership, it cited two sources as saying. The talks were at an early stage and might not result in a deal, they said, adding the ownership structure and financing methods had not been decided.
Fan said it made sense for Qunar and Ctrip to team up to reduce marketing costs.
This article appeared in the South China Morning Post print edition as: Wasu stake adds to Ma's media portfolio