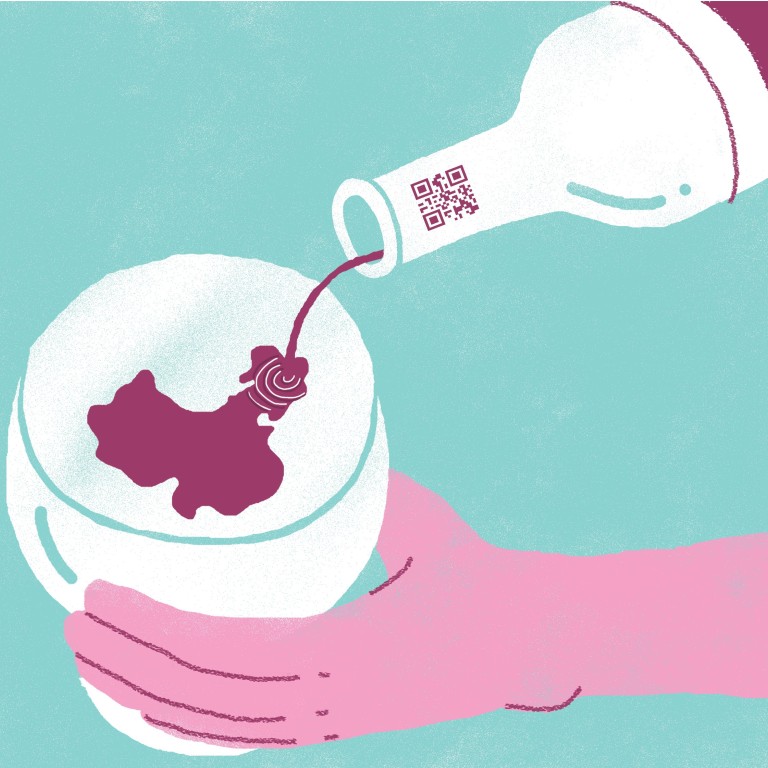 As mainland demand peaks, wine importer moves online
With wine sales falling after Beijing's crackdown on extravagance, ASC Fine Wines turned to e-commerce to reach a new group of customers
The mainland's wine industry has had little to celebrate since 2012 when Communist Party chief Xi Jinping launched a crackdown on official extravagance, yet some players have found full glasses amid the gloom.
ASC Fine Wines, one of the mainland's largest fine wine importers, now courts online shoppers in their 30s, 40s and 50s who have developed a taste for red wine costing 100 yuan (HK$125) a bottle or less. The company's chief executive, John Watkins, said an emerging class of younger drinkers preferred imported red wine to the Chinese liquor for health reasons and because of their overseas exposure to the wine-drinking culture.
Wine accounts for 34 per cent of all alcohol bought online in China but only 5 per cent of offline alcohol sales, so there is a great opportunity in wine e-commerce, Watkins said.
Founded by American Don St Pierre and his son in 1996, ASC sought to capitalise on the mainland's flourishing middle class and growing thirst for fine wine. In 2009, Suntory, one of Japan's biggest drinks companies, bought a 70 per cent stake in the firm for an undisclosed price.
ASC has since put together a portfolio of about 100 suppliers, including wineries in Bordeaux and Burgundy as well as Penfolds and Wolf Blass in Australia, and is a key distributor to hotels, restaurants and wholesalers on the mainland.
The crackdown on official extravagance, part of Xi's wider anti-corruption campaign, has hit consumption of big-ticket items - such as luxury fashion and handbags, expensive cars and fine wines - while a ban on officials taking unnecessary overseas trips hurt travel services. Sales at high-end restaurants have also suffered.
For the first time in 10 years, the mainland's overall wine consumption shrank 2.5 per cent last year, according to Vinexpo.
China International Capital Corp chief economist Peng Wensheng said a considerable part of high-end consumption was used for bribery, and "the impact on consumption was largely felt last year".
The mainland's customs agency said red wine imports shrank 18 per cent by volume and 20 per cent by value year on year in the first quarter of this year.
Australian customs statistics show that bottled wine exports to the mainland dropped 7 per cent to 33 million litres last year, while the average value of bottled exports was 3 per cent higher at A$6.55 (HK$47) a litre.
Scotland's famous whisky distilleries have also fallen victim to the austerity campaign. The Scottish Whisky Association said 16.7 million fewer bottles of Scotch were sold on the mainland last year, a 27 per cent decrease from 2012.
Watkins tells the how ASC overcame the industry's headwinds and repositioned itself in the market.
As much as 50 per cent of all premium wine was related to government spending between 2008 and 2012, and the austerity measures meant about 80 or 90 per cent or even more of the purchases were eliminated.
So what we have seen is pre-2012, most wine consumption was done by officials in local governments, the national government, state-owned enterprises, entertaining each other with expensive wine.
At the same time, domestic wine producers were making a lot of wine and saw this going on and wanted to be part of it. They took the same bottle of wine, which may be 30 yuan, and put a premium on the packaging but not the product and sold it for 300 or 400 yuan. After a while, Chinese customers found they were being ripped off.
Chinese customers then turned to try imported wine, and ASC has seen more sales of red wine at about 100 yuan a bottle. At the same time, when the austerity measures came in, most of this business ran away.
In some cases, private entrepreneurs, wine connoisseurs and collectors buy more than ever, using their money to drink and collect to invest.
What they realise is they don't have to spend 5,000 yuan for a bottle of good wine; they can spend 1,000 or 1,500 yuan and get a very good bottle of wine.
E-commerce is growing rapidly and bringing in hundreds of thousands of buyers. They are female and male drinkers, in their 30s to 50s, and into red wine costing about 100 yuan or below. Mainland drinkers do not favour imported white wine.
Those shoppers are mostly individual travellers who have been overseas. Whenever I am travelling to my winery suppliers in France, Australia or elsewhere, I will come across many mainland Chinese.
Many of them are experiencing wine and coming back with a deeper appreciation and knowledge of wine. They also bring back a desire to drink.
Over the past two years, average prices have come down because the harvest was challenging, especially on vintages at Bordeaux.
This is partly due to prices that were very high in 2009 and 2010, and the mainland's demand was very high, too. This put prices at the highest levels, unseen before.
In the past two years, prices were lower because of the austerity measures.
Last year, sales were flat. But they are expected to be up again this year.
There is a huge issue with fakes of everything in China, including wine. We only buy direct from wineries and ship the wine to logistics partners and then to bonded or duty-paid warehouses. So we have 100 per cent control of the supply chain.
Just a week ago, we launched our anti-fake technology. We are the first in China to introduce this technology, by putting a QR code … on the neck of the bottle. Anybody can use a smartphone to scan the QR code and get all the information about the wine and the track history of the wine.
This article appeared in the South China Morning Post print edition as: Adjusting to the end of conspicuous consumption