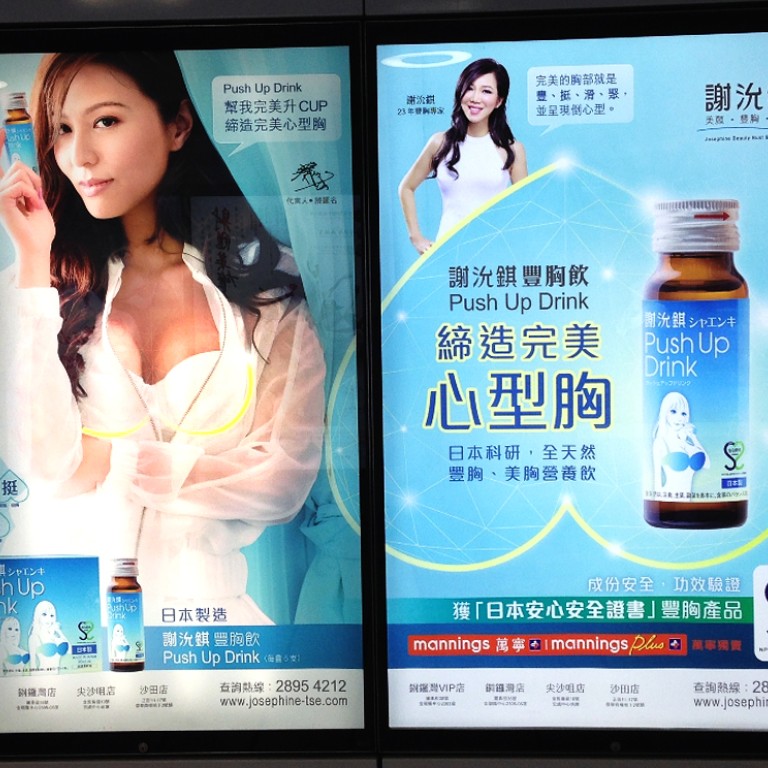 New

|
Drink's breast enlargement claim 'not backed by science'
A recent entrant to the HK$5 billion vitamins and dietary supplements market that promises to give women a "perfect heart-shaped chest" could be in breach of the Trade Descriptions Ordinance.
A recent entrant to the HK$5 billion vitamins and dietary supplements market that promises to give women a "perfect heart-shaped chest" raises scientific and legal questions and could be in breach of the Trade Descriptions Ordinance.
Made in Japan and sold locally by Josephine Bust and Slimming, Push Up Drink claims to help women with "a flat chest [or] sagging breasts", and advertisements show an illustration of a woman whose bust size increases dramatically.
According to , the Hong Kong market for vitamins and dietary supplements was worth HK$4.91 billion last year.
Push Up Drink is said to contain "science-based ingredients" including and soybean extract, which "provide a wealth of miroestrol and deoxymiroestrol".
has "some oestrogen-like effects, but there isn't a shred of evidence that it can enlarge breasts," said Dr Harriet Hall, author of .
"Even taking large doses of oestrogens doesn't usually cause breast enlargement, and if it did, it would have dangerous side effects."
Dr Tod Cooperman, founder and president of
ConsumerLab.com
, agrees: "This scam has been going on for many, many years in many different forms with a variety of herbal ingredients that naturally contain isoflavones."
Under the Trade Descriptions Ordinance 2003, it is an offence "for any person, in the course of his trade or business, to apply a false description to any goods".
In its promotional material, Josephine Bust and Slimming cites a July 2000 study by the Medicinal Plant Research Institute of Thailand's Ministry of Public Health, which looked into the effects of on breast enlargement.
According to the study, two groups of subjects given the herb at different doses were found to have experienced some degree of mammary pain, which the study said "is related to breast firmness and may relate also to breast enlargement".
Hall dismissed the study's claims that subjects experienced breast enlargement: "Women can easily be subjectively persuaded that their breasts are larger or firmer when there are no objective changes."
Push Up Drink is not the first product containing to make such claims. A Japanese product with the subtle name F-Cup Cookies attracted considerable attention online earlier this year with its claim that eating two cookies per day would create a "noticeable difference in size".
"Phytoestrogens [plant-derived substances that mimic oestrogen] are in numerous foods, and to date there is no research to show that ingestion changes breast size," nutrition expert Ian Marber told the in May.
"Even concentrated doses haven't been shown to do anything, although eating several biscuits can lead to weight gain with all that goes with it."
In December 2002, the US Federal Trade Commission sued the manufacturers of Isis Breast Enhancement Herbal Cream, which contained , for "deceptively represent[ing] that Isis would increase a woman's breast size".
Hong Kong Customs and Excise told the that "false or misleading claims on the effectiveness of a product without sufficient supporting (mainly scientific) evidence may constitute an offence of false trade description".
Robert Clark, a partner at Deacons Hong Kong, said products that claim medical benefits "contrary to all other studies, may well be problematic under the Trade Descriptions Ordinance: because it would include an indication as to fitness for purpose, performance, behaviour and testing and the results of such testing, which may be false or misleading."
Mannings, which stocks Push Up Drink, told the it had a "set of due diligence procedures in place to strive to ensure all products sold in our stores comply with Hong Kong regulations". Josephine Bust and Slimming did not respond to a request for comment.