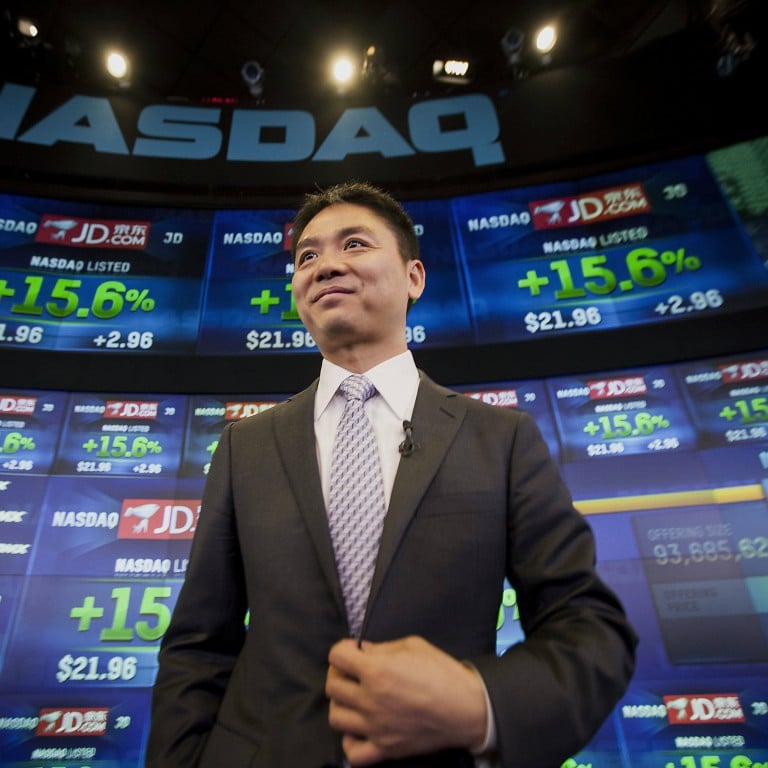 How JD.com's Richard Liu turned early disaster into future success
Steeled by earlier failures, Richard Liu Qiangdong took risks that paid off, vaulting his startup JD.com into the ranks of Chinese e-commerce giants
Brushes with disaster characterise the life of Richard Liu Qiangdong, founder and chairman of
JD.com
, the mainland e-commerce giant whose Nasdaq debut was the third-largest initial public offering in the US this year.
In 1994, while a student at Beijing's prestigious Renmin University, Liu decided to open a restaurant near the campus. Though he was majoring in sociology, Liu had been studying computer programming on the side, something of a rarity at the time, and managed to earn enough money as a freelance coder to go into business. However, due to a perceived lack of experience, Liu avoided taking a management role. Money was embezzled by staff and the restaurant went bankrupt in months, leaving its owner disheartened and in debt.
After graduation, Liu put his dreams of entrepreneurship on hold and went to work for health products company Japan Life, where he quickly rose through the ranks.
"During the two years there, I gradually understood that the restaurant bankruptcy was my fault because I had not established management structures, done oversight or established financial systems and procedures," he told the in 2012.
Reinvigorated and, more importantly, free of debt, in 1998 Liu decided to take another shot at starting his own business. With just 12,000 yuan he established Jingdong Century Trading, a consumer electronics shop specialising in magneto-optical products.
The business was a success, opening 12 stores in just five years and earning more than 10 million yuan. Then severe acute respiratory syndrome struck. The disease which swept China in 2003, killing more than 300 people, sparked a panic and kept customers at home, leaving Jingdong teetering on the edge of disaster.
"The Sars crisis was a shock to the whole retail business in China," said Jasmine Sun, an e-commerce and retail expert at consulting firm SmithStreet. "Because of Sars, a lot of people started to use e-commerce so they didn't need to go out and take the risk of being infected, so there was a boom in e-commerce that year."
Recognising that the demand to buy goods online was unlikely to go away once the Sars crisis was over, Liu threw himself wholeheartedly into e-commerce. He launched his first online retail website in 2004, and founded
JD.com
later that year. By 2005, all of the company's original bricks-and-mortar stores were closed.
"The most fundamental reason for [JD's] success is focus," Liu told the University of Pennsylvania in 2009. "For us, e-business was everything."
The pivot was a risky move. In 2005, after all JD business had moved online, sales dropped to 30 million yuan, less than half of what it had made the previous year. Liu stuck to his approach however, and in the five years from 2004 to 2009, the company recorded an average growth rate of more than 300 per cent.
"The tough entrepreneurial experience made him fearless," said Vanessa Zeng, a senior analyst with research firm Forrester. "He regards himself as a person with nothing to lose, thus he dares to challenge the giants of the industry."
JD has struggled at times to compete with e-commerce powerhouse Alibaba, which owns Taobao and Tmall. In March, Liu's company got a much needed boost from another Alibaba-rival, Tencent, which acquired a 15 per cent stake in JD for US$214.7 million in cash. The web giant also transferred its e-commerce businesses QQ Wanggou and Paipai, as well as a minority stake in Yixun, to JD.
"By acquiring a stake in the mainland's second-largest business-to-consumer platform, Tencent can more effectively compete against Alibaba in e-commerce," Ricky Lai, a research analyst at Guotai Junan International, said at the time.
Within months of the Tencent deal,
JD.com
Inc debuted on Nasdaq, beating Alibaba to an IPO.
"I think it was a smart move for JD to go to IPO ahead of Alibaba," Zeng said. "This gives JD an advantage in the capital markets, and makes it China's third-largest public internet company by capital value."
The deal also catapulted Liu into the ranks of China's super-rich. According to , he is now worth around US$8 billion, making him one of the 100 richest individuals in China. With 84 per cent of voting power under a dual-class share structure, Liu also retained effective veto control over all JD's future decisions, something no doubt important to a chief executive who is so detail-oriented that he once served as a delivery boy to better understand the company's logistics wing.
Liu seems determined to go his own way, shrugging off comparisons to others. "Copying business models of any other companies is doomed to fail," he told Bloomberg in May.
This article appeared in the South China Morning Post print edition as: Dare to be different