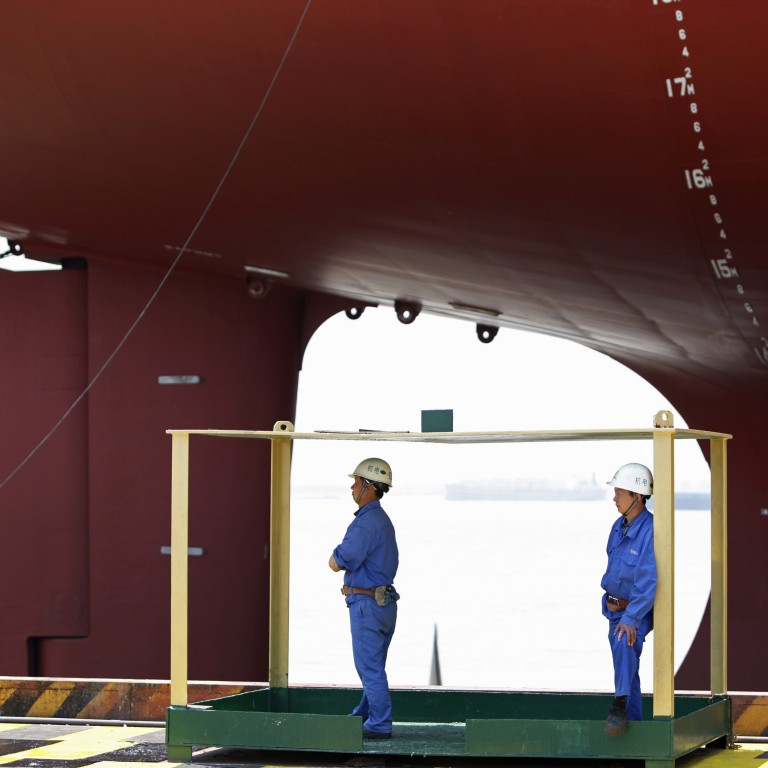 China's shipbuilding industry faces further consolidation, says Yangzijiang chairman
Further consolidation is on the cards for China's shipbuilding industry, where more than half of the players have gone out of business in the past three years, according to the chairman of the country's largest privately owned shipbuilder.
Along with steel making, cement and electrolytic aluminium, shipbuilding is the most oversupplied industry, and has been a conundrum for policymakers who face a choice between driving economic efficiency and keeping unemployment at bay. Beijing last year released a selection of 60 shipyards, known as the "white list", as targets for preferential treatment such as policy financing.
"China only needs 20 to 30 shipyards. It will take three to five years to get there from the current 60," Ren Yuanlin, chairman of Yangzijiang Shipbuilding, told reporters.
The number of shipyards had fallen to about 1,600 at the end of last year from more than 3,000 in 2012, according to the China Association of the National Shipbuilding Industry.
Singapore-listed, Jiangsu-based Yangzijiang yesterday reported net profit up 13 per cent year on year to 3.5 billion yuan (HK$4.4billion), consistent with the performance it has upheld since the onset of the shipping market downturn in 2008. Most of its peers, such as state-owned Guangzhou Ship yard International and privately-owned Rongsheng Heavy Industries struggle to stay in the black.
"Yangzijiang is set to outperform [its] peers with 5 to 10 per cent higher margins," DBS Vickers analyst Ho Pei Hwa wrote in a report.
According to Ren, the gap is widening between the strong and weak performers. "There will be more shipyards being shut down or taken over this year. Eventually, a wave of bankruptcy will pronounce the spring of the industry," said Ren, who privatised Yangzijiang, once a moribund, local government-owned plant, in the 1990s through a management buyout.
Now the biggest mainland Chinese stock listed on the Singapore mainboard by market capitalisation and profitability, Yangzijiang is ready to play its part in consolidation. "We're ready to take over and consolidate others anytime the right target arises," Ren said.
This article appeared in the South China Morning Post print edition as: China shipbuilding faces further consolidation