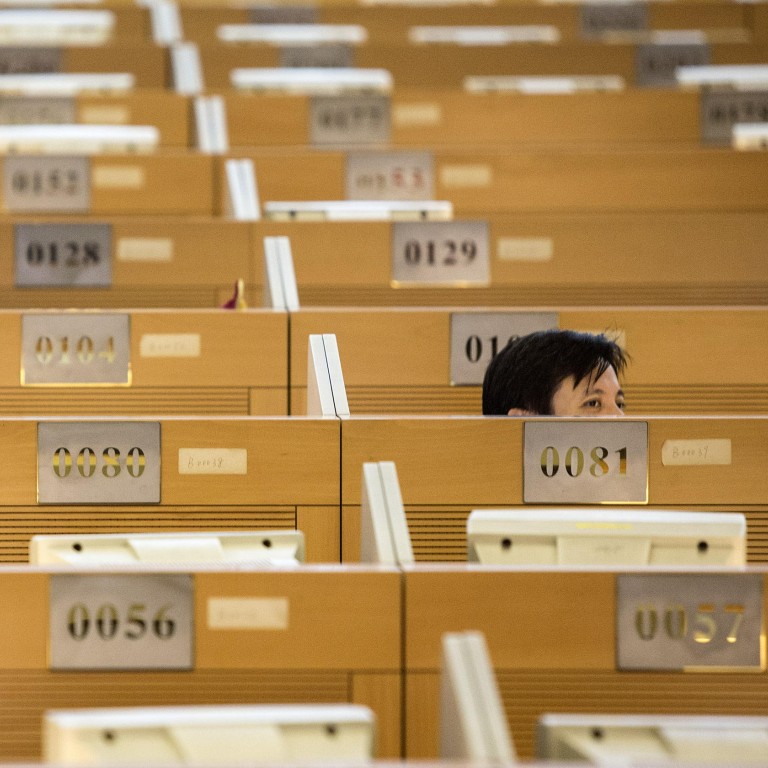 CSRC ready to pull the trigger for IPOs
Regulator 'mulling' a move that may help Chinese companies seeking cash after they delisted from US before domestic market meltdown
The mainland's securities regulator is "mulling over" the resumption of initial public offerings, which would be a boon to cash-hungry listing candidates, particularly those delisting from the US market, after halting approvals from July amid a domestic stock market meltdown.
A China Securities Regulatory Commission source told the on Wednesday it had improved the review process for handling listing applications, and was ready to pull the trigger once the market was "stabilised".
"The CSRC has been delaying IPO approvals rather than making a suspension since this July," the source said. "We were actually implementing an oral notice from the State Council, which was an unusual method under an unusual circumstance."
The mainland markets staged a meteoric rally in the first few months of the year, rising by up to 150 per cent, but they peaked in mid-June and lost 30 per cent in the following two weeks.
The CSRC has a tradition of controlling the pace of listings, considering they drain liquidity and drag down the market, and froze the market for more than 13 months from late 2012.
Joseph Tang, managing director of US law firm Huang Tang & Marvin, said market players believed the current freeze would not last longer than six months.
Tang said the most anxious players were those in the process of delisting from US stock exchanges, as uncertainties in the mainland market left their next step hanging in the air.
Thirty-one US-listed Chinese companies have started or finished delisting from US stock markets so far this year, he said.
The delisting rush started early this year, when many internet firms were eyeing the sky-high valuations in the mainland market and suffering from inactive trading and low valuations on Wall Street.
Shares on the technology-heavy ChiNext board in Shenzhen were trading at an average price-earnings ratio of 140 times on June 10, four days before a major correction hit the market. Companies on ChiNext are now valued at 78 times their earnings last year, according to Shenzhen Stock Exchange data.
"The buying parties of these companies, usually containing majority shareholders and private equity firms, were stuck when they found the A-share market collapsed and IPO approvals were halted," Tang said. "When the fund parties could not exit through a China listing to make a return on their investments, many of them headed for back-door listings on the mainland, or just turned to Hong Kong."
Reuters data shows 21 back-door listings, or reverse mergers targeting Chinese companies, were conducted during the first nine months of the year, in deals valued at a total of US$40.68 billion, up 22.4 per cent year on year.
The most eye-catching deal went to Focus Media, the former Nasdaq-listed outdoor advertisement company which finished a back-door listing in Shenzhen in early June before the listings freeze, and was valued at 45.7 billion yuan (HK$55.6 billion), nearly twice the US$3.87 billion that the company was valued at when it was taken private in May 2013.
Keith Pogson, a senior partner at accounting firm EY, said China's suspension of listings had benefited the Hong Kong market.
A total of 229 Chinese mainland-domiciled companies went public globally during the first three quarters of the year, up from 159 issuances during the same period last year, while proceeds fell to US$41.81 billion, from US$50.69 billion.
More than 35.6 per cent of the proceeds, or US$18.09 bil- lion, was raised from the Hong Kong market in 29 deals, according to data from Reuters. Shanghai came second, with 77 issuers raising US$16.27 billion.
Only four companies went public on Nasdaq and one on the New York Stock Exchange. Together, they raised US$233.6 million in proceeds, a sharp fall from the same period last year, when five companies raised US$25.69 billion in New York, and seven raised US$2.98 billion on Nasdaq.
Benson Wong, an assurance partner at PwC Hong Kong, said the most logical choice for a new listing destination was the home market, as investors were familiar with the business.
"Although the A-share market tends to give high valuations for IPOs, Hong Kong has the strength of giving clear requirements, a timetable that is easy to estimate, and a platform to reach international investors," he said, noting Hong Kong was likely to maintain its ranking as the world's top listings destination if it succeeded in securing several giant offers from mainland firms in the peak season from November to December.
A total of 601 companies have submitted applications to the CSRC and are on a waiting list for new offerings on the mainland.
Meanwhile, a long-anticipated registration-based offering reform would not come out until next year, even if the CSRC restarted approvals later this year, Wu Xiaoling, a top National People's Congress official, said in an interview last week.
This article appeared in the South China Morning Post print edition as: Regulator considers restarting offerings