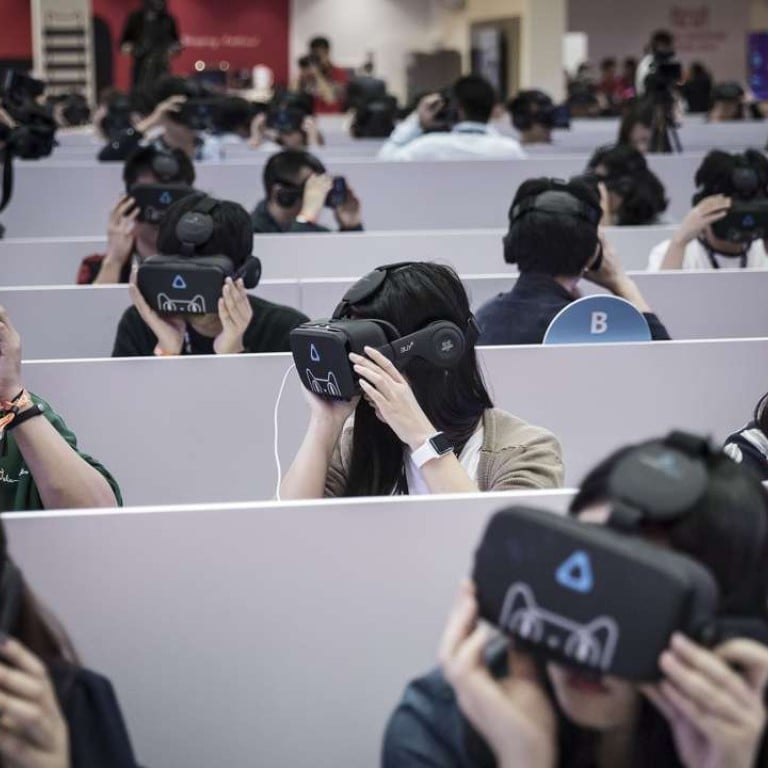 New
Alphabet soup is the top draw on China's 2017 technology menu
AI, IoT, AoT, AR and VR are the must haves in China's 2017 technology portfolio
AI, IoT, AoT, AR and VR. Have these acronyms ever confused, or annoyed you over the past year?
This alphabet soup will stick around, as new technology remains at the forefront of 2017's investment opportunities.
Even before AlphaGo's victory over a human Go master captured the world's attention in March and pushed AI into the public consciousness, Chinese internet companies have already been making big bets on artificial intelligence.
China's AI investments in the first half of 2016 surged 43 per cent to US$600 million, compared with the same period in 2015, according to a study by news portal NetEase and the Wuzhen Institute, a state think tank.
Baidu Inc, China's dominant internet search engine, established a Deep Learning Lab in 2014 headed by Stanford University's adjunct professor Andrew Ng, who published more than 100 academic papers in machine larning and deep learning. The lab is the brain power behind Baidu's autonomous vehicles, and is entering its AI bot as a contestant in China's popular game show Super Brain to solve problems.
Alibaba Group Holdings, operator of the world's largest online shopping platforms and owner of the
South China Morning Post
, has an AI bot programme with 600 analytics models that can process 100 million pieces of data per second. This bot scans more than 10 million product listings on Alibaba's Taobao platform everyday, helping to identify counterfeit products and vendors.
More than 800 conterfeiters were sent to Chinese jails last year due to the Big Data analysis of Alibaba's anti-counterfeit campaign, the company's chief executive Daniel Zhang said in December.
Tencent Holdings, which runs China's largest mobile social network, has invested in AI to produce news articles for its site.
Artificial intelligence will be the focus of 2017, said Tian Zhiyong, chief strategy officer of Kr Space, the incubator unit of start-up service platform 36kr.com, in which Alibaba's affiliate Ant Financial is an investor.
"When China's labour and manufacturing costs rise, AI emerges as a solution, because AI-powered applications and robots can efficiently handle the bulk of those jobs that require repetition" and menial work, he said.
AI would be the investment frontier not only in the coming year but the next couple of years as it would be the technology for the future, Tian added.
China's AI fervour will continue this year, as companies seek breakthroughs in AI-powered applications, said Zhao Ziming, a senior analyst with Beijing-based research firm Analysys.
"AI is about the future and it needs long-term investment. In 2017, the technology will continue to draw investors and companies' interest," Zhao said.
Yet the fervour may subside, as rationality sets in. Angel investors and venture capital funds are likely to be more skeptical about the commercial prospects and business models behind the technology, Zhao said.
"It's still an unknown how AI technology can help companies generate cash," he said. "Investors will expect to see more new AI applications that can shape the future of some business segments."
Closely intertwined with AI is the so-called Internet of Things (IoT), referring to technology that connects everyday objects through the internet. Then there's also the Analysis of Things (AoT), which looks at the data derived from the interconnection of things to create new paradigms or business models.
"AI and IoT are able to complement each other, and together bring change to areas such as autonomous driving," Zhao said.
The field of artificial intelligence will attract more funding in the coming year, as it's the one single technology that no company in China or anywhere else can afford to miss, said UBS AG's chief investment officer Hyde Chen.
"Other than the large technology companies like Baidu, Alibaba or Tencent, small companies and startups are also working on bringing AI applications to different sectors," Chen said. "Venture capital will likely see good investment opportunities."
Chen was also looking forward to seeing some breakthroughs in the use of virtual reality (VR), the technology that immerses a user in an imagined world with artificial sounds and images.
"VR can be used in quite a wide-range of areas, from video game to entertainment, and we see the coming trend of using VR in e-commerce, medical and others," Chen said.
Alibaba has begun using VR technology, offerig a service called "Buy+" that allows online shoppers to browse the stores of Macy's, Costco and Target using VR headsets that cost 1 yuan each.
However, investments in VR could already be overdone over the years, creating an investment bubble, said Chen.
"VR applications will continue to develop in 2017, but the investment spree started to slow down from the second half of 2016 as investors have become more rational, " he said. "They need to find some outstanding projects that can be developed into a profitable business models."
Closely associated with VR is AR, or augmented reality, which blends the virtual world with the real.
"AR can be used in a number of sectors including medical, property and education, and I expect some breakthroughs in applications in 2017," Chen said. "While investors have already poured a lot of money into VR, some investors may turn to AR."
This article appeared in the South China Morning Post print edition as: Alphabet soup is the main course on China's 2017 technology menu