Internet
Get more with myNEWS
A personalised news feed of stories that matter to you
Learn more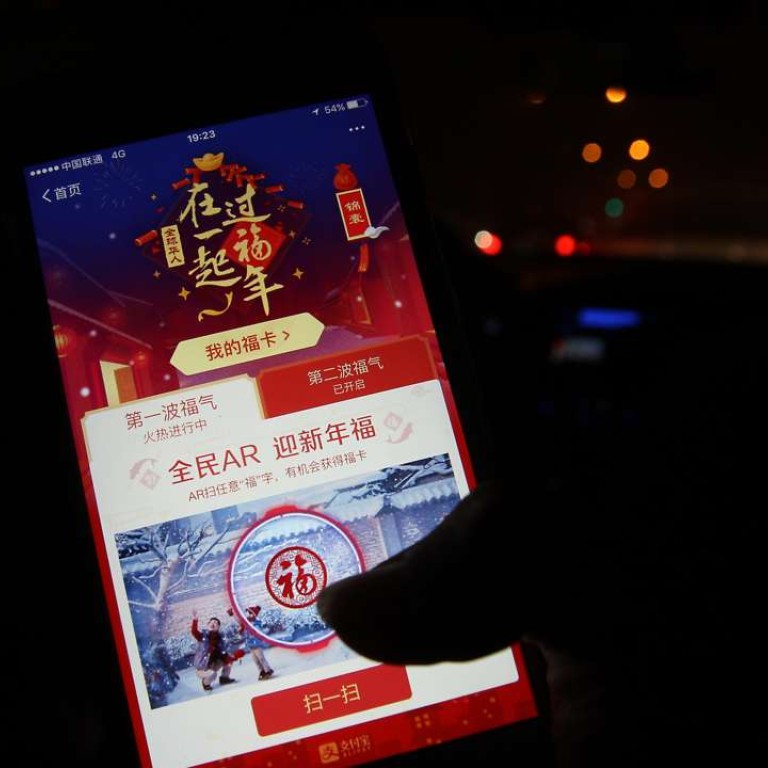 Lunar New Year lai see tradition goes digital in a big way
For a festivity that is so steeped in tradition, China's Lunar New Year is undergoing a radical transformation.
In keeping with the digital age, mainland Chinese have wholeheartedly embraced the digital transfer of money, spending their cash on smartphones without having to venture outside.
Distributing digital red packets to friends, colleagues, relatives and employees as lai see during the Spring Festival has evolved from an occasional dalliance to a major part of life during the week-long holiday for the Lunar New Year, underscoring the profound shifts taking place in the world's second-largest economy.
Wu Jinlin, a white-collar clerk with a Shanghai-based property developer, said the red packet (known as hongbao in Chinese) phenomenon that laid bare traditional values in the Lunar New Year was being replaced by new habits amid a digital era.
"The Spring Festival appears to be dull as people's festive mood wanes," she said. "Digital red packets are emerging as a new bright spot. You get addicted to it because you want have something special to do during the festival."
The Lunar New Year typically features fireworks, good food, visits to parents and relatives, new year greetings and entertainment activities.
Family reunions are given top priority as people celebrate, but Wu sees it differently.
"My parents would continue to harp on about the bad habit of using a mobile phone during the new year's eve dinner," she said. "They were complaining about my indifferent attitude towards what they perceived as an important occasion of a reunion."
As she indulged in her smartphone over dinner, Wu was distributing and collecting electronic
hongbao
on apps such as Tencent's WeChat and Alibaba Group Holding's Alipay.
Alibaba owns the South China Morning Post.
During the Lunar New Year holiday in 2016, 516 million people gave and accepted 32 billion digital red packets on WeChat, according to Tencent.
Wu is among hundreds of millions of mainland Chinese who have accepted digital transfers of red packets as a modern-day part of the traditional Spring Festival.
According to Ant Financial Services, an affiliate of e-commerce giant Alibaba Group, more than 100 million Alipay users have participated in a promotional campaign under which the payment service provider would give away a lai see worth a total 200 million yuan for the Lunar New Year of 2017.
Participants could "interact with their Alipay friends on the Ant Forest game, a green-energy game that we hope will encourage users to adopt a greener lifestyle", Alipay said in a statement.
A survey of dozens of Shanghai residents by the Post showed a majority of them would focus on digital red packets rather than the Spring Festival gala show on the country's state television, which was once considered a must-watch as part of the Lunar New Year celebration.
"This is more a social issue than an economic topic," said Wei Wuhui, an industry commentator and lecturer at Shanghai Jiaotong University. "The new habit could develop in a pace and manner that are beyond my imagination."
United Overseas Bank found three out of four people in mainland China planned to give digital lai see as they welcomed the Year of the Rooster, which starts on Saturday.
About 60 per cent of the respondents in the bank's survey cited fun, novelty and convenience as the main reasons for choosing digital lai see.
"Digital hongbao is not merely a way of giving and receiving money," said Ma Zhenxin, chief executive of a power plant in Jiangsu province, who plans to distribute thousands of yuan in digital lai see for the festival. "It also conveys a message to the receivers that I wish them a prosperous and peaceful year."
Digital lai see started in 2014 as internet giants regarded it as a tool to attract more users while expanding their financial technology services, including digital banking, online payment and wealth management.
Users deposit or withdraw cash through the online accounts on the apps. They give and receive digital red packets through the online accounts.
"Initially, we thought it was only a small online game because it involved only a petty amount of cash," said Wan Hua, a manager of coordinating branch operations at Shanghai Pudong Development Bank. "Now it's obvious that the digital red packet, based on its popularity and penetration, does have a big impact on the country's banking system."
Alipay introduced augmented-reality technologies to its red packet services this year to give users a better experience while Tencent widened foreigners' access to digital lai see on WeChat.
China is the world's leader in mobile payment with half its population aged between 16 and 35 using smartphones to conduct purchases of consumer goods, money transfers and wealth management.
In 2016, mainland Chinese used their phones to complete transactions worth an estimated 38 trillion yuan, according to consultancy iResearch.
Research firm IDC predicted in November that half of the country's top 1,000 companies would see their businesses increasingly depend on "digitally enhanced products, services and experiences" by 2020.