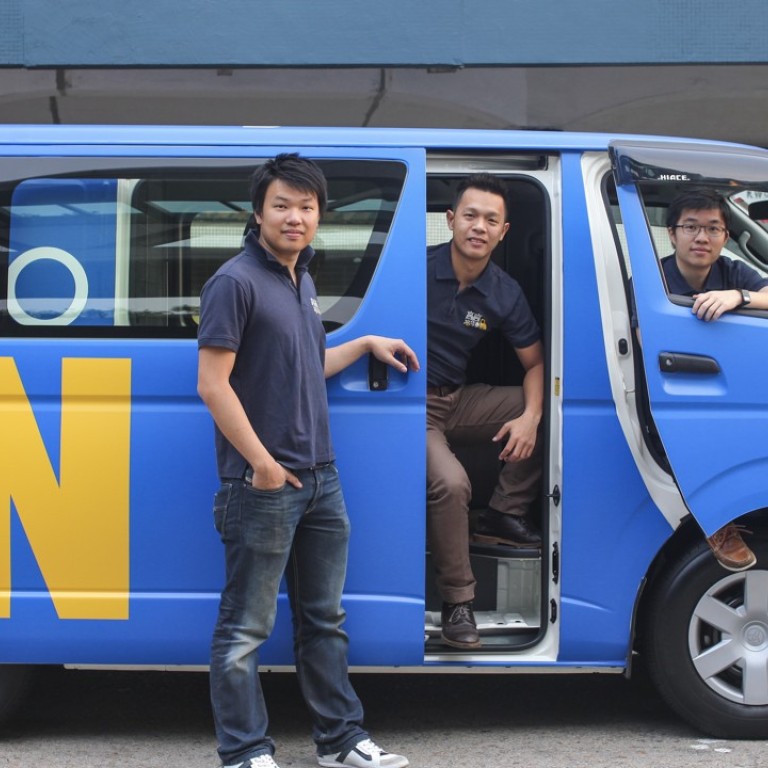 GoGoVan's success disrupts not merely Hong Kong's business, but also social strata norms
GoGoVan's successful merger with 58 Suyun, the freight business of mainland Chinese online classifieds giant 58 Home, has created the city's first, billion dollar unicorn technology company.
But, the local company's success also points the way to what Hong Kong entrepreneurs need to accomplish to meet world standards. And, it also shows the serious shortcomings that new economy start-ups will encounter in Hong Kong culture.
Founded in 2013, GoGoVan has established a sprawling online logistics and freight operation in 14 cities across six Asian markets. As a short distance logistics platform counts more than 180,000 registered van and truck drivers on its mobile application.
Unusual for Hong Kong, the founder, Steven Lam Hoi-yuen, doesn't come from a wealthy Hong Kong family. Then, I can't imagine many of Hong Kong's young socialites wanting to toil with short distance van drivers. Lam comes from a low income family and grew up on a Kowloon public housing estate where he still lives today.
After dropping out of high school in Hong Kong in 2005, he moved to the US at a relative's invitation to study at a community college in California before studying business at UC Berkeley.
Attending community college and living in the US were probably major influences. Unlike Asia, US culture celebrates the lonely, existential struggle of the entrepreneur- a conflicted loser-hero who fights against the odds. Unfortunately, success in Hong Kong today is defined by who you married or which family you belong to. Or whether you own a house, which is not an important concern in the US.
It's not unusual for entrepreneurs to channel their penury into limitless energy in their struggle for validation. A near religious fervour and devotion is needed to turn an idea into a business.
Lam established GoGoVan with only HK$20,000 in seed capital. He and his co-founders Nick Tang Kuen-wai and Reeve Kwan Chun-man launched the start-up with their savings into the start-up and subsisted on HK$20 happy meals from McDonald's every day. Eventually, GoGoVan would raise capital from investors including Alibaba Group Holding, which owns the South China Morning Post.
Not everyone is suited to this lifestyle. Venture capitalists say that most of people they meet should be employees not entrepreneurs. You have to be willing to suffer like a monk for your art, or your cause, because you never know if you will succeed. Ardent entrepreneurs will always find a way to barely scrape together enough money to keep their business going.
Hong Kong turned out to be an ideal test bed for GoGoVan because it featured similar scaling and operating challenges and opportunities as in China and other parts of Asia. Vans have been available for hire for decades, but finding a way to efficiently manage and deliver better service is like McDonald's optimising the fast food process.
So it was especially disappointing to hear that, at a press conference, all that the assembled local media could ask Lam was when he would use the new-found wealth from his billion-dollar company to buy an overpriced flat.
Lam urged reporters to broaden the discussion to entrepreneurship in Hong Kong rather than fixating on property.
"I don't think there's any problems with wanting to buy a house, since everyone needs to live somewhere," Lam said. "But I don't want reporters talking about GoGoVan's merger and then [asking me if I will buy] property. I want to talk about how we can make this brand from Hong Kong great."
Home ownership is traditionally held up as an important priority by Hongkongers, but it has become an unhealthy fixation after years of exploitation. Even if the government makes flats more affordable, it doesn't necessarily mean that more young people will commit themselves to innovation and start-ups that might transform the economy.
No doubt Hong Kong's high society will have trouble presenting working-class Lam into their trendy crowd of shallow followers at their next ball.
Tech venture capitalists believe that there are only two reasons to invest or own a business: to grow or sell it, which relentlessly drives innovation and change - or failure. That is a different imperative than Hong Kong family businesses, which resist change because they mainly exist to support family members.
GoGoVan shows that Hong Kong businesses can be funded, but only if their business model can generate scale beyond Hong Kong. The city is too small to sustain new economy businesses confined to the local economy.
Venture capitalists are looking to make big, game changing returns with highly motivated founders not fund typical Hong Kong family style, copycat businesses like cake shops and restaurants.
Peter Guy is a financial write and a former international banker.
This article appeared in the South China Morning Post print edition as: Poised for big success