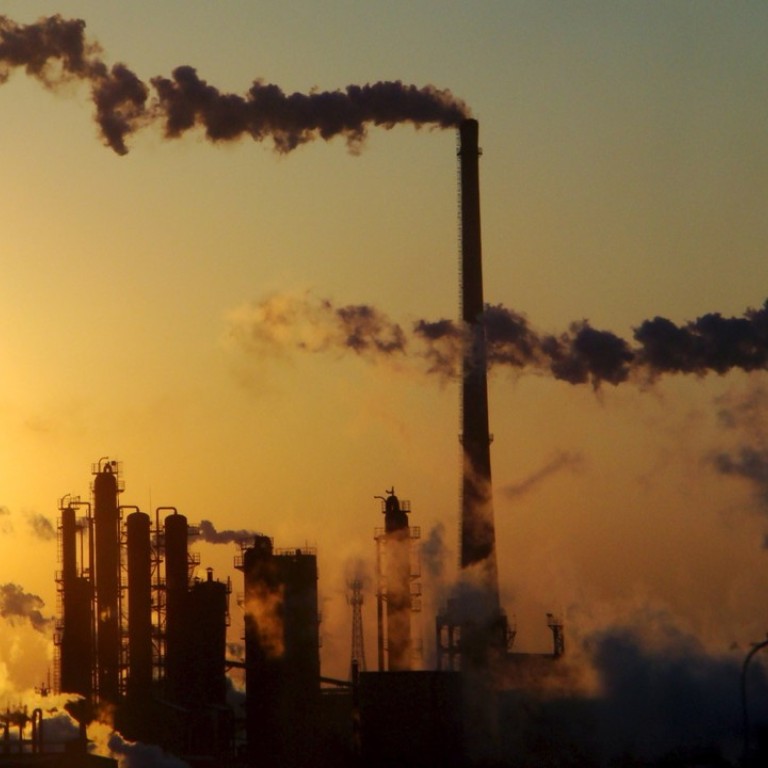 New environment tax will hit businesses in China hard, say experts
From January 1 next year, large chemical and energy firms could end up paying four times more than previously for causing pollution
Businesses in China are being urged to prepare themselves for a new environmental tax that could hit many of them hard when it comes into effect at the start of next year.
China will abandon its current system under which polluters are charged locally in favour of the nationwide environmental protection levy – designed to reduce air, soil and water contamination – from January 1.
The new regime will see firms that cause pollution taxed under a uniform set of national rules rather than the fees being collected at the local level.
For instance, polluters nationwide will face a levy of between 1.2 yuan (18 US cents) and 12 yuan for every 0.95 kilogram of nitrogen oxide or sulphur dioxide they release.
Kenneth Leung, EY Greater China's indirect tax leader, said the "fee to tax" shift could cost some large state-owned businesses in the chemicals and energy sector 40 per cent to 300 per cent more than they were paying under the previous system.
"Many businesses appear to be underprepared to cope with the new taxation and are lagging behind in adapting their operational procedures to factor in the impact from it," Leung said.
He urged businesses to carry out detailed assessments of the financial and operational impacts of the new levy as well as ways to enhance procedures and technologies aimed at reducing pollutants.
"If the new tax doesn't lead to changes in business behaviour, damage to the environment could continue and could end up being beyond remedy," he said. "The impact could be more significant than tax revenue to the government, or profits or loss to businesses."
The Ministry of Finance, State Administration of Taxation and Ministry of Environmental Protection in mid-August this year issued a joint edict on the implementation of the environmental protection tax, after a public consultation exercise.
Replacing the "pollution discharge fee" regime that has been enforced since 1982, the new system will have more teeth due to more stringent and specific implementation details, which helped plugged some loopholes in the old system.
For example, small to medium-sized privately-owned businesses will for the first time be clearly included as targets for the tax.
The tax specifically exempts mobile emission sources such as emissions from vehicles and vessels. Carbon dioxide emission is also exempted from the tax.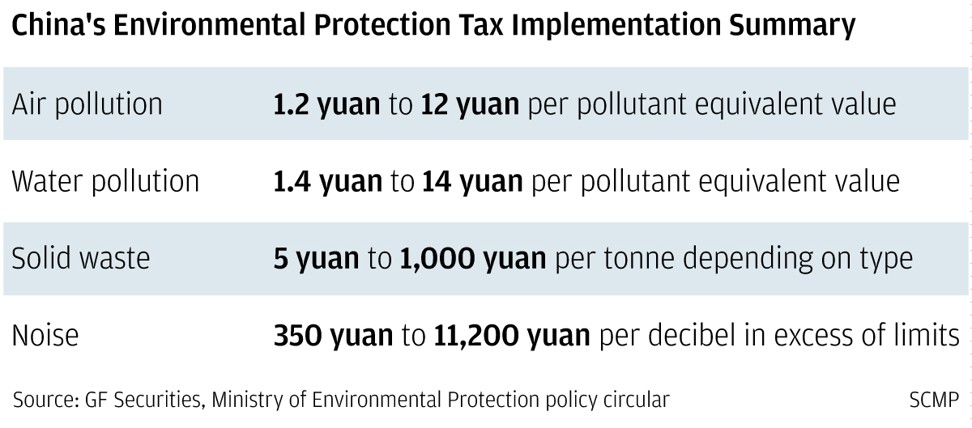 It also provides incentives for polluters to reduce emissions, by cutting the tax levy on emitters by 25 to 50 per cent if their volumes are 30 to 50 per cent lower than the limits.
"The levy bases are reduced to daily or hourly emission concentration, and calculation bases are refined to the emission volume of each discharge unit," said a GF Securities research report.
"This is aimed at preventing tax payers from evading levies by deploying tricks such as diluting emission or concentrating emission [in certain operating units]."
Polluters are also encouraged to install their own automated emission monitoring equipment as their readings are admissible as data for tax calculation.
Otherwise, readings from regulators' equipment will be used for tax calculation.
Hu Yijian, a professor at Shanghai University of Finance and Economics, said the "fee-to-tax" shift could make the system more efficient, with collection carried out in a more transparent and structured way.
The new tax reflects Beijing's determination to minimise damage to the environment caused by industrial development, he said.
An earlier official study estimated the tax could bring in 50 billion yuan a year, about three times the total raised from the fees collected from 280,000 companies in 2015.
Between 2003 and 2015, China collected 211.6 billion yuan in pollutant fees, Xinhua has reported previously.
China's stricter measures on energy saving and environmental protection this year have already had an impact on the industrial sector by shoring up the prices of cement, aluminium and coal.
Gao Ting, head of China strategy at UBS Securities, said if demand was softer than expected in the upcoming peak season, both commodity prices and related stock prices could fall in response.
This article appeared in the South China Morning Post print edition as: Mainland firms told to prepare for fresh green tax