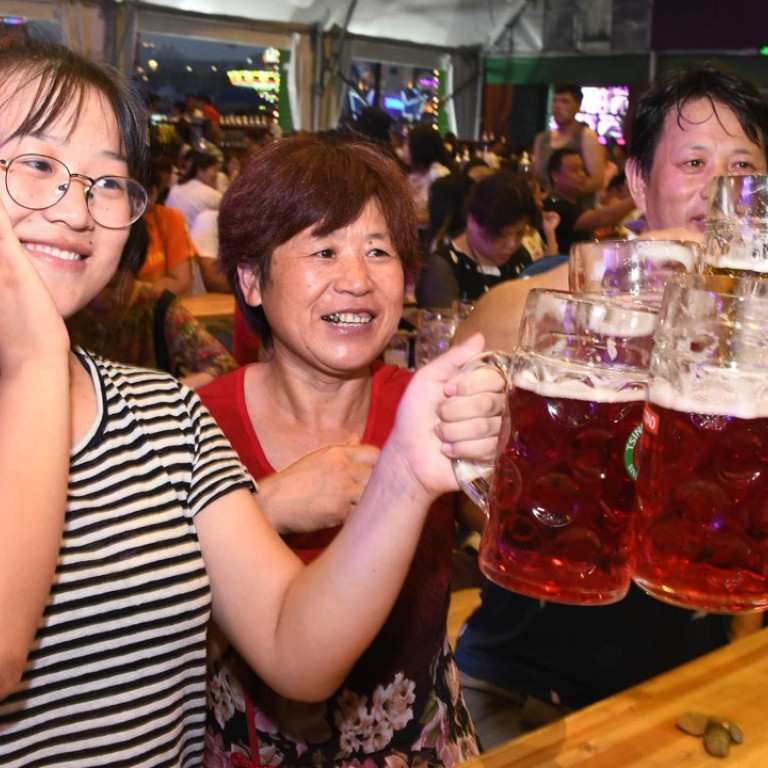 US-China 'beer war' likely to go flat as drinkers' preference for local brews takes the fizz out of proposed tariffs
US government wants to tax the small amount of Chinese beer imported each year even though Americans are more likely to grab a domestic brew or one from Mexico
As trade tensions heat up between the world's two largest economies, Americans and the Chinese have one thing in common: when it comes to beer, they prefer their local brew.
The world's two largest nations of beer drinkers plan to slap a 25 per cent tariff on each other's brews in a showdown over trade, with China announcing retaliatory tariffs on US$60 billion of products – including beer – on Friday.
But with little of the elbow bending actually for each other's brew, the proposed tariffs would barely take the fizz out of anybody's beer.
Firstly, it is the world's biggest beer market, with the Chinese people drinking 45 billion litres (12 trillion gallons) of beer last year, compared to 24 billion litres consumed in the second-ranked US, according to data from Euromonitor International, an independent market research firm.
Secondly, China is home of the world's bestselling beer, Snow, as well as internationally recognised Tsingtao.
Yet China exported a mere US$6.5 million of beer to the US last year. That is not even 0.2 per cent of the amount of brew imported in 2017 for sale by American bars, restaurants and supermarkets, according to US International Trade Commission data. (Americans prefer Mexican beer, with imports hitting US$3.3 billion last year, or two-thirds of total beer imports.)
The US actually exports more beer to China, but its brews have struggled to gain a following in mainland China.
Budweiser, the beer that is most traditionally associated with the US despite now having Belgium owners, was the only Western brand in the top 15 sellers in China last year, according to Euromonitor International. The beer, which removed the Budweiser name from its label and replaced it with "America" in past promotions, is brewed locally in Wuhan, Hubei province for the Chinese market.
"China's beer market is dominated by domestic brewers, with four out of the top five brands owned by local companies," said Camille Chen, a Euromonitor analyst for the alcoholic drinks sector. The top four brewers accounted for around 46.5 per cent of sales by volume in 2017, Chen said.
All that means that the "beer war" is more likely to turn out to be a beer spill, underscoring an irony in the trade tensions: The Trump administration is seeking to put extra duties on thousands of Chinese products, but many on the list would have little impact on the US economy by themselves.
Categories of imports that would impact a large swathe of US consumers – and potential voters – have generally been off limits as the US prepares for midterm elections later this year. These include several of the top categories for exports from China each year: mobile telephones, video game consoles and children's toys, according to government trade data.
While American breweries aren't likely to get wozzy over the beer tariffs, they were hit by higher costs after the US government slapped hefty tariffs on foreign-produced aluminium, some of it from China, making beer cans more expensive.
In an analysis earlier this year, John Dunham & Associates, a New York economic research firm, found that the tariff on aluminium could lead to the loss of 20,300 jobs and cost the country nearly US$2.5 billion in economic activity because of the detrimental effects on the brewing industry. The analysis was prepared on behalf of the Beer Institute, a trade group.
Alcoa, the large aluminium manufacturer, asked the US Department of Commerce on Monday to exempt tens of thousands of tons of aluminium that it ships from Canada to make aluminium cans in the US from the tariffs because there is no suitable manufacturer that can meet its requirements in America.
The proposed tariffs come at an inopportune time for China's brands, with Snow and Tsingtao looking to increase their profile overseas.
It is difficult to determine which specific beer brands will ultimately be hurt by the brewing trade tensions: neither China nor the US breaks down their beer imports by brand.
However, the domination of the world's beer markets by a small number of increasingly larger brewers means many beers that would have been traditionally imported are now brewed locally in both the US and in China. As a result, the impact could be minimal for many of the world's biggest brewing companies.
AB InBev NV, the world's largest brewer, produces Budweiser for the Chinese market in China. Heineken Holding NV, Carlsberg A/S and the privately held Pabst Brewing Co. also brew their namesake beers in China.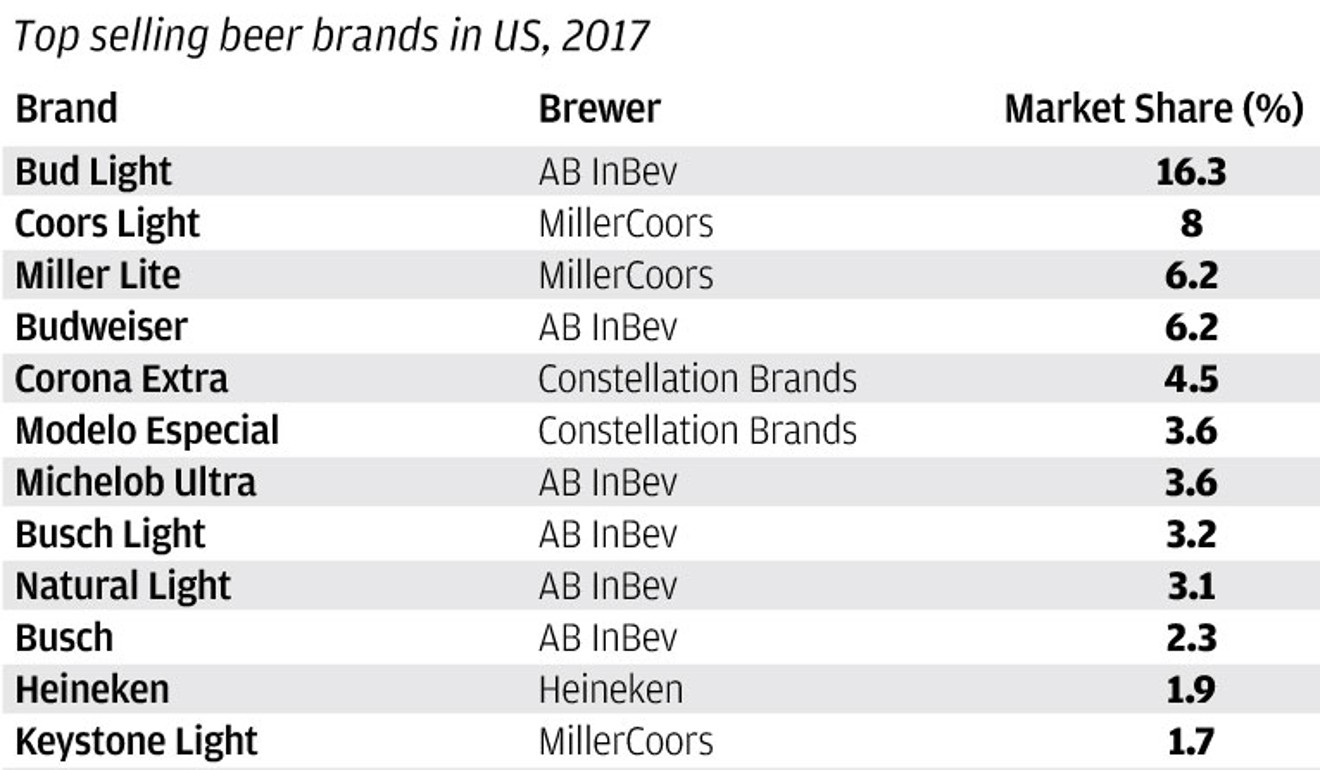 The Chinese market is attractive to both foreign and domestic brewers.
Overall, beer sales in China topped US$84.7 billion last year, according to Euromonitor.
Foreign brewers have made inroads into China, but have not done very well with overseas brands.
Instead, their gains have come from buying local brewers.
Belgian-headquartered AB InBev owns several domestic breweries that rank among the top sellers in China, including Sedrin and Harbin beers.
Carlsberg, the Danish brewer, owns the Wusu, Dali and Shancheng beer brands, while Molson Coors owns the Si'hai brand and Heineken owns the Reeb brand.
Meanwhile, China's Snow, the lager brewed by state-backed China Resources Beer Holdings, is almost exclusively sold in China. That may soon change.
On Friday, China Resources announced that it had agreed to a non-binding agreement on a strategic partnership with Heineken, in which the Dutch brewer would take a 40 per cent stake in the company in a $3.1 billion deal.
In a news release, Heineken said it would combine its operations in China with China Resources and grant the Chinese brewer the exclusive right to use the Heineken brand in mainland China, Hong Kong and Macau. That could potentially boost orders for Heineken, which accounted for less than 0.3 per cent of beer sales in China last year, according to Euromonitor.
China Resources Beer Holdings, which also would take a stake in Heineken, would use Heineken's distribution network to expand the growth of its Snow and other Chinese beer brands internationally.
"Snow beer does not have any advantage overseas currently, but we are looking to change this situation" after the transaction, Hou Xiaohai, the China Resources Beer Holdings chief executive, said during a conference call with journalists on Friday.
Growing outside China is an important next step for China Resources, whose stock is traded in Hong Kong, as it looks to compete with the likes of AB InBev and other international brewing rivals.
Right now, Tsingtao is essentially the only Chinese beer to be sold anywhere globally.
The brewery was founded in Qingdao, Shandong province, in 1903 by Germans, and the city hosts the largest beer festival in Asia every summer, featuring Oktoberfest-style beer tents. The beer was the first to be exported from China and is sold in 70 countries and regions around the world.
Tsingtao was one of the featured beers at the "Good Beer: Craft Beer & Food Festival" in New York City last month and the brand has a Twitter account in Spanish to promote its beer in Mexico.
Despite being sold in the US for years, sales of Tsingtao outside mainland China, Hong Kong and Macau are minimal. They only made up less than 2 per cent of its revenue last year.
Tsingtao did not respond to requests for comment for this story.
Meanwhile, tastes are changing in China as middle- to upper-class Chinese start to move away from the traditional lagers that have dominated the market and gravitate to craft beers.
That presents a potential growth opportunity for foreign craft brewers.
Stone Brewing Co., the California craft brewer behind Stone IPA, began shipping its beers to
China last year and opened a tap room in Shanghai last month. AB InBev is brewing its Goose Island craft beers in China and owns Shanghai's Boxing Cat and the Kaiba brand, which include a passion fruit lager and a Jasmine fruit ale.
Despite the interest from foreign brewers, the craft beer industry in China is at a "very embryonic" stage, said Ian Jebbitt, one of the founders of the Hong Kong craft brewer Gweilo.
"Ninety nine per cent of people have never heard the word craft beer," Jebbitt said. "That is not a criticism. They do not understand what it is."
One reason that craft beer adoption in China is behind the US is because there is little infrastructure to keep craft beer cold throughout the supply chain from its brewing to when it is served, Jebbitt said.
"China is probably 20 years behind the US," said Jebbitt, a former trademark branding lawyer in mainland China. "They will get there in five to 10 years. I think the growth will be quick."
Growth in each other's beer markets is a goal of breweries in both countries. But an extended trade dispute between China and the US could delay the party.
Additional reporting by Jane Li
This article appeared in the South China Morning Post print edition as: China-US beer battle likely to go flat quickly