Jack Ma
Get more with myNEWS
A personalised news feed of stories that matter to you
Learn more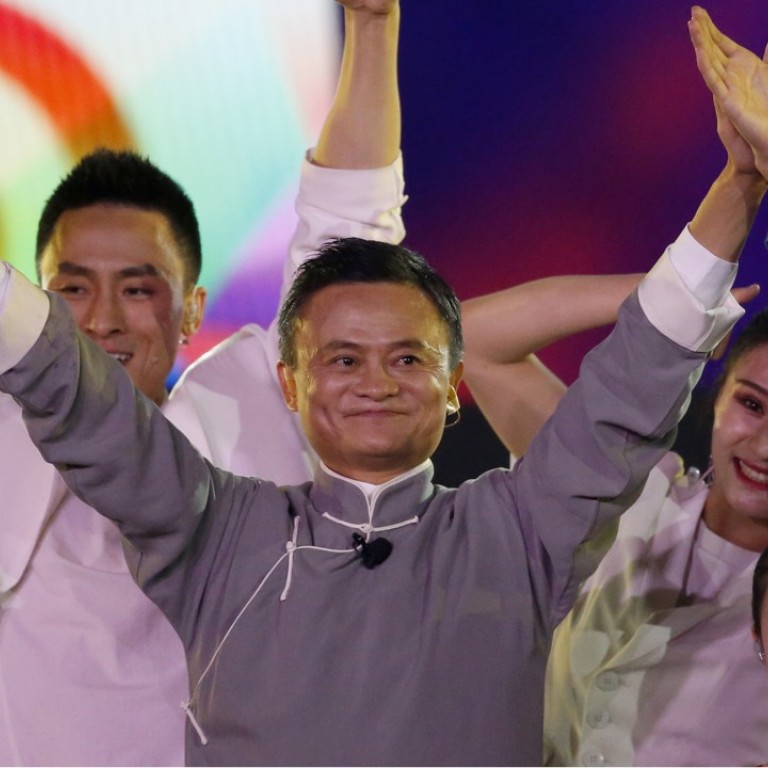 'Would rather die on the beach than in my office': how Jack Ma sees his retirement, in his own words
Ma famously said last year that his 'happiest moment in life was making just 91 yuan (US$13.26) per month as a poor schoolteacher'
Chinese billionaire Jack Ma has shaken the global tech industry and beyond by revealing plans to step down from his role as executive chairman at Alibaba Group Holding, the most valuable company in Asia, in one year from Monday.
In a letter to staff members, Ma cited his reason as giving way to younger generations to take over the tech juggernaut, which also owns the South China Morning Post.
An eloquent and animated public speaker who has attracted a large following with inspirational speeches, the tech mogul has talked about his retirement plans with candour and humour at various events over the past few years.
The self-made billionaire has also spoken of his dissatisfaction with his busy life and his longing to become a teacher once again.
Here is how Ma envisions his retirement, in his own words.
"Die on the beaches, not in the office"
Ma has repeatedly talked about his hectic travel schedule since retiring as chief executive officer of Alibaba to become executive chairman.
"When I retired from the CEO position, I told the CEO team (in 2013) I should have more time playing golf on the beach.
"But I find, oh my God, spent 870 hours in the air last year, and this year, 1,000 hours," said Ma, in an interview with American talk show host Charlie Rose at a conference in Detroit in June 2017.
"The thing is, I don't want to die in my office. I want to die on the beach."
While Ma is no longer in charge of managing Alibaba's daily operation, he remains the company's public face, travelling the world to meet heads of governments and preach on the benefits of globalisation and technological advancement.
Video clips showing a tired Ma dozing off at a conference made the rounds on social media in January.
Social media users found out he was sitting in the audience at a forum about artificial intelligence, after attending a public event in Hong Kong at 10pm the day before and meeting with the French president in the morning.
"Regret founding Alibaba"
As Alibaba has grown into one of the world's most valuable companies, joining the ranks of Apple, Microsoft and Amazon, Ma has remarked about his mixed feelings towards the company he co-founded in 1999.
He famously said his "biggest mistake was I made Alibaba", because of the enormous pressure and responsibility he has had to shoulder to steer the US$420 billion company with more than 86,000 employees.
"I was just trying to do a small business and [not] grow that big, take that many responsibilities and get so much trouble.
"Every day is like being as busy as a president, and I don't have any power. I don't have my life," Ma said at the St Petersburg International Economic Forum in June 2016.


"If I still can have a next life, I will never do a business like this. I will be my own self; I want to enjoy my life," he continued.
To head such a company also requires political awareness and calculation, as maintaining a good relationship with the government is vital to a large company's success in China.
Ma has also become increasingly fluent in the Communist Party lingo over the years, having held lectures about the party's principles and visited historic sites related to the party's revolution in Yan'an, Shaanxi province.
Passion for teaching
Ma has brought up his longing to return to teaching multiple times in public. He said on a talk show last year that his "happiest moment in life was when I was making just 91 yuan (US$13.26) per month as a poor schoolteacher".
Ma taught English at a college in China's eastern city of Hangzhou for six years after graduating from Hangzhou Teacher's Institute in 1988. He outperformed his peers with lively classes and humorous teaching, and was recognised as one of the "10 outstanding young teachers" at the school in 1994.
"I was never trained in commerce, never been an accountant or programmer. The only thing I do is to learn and share. I work as an entrepreneur in the same way as being a teacher," Ma told a conference in November.
Ma often referred to himself as the "Chief Education Officer" of Alibaba, and said he would like the next generation of executives to replace him just like "a teacher always wants the students to exceed himself".