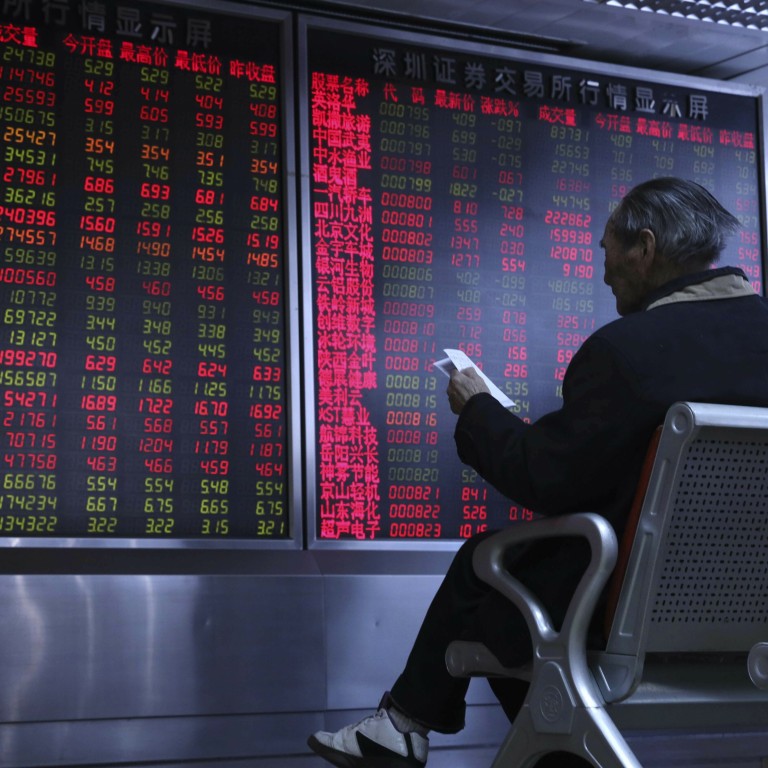 China's world-beating stocks rally fizzles out as benchmark closes below 3,000 for first time in two weeks
The Shanghai Composite retreated 1.5 per cent, or 45.94 points, to 2,997.10 at the close, extending a 2 per cent slump on Monday. Hong Kong's Hang Seng Index rose 0.2 per cent
The world-beating run-up on Chinese stocks faltered on Tuesday, with the benchmark Shanghai Composite Index falling back below the 3,000-point level on mounting concern that the rapid share-price gains had outstripped an improvement in fundamentals.
The Shanghai Composite retreated 1.5 per cent, or 45.94 points, to 2,997.10 at the close, extending a 2 per cent slump on Monday. It was the first time the gauge had closed below the 3,000-point milestone in two weeks. Hong Kong's Hang Seng Index rose 0.2 per cent.
While most Asian markets rose on Tuesday as they recovered from a global shake-out spurred by a bond yield curve inversion in the US, the sell-off in mainland-traded equities continued, putting to a test the 20 per cent gain on the Shanghai Composite this year. Impending economic data and earnings results increasingly rattled the nerves of investors, as some analysts argued the rally was largely built on loosening liquidity.
"The market will focus more on fundamentals going forward as some investors feel the run-up is mostly driven by liquidity instead of fundamental changes," said Chen Hao, a strategist at KGI Securities in Shanghai. "With more data releases, such as the purchasing managers' index, in the pipeline, investors are getting increasing worried that the market has gone up way too much."
The purchasing managers' index of China's manufacturing industry probably stood at 49.6 this month, still below the reading of 50 that divides expansion and contraction, according to the median estimate of 11 analysts in a Bloomberg poll. First-quarter growth may slow to 6.3 per cent from 6.4 per cent in the preceding three-month period, the data showed.
Nine out of the 10 industry groups represented on the CSI 300 Index of big-caps fell on Tuesday, with technology and phone stocks the worst-performing sectors. Telecommunications giant ZTE dropped 4.2 per cent to 27.13 yuan and Shenzhen Sunway Communication lost 4.6 per cent to 28.06 yuan. AVIC Jonhon Optronic Technology slumped 6.7 per cent to 39.55 yuan.
Still, in an encouraging sign, foreign investors resumed buying of Chinese stocks through the exchange link with Hong Kong after record selling on Monday. Net inflow was 1.35 billion yuan (US$201.9 million) on Tuesday, after net sales of 10.4 billion yuan a day earlier.
In Hong Kong, the Hang Seng Index added 0.2 per cent, or 43.56 points, to 28,566.91, while the Hang Seng China Enterprises Index remained unchanged.
Cathay Pacific Airways jumped 2.7 per cent to HK$13.68 after the city's dominant carrier presented a plan to buy control of the city's budget airline, HK Express.
BAIC Motor rallied 6.4 per cent to HK$5.12 before an earnings results release on Wednesday. Net income probably jumped 116 per cent from a year earlier to 4.87 billion yuan last year, according to Bloomberg data.
Property developer China Vanke slid 3.1 per cent to HK$30.15 after its full-year profit for 2018 missed analysts' projections by 1.3 per cent. Its mainland-traded stock added 0.5 per cent to 28.29 yuan in Shenzhen.