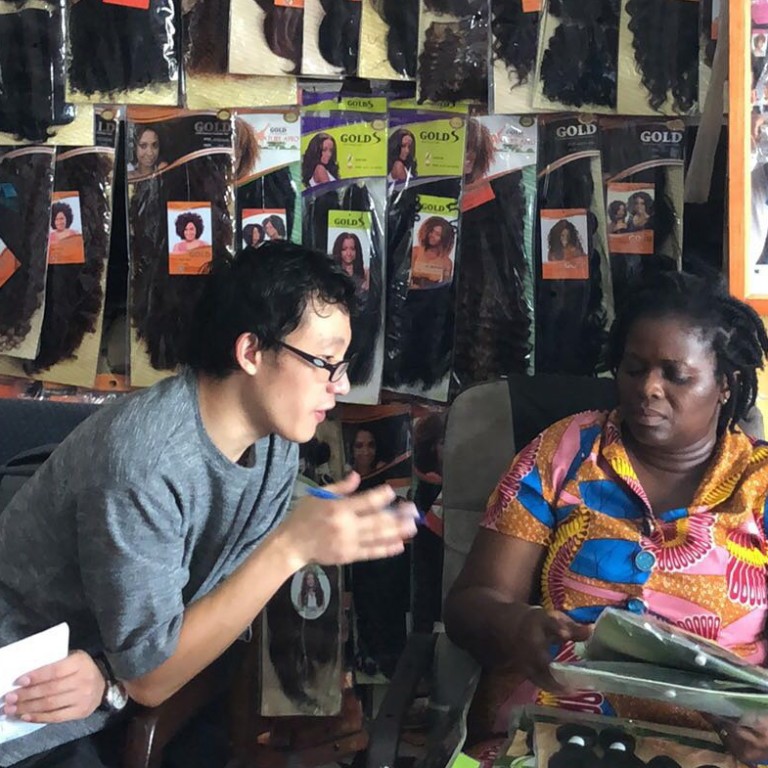 Africa's new-found fondness for hair extension offers cover to Xuchang, China's hub for wigs and weaves, as US tariffs loom
Xuchang's wigs industry has ballooned and was worth US$1 billion in exports by 2016, while China is the largest exporter of human-hair products globally
Africa is the second-largest destination for Chinese wigs, making up 37 per cent of the overall market, just behind the US's market share of 39 per cent
George Weah, the former AC Milan footballer who became president of Liberia in early 2018, made an unusual detour when he was in Beijing last September for the Forum on China-Africa Cooperation – he made a side trip to Xuchang city in the central Henan province.
Accompanied by his first lady, the couple visited Henan Ruimei Hair Product in Xuchang, a city of 4.3 million people sandwiched between Henan's provincial capital Zhengzhou and Kaifeng, where Clar Marie Weah tried on a black, US$500 handmade wig.
"They definitely helped boost our brand image in Africa," said Henan Ruimei's general manager, Ding Renhe, in an interview with the South China Morning Post, speaking of the visit by the former Fifa World Player of the Year and only African winner of the Ballon d'Or, and his wife. "The potential of traditional export markets like the US and Europe has already been fully exploited, but Africa is still filled with opportunities."
The Liberian president has good reason to be in Xuchang, dubbed China's "wig capital" for its dominance in the global industry of wigs, weaves, hair extensions and all manners of headpieces. Starting in the early 1990s, when German merchants bought hair from the area to turn into headpieces, Xuchang's wigs industry has ballooned and was worth US$1 billion in exports by 2016. Henan Rebecca Hair Products, the world's largest wig producer, and endorsed by Chinese actress Fang Bingbing, is a hometown champion.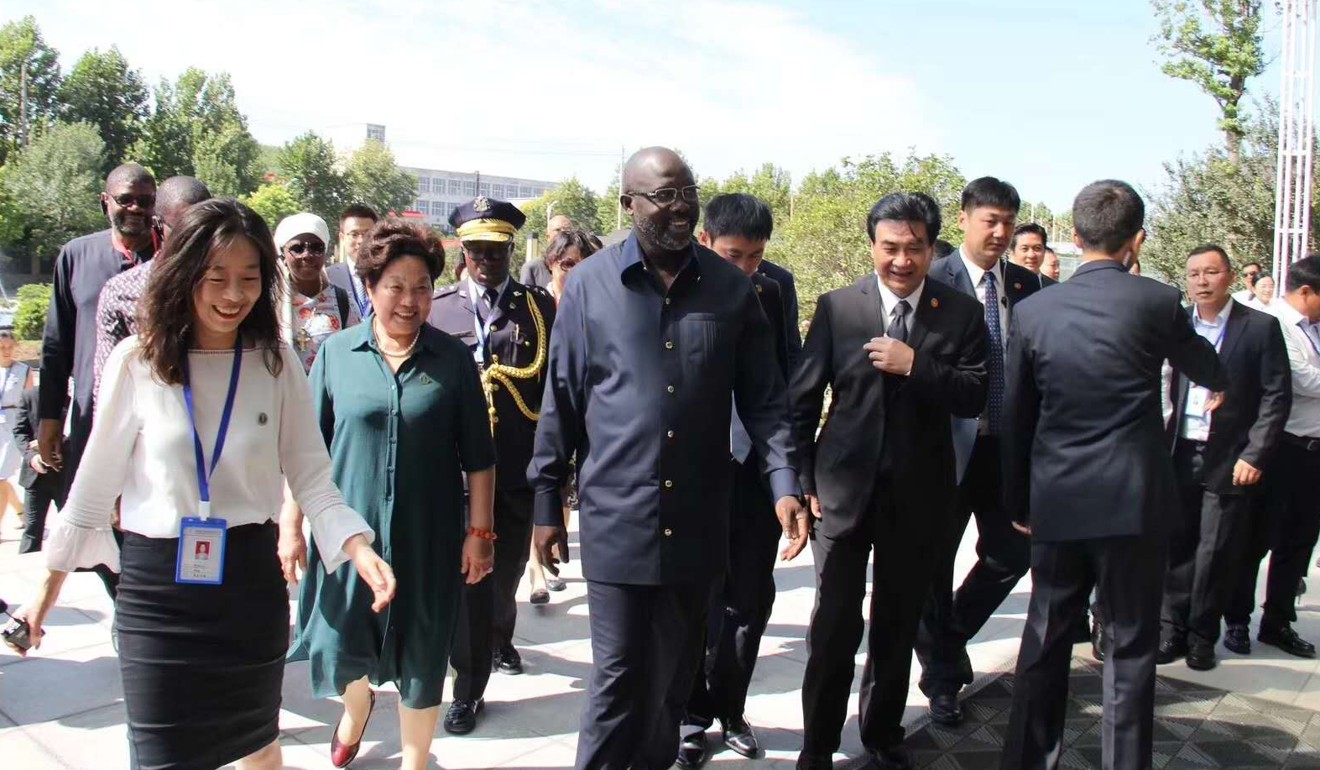 The city is home to more than 200 wigmakers employing more than 300,000 workers, according to official statistics.
Africa is the fastest-growing market for Chinese wigmakers, catching up with the bigger US market, due to improving living standards, especially among West African states, burgeoning e-commerce and Beijing's Belt and Road Initiative.
French-speaking Benin is the top African buyer of Chinese wigs and hair products. It imported US$394 million worth of wigs last year, an increased of 48 per cent over 2017. Together with South Africa and Nigeria, which borders Benin, it made up more than 80 per cent of China's total wig exports to the continent.
China is now the world's largest exporter of human-hair products, accounting for 70 per cent to 80 per cent of global supply by various estimates. And Africa is now its second-largest customer, making up 37 per cent of the overall market, up from 30 per cent eight years ago and just slightly below the US's market share of 39 per cent.
The Chinese city has sister city agreements with Ambo in Ethiopia and Bolingbrook in Illinois state, underscoring who Xuchang's most important friends and customers are.
The shift to Africa from the US is only likely to accelerate, as the Trump Administration is set to slap up to 25 per cent tariffs on wigs and other hair products in the latest round of proposed duties on US$300 billion worth of Chinese goods.
The tariffs, which cover essentially all Chinese products left out by previous rounds, can come into effect as soon as the end of June following a public hearing.
"The trade war with the US is getting more serious each day, for factories like us, we definitely want to go to places where things are easier," said Shen Dalei, general manager at Henan Allrun Enterprise, another Xuchang-based wig maker.
Industry leaders are already turning away from the US. At Shanghai-listed Henan Rebecca Hair Products, exports to Africa took up about half of its total sales of 1.9 billion yuan (US$274.8 million) last year, up from merely a quarter in 2012. Meanwhile, the contribution of US sales to overall revenue declined to a quarter from 55 per cent during this period, according to the company's annual reports.
Evergreen Products Group, a 57-year-old wig and hair accessories maker listed in Hong Kong, is following this trend and plans to open a factory in Africa in three years. It has already hired marketing staff in Nigeria and South Africa.
"Africa is a huge market," said Felix Chang, the chief executive and chairman of Evergreen, which now produces out of China and Bangladesh. "We are keen on setting up plants and expanding into e-commerce there."
Last year, Chinese wig exports tripled to US$3.6 billion from US$1.2 billion a decade ago, according to customs data. The country has become a dominant player in a market that could be worth more than US$10 billion globally by 2023, according to US market-research company Reportlinker.
"The market is huge, and every country has demand," said Henan Ruimei's Ding. The company exported 600 million yuan worth of wigs and extensions last year. "It's a beautiful product that brings out beautiful changes for people," he said, adding that his company has manufactured more than 10,000 different styles and types of wig products.
Manufacturers have to develop new styles quickly to keep up with fast-changing fashion trends and customers' tastes. From small curls to big wavy hair, from short bobs to long, layered hair, the variations can almost be unlimited.
"We pay close attention to different black communities and especially black female celebrities, like Rihanna, Michelle Obama and Beyoncé. We need to stay alert to what kind of hairstyles they are wear in their latest concerts or movies," Ding said. At Henan Ruimei, a product's life cycle – from its launch to a peak in sales and then a decline – is no longer than two years, he said.
A mix of factors is driving Chinese wig makers to shift their focus from the US to Africa. First, the continent's market potential is immense – its population is projected to reach 2.5 billion by 2050, or a third of all people on earth, by the UN.
Many Africans like to use wigs, weaves and extensions to create looks difficult to achieve with their natural hair. "There's a rigid demand among black women," said Henan Allrun's Shen.
The continent's spending power is also on the rise. Consumer expenditure reached US$1.4 trillion in 2015, and is set to touch US$2.1 trillion by 2025, according to a 2018 report by US think tank Brookings Institution.
Moreover, Chinese companies are able to adopt the higher-value-added business model of building their own brands and selling directly to customers in Africa, through physical stores and e-commerce platforms.
In the US, on the other hand, they have only been making products commissioned by American brands and selling them to retailers, in what is known as the original equipment manufacturing model.
"In the traditional B2B [business-to-business] model, US retailers had greater power to set the price and we were vulnerable to ups and downs in their business," Shen said.
US retailers have been slashing wig prices since 2014, when competition with e-commerce sites spiked. This has dragged down Chinese wig suppliers' US revenue, forcing them to look elsewhere for growth.
Ironically, it is e-commerce that is boosting these companies in Africa, where they have set up shops on different platforms. Henan Rebecca Hair Products, for instance, has more than 100 products available on AliExpress, a platform owned by Alibaba Group Holding, the Post's parent company. AliExpress connects Chinese merchants with overseas customers.
Jean Ni, a senior industry operations adviser at AliExpress who focuses on hair products, said the platform was most popular among fashion savvy customers aged between 20 and 30, who liked to share their purchases on social media sites such as Facebook and Instagram.
Online shopping is attractive to them because it offers wigs that are trendier than those sold in bricks-and-mortar shops, whose owners are usually older and less up-to-date with fashion trends.
But a lot more needs to be done to promote online wig shopping in African countries, Ni said, as people still do not trust this new practice. Customers in Africa take, on average, 10 times longer to browse before making a decision to buy a wig than customers in Europe or the US, according to Ni. The prices of hair products bought by African customers are also just about a third of that bought by European and US clients.
But this is not stopping Henan Ruimei from expanding its e-commerce team. Ding said he expected the company to increase the team's strength to 50 people from the current seven staff members, even though e-commerce currently only accounts for 10 per cent of Henan Ruimei's overall revenue.
E-commerce activity linking China and Africa "is going to increase for sure", said Aubrey Hruby, a senior fellow at American think tank Atlantic Council's Africa Centre.
"As AliExpress becomes more direct to consumers, I think there are going to be a lot more African buyers. Already a lot of African buyers go to China to buy wholesale goods and bring them back," she said.
And what e-commerce has done for Chinese companies virtually, the Belt and Road Initiative – a plan to grow Chinese trade in Asian, African and European countries along the old Silk Route announced by Chinese President Xi Jinping in 2013 – is doing in real life.
The plan, criticised in some quarters for creating indebtedness and lacking transparency, has nonetheless made selling wigs in Africa easier and a lot more attractive, manufacturers said.
Infrastructure built by Chinese companies has smoothened logistics, and the administrative environment – whether it is getting visas for Chinese employees or registering a subsidiary firm – is generally much more favourable than that in the US, said Henan Allrun's Shen.
His company now runs a factory in South Africa with 80 workers, and is preparing to open a new plant in Nigeria this year. "Belt and road countries still have a lot of growth potential … we want to copy our success in South Africa in other countries as well," Shen said.