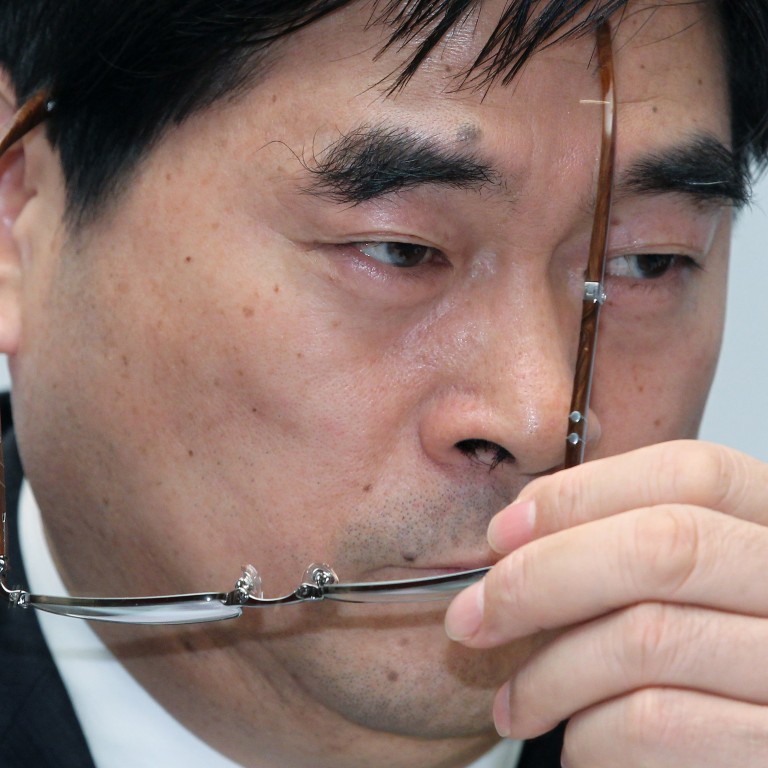 'Key man risk' is still rife in Chinese companies, as shown by the US$4.2 billion wipeout in value of Future Land after founder's arrest in Shanghai
Latest scandal shows how investors end up paying a heavy price for the mistakes committed by company executives
About 13 per cent of listed Chinese businesses, or close to 400 companies, have a shareholder who owns a stake of 50 per cent or more, according to data compiled by Bloomberg
The latest scandal from the mainland, this time involving the billionaire chairman of Chinese developer Future Land Development Holdings, has once again brought into focus "key man risk".
Investors are reeling from the shock arrest of Wang Zhenhua, one of China's richest men and controlling stakeholder of Hong Kong-listed Future Land, for allegedly molesting a nine-year-old girl. It wiped out more than HK$33 billion (US$4.2 billion) from the company's market cap since the arrest was confirmed by Shanghai police on Wednesday.
The development has sent also the company's bonds plunging, and prompted Moody's, S&P Global Ratings and Fitch to place it on negative credit watch on Friday to reflect the potential damage to its reputation.
The scandal is reminiscent of a slew of incidents where the downfall of Chinese executives synonymous with their companies has badly hurt the company.
Investors of China's second largest e-commerce player JD.com were burnt when its founder
Richard Liu Qiangdong was arrested in the
US last fall on a rape allegation, causing JD.com's shares to plunge. Guo Guangchang, the founder and chairman of Fosun Group, famously caused a scare in 2017 when he was out of reach for several hours – he said he was flying to Shanghai from Xi'an – and his stock price plunged. The Chinese securities regulator eventually slapped a 200,000 yuan (US$30,750) fine on Zhejiang-based Hithink for spreading misleading market-sensitive information
about Guo's whereabouts.
"China's private firms tend to be headed by powerful leaders, with elevated levels of control over their companies' operation compared with international peers," said Li Zhanjun, chief researcher with China Real Estate Association.
Bloomberg data shows that about 13 per cent of listed Chinese businesses have a shareholder who owns a stake of 50 per cent or more.
"Lots of founding members of family businesses in China worked hard and behaved themselves when they amassed fortunes in the early days, but some of them let complacency creep in after becoming super rich," said Ding Haifeng, a consultant with Integrity Financial Consulting in Shanghai. "For investors, it's advisable to pay more attention to those family-controlled companies' succession plans when the first-generation of entrepreneurs turn old."
In the case of Wang, the 57-year-old billionaire controls a 71 per cent stake in Future Land, which in turn owns a 48.9 per cent stake in Shanghai-listed Seazen Holdings. As of June 30, 34 per cent of this shareholding in Seazen was pledged by the Hong Kong-listed entity.
Market observers said that if the shares continue to plunge it could spur a margin call by financial institutions holding the pledge.
Credit rating agency S&P said that the seriousness of the allegation and sudden change in leadership could have severe repercussions for Future Land's reputation and brand name.
"This could hurt the company's relationships with business partners and financial institutions. Also, investor perception may affect Future Land's capital market or other financing activities in the near term," said S&P, which has placed the company on a negative credit watch.
Will Chu, an analyst with CGS-CIMB Securities, downplayed the scandal. He said Wang's removal as Future Land's chairman may have a lesser impact than publicly perceived, as he was not totally involved in the daily operations, which were run by senior management consisting of experienced industry veterans.
He added that Seazen's share price had surged more than 70 per cent this year before the scandal, leaving enough room for investors to book profit.
Future Land's share price fall narrowed to 1.8 per cent on Friday in Hong Kong after two volatile sessions, after the company informed the Hong Kong stock exchange that Wang will be replaced as chairman by his son, Wang Xiaosong. The younger Wang, who turns 32 in December, began his career as marketing vice-president in Future Land in 2011, according to company data.
"As we know, many institutional investors now do extensive due diligence before investing, including the firm's history, the founder's character and its links with Chinese officials. That said, it's still too difficult to foresee any sudden incidents like this, and avoid it in advance," Chu said.
A total of 162 mutual funds and securities firms hold 5.85 per cent of Seazen's circulating shares as of March 31, according to financial data provider Wind Info.
Analysts said a key variable that could decide Future Land's fate is whether Chinese banks would withhold any loans, which could disrupt its liquidity and force a fire sale of its assets, amounting to 360 billion yuan.
Seazen Holdings is China's eighth-largest developer known for constructing residential property next to shopping centres. It had 170.7 billion yuan in contracted sales in the first half.
This article appeared in the South China Morning Post print edition as: Future Land arrest highlights 'key person' risks