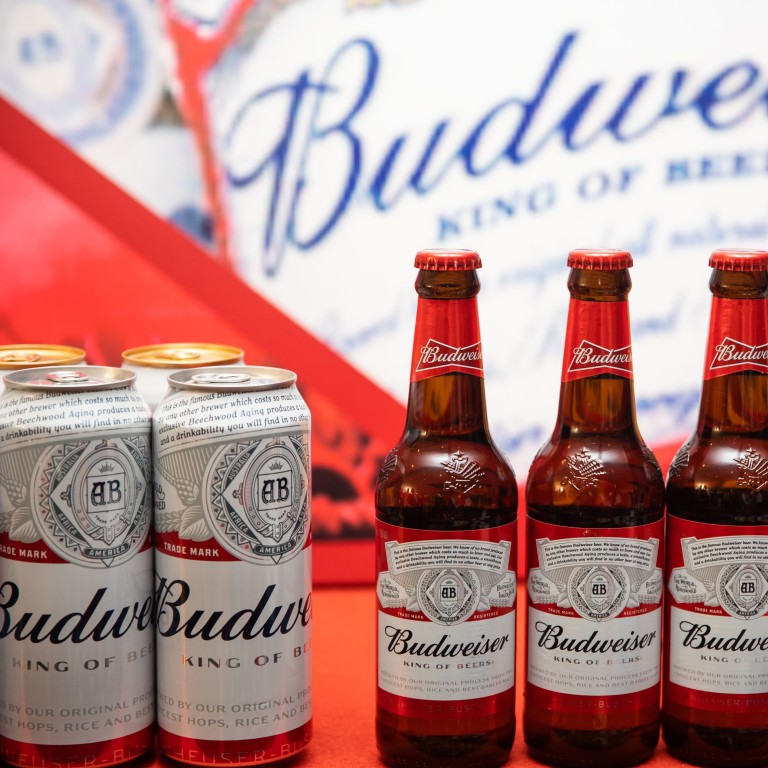 China Resources Beer explores possibility of minority stake in the Asian unit of world's largest brewer
AB InBev scrapped plans for a US$9.8 billion listing in Hong Kong of its Asian unit in July
China Resources Beer share price surges 7.84 per cent to all-time high on net profit report
China Resources Beer, maker of the world's bestselling beer Snow, said on Friday it is exploring the possibility of acquiring a minority stake in Budweiser APAC, the Asian unit of Belgian-based Anheuser-Busch InBev.
"We're paying close attention to this issue and evaluating its business, but we have yet to decide whether we are interested and if [the acquisition] will fit into the expansion plans for China Resources Beer," executive director and chief executive Hou Xiaohai said in response to a reporter's question at the company's interim results conference.
AB InBev, weighed down with debt after its acquisition of SABMiller, had filed for a listing of its Asian business in Hong Kong. In a shock announcement, it
shelved plans for the US$9.8 billion initial public offering
in July, which would have been the world's largest IPO this year. It cited "prevailing market conditions" after it was unable to command a high enough price.
A week later, AB InBev in another dramatic turn agreed
to sell its Australian unit
to Japan-based Asahi Group Holdings. The US$11.3 billion sale was a backup plan months in the making, and while it raised more than the IPO would, the world's largest brewer said it
still believed in the rationale of offering a minority stake
of Asian business Budweiser APAC, now excluding Australia, provided it could be completed at "the right valuation", Reuters reported.
"Budweiser's failed listing has not affected us. Neither do I think it would affect its operations in China. Making sure you get your own affairs in order, I think that's the way forward," said Hou.
China Resources Beer share prices surged 7.84 per cent, closing at an all-time high of HK$39.20, after the company posted a 24.1 per cent on year growth in net profit to 1.87 billion yuan (US$265.9 million) in the first six months to June.
Revenue grew 7.2 per cent year on year to 18.83 billion yuan, boosted by increased sales volume and higher average selling prices. It expects competition in the industry to remain intense and said it will continue bolstering its position in the premium market by leveraging its partnership with Heineken.
In April, the world's No. 2 brewer Heineken successfully completed the acquisition of a 40 per cent stake in the parent of CR beer in a HK$24.35 billion (US$3.1 billion) tie-up that granted the Chinese brewer exclusive rights to use Heineken's international premium brands in mainland China, Hong Kong and Macau.
For the three months after the transaction, Hou said "the integration was smooth, and we have gradually introduced Heineken and its international brands as part of the Snow brand portfolio".
With the sales of brands like Heineken, Sol and Tiger now part of its business, the tie-up now pits China Resources Beer against the western brands in China, a challenge they have to overcome to
achieve their target to claiming a larger market share
in the high-end beer segment in China in the next five to 10 years.
"Of course we would like to persevere and work very hard to overcome and overtake these major players," said Hou. "We have the confidence, but we'll see."
The company proposed an interim dividend of 0.12 yuan per share, up 20 per cent from last year.
Share prices of its domestic rival Tsingtao Brewery also rose on good first-half earnings, by the upside limit of 10 per cent. In a filing to the Shanghai Stock Exchange after trading hours on Thursday, it reported a 25.2 per cent increase in net profit to 1.63 billion yuan (US$231.5 million).
Its revenue stood at 16.5 billion yuan, up 9.2 per cent, driven by expansion, "optimalisation of brand and variety mix structure," which helped it achieve growth in sales volume and revenue.
Other Chinese liquor makers – Kweichow Moutai and Wuliangye Yibin – also rose in line with the wider consumer sector, by 1.91 per cent and 1.41 per cent respectively. It was an all-time high for the third session this week for Kweichow Moutai.
This article appeared in the South China Morning Post print edition as: CR Beer weighs plan to buy into Budweiser