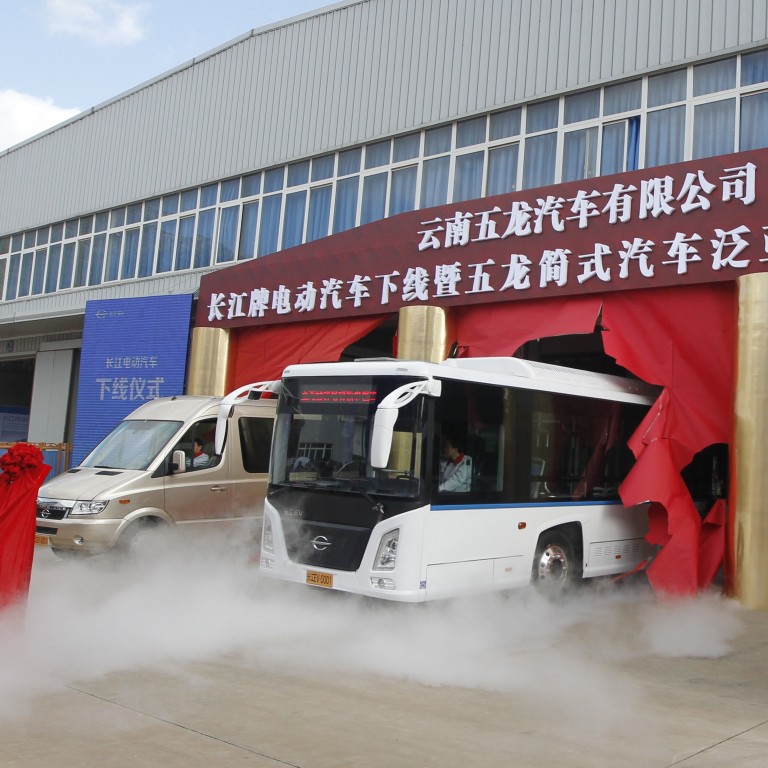 Li Ka-shing files bankruptcy petition against Chinese electric carmaker chief after HK$341.8 million investment stalls
Li's investment in Hong Kong-listed FDG Electric Vehicles has shrunk by more than 40 per cent in value
Stock of We Solutions, another firm Li has invested in, drops 1.1 per cent on Monday
Hong Kong billionaire Li Ka-shing, known for his prescient and successful investments in industries ranging from property to infrastructure, has hit a speed bump as far as his foray into the electric-vehicle sector is concerned.
His four-year-old investment in FDG Electric Vehicles, a Hong Kong-listed Chinese maker of new-energy vans and buses, has shrunk by 42 per cent in value. Over the weekend, he filed a bankruptcy petition against Cao Zhong, FDG's chairman, through his foundation in Canada.
Shares of FDG, which is based in the eastern Chinese city of Hangzhou, tumbled 29 per cent to 26.5 HK cents on Monday, extending its losses to 73 per cent this year. FDG was unable to assess the impact of Li's petition on the company as the petition was still at a preliminary stage, it said in an exchange filing with the Hong Kong bourse.
Li now holds a 2.1 per cent stake in FDG, as its fourth-largest shareholder, while Cao has a 4.1 per cent stake and is FDG's third-largest shareholder. Li bought 743 million shares of FDG for 46 HK cents apiece in 2015, valuing the deal at HK$341.8 million (US$43.6 million).
FDG has been unprofitable over the past few years and its business has worsened recently amid headwinds facing the industry, such as an economic slowdown in China and the government's scaling back of subsidies on new-energy vehicle purchases. It posted a net loss of HK$1.99 billion for the financial year ending in March, after a loss of HK$2.23 billion for the previous year.
The company acknowledged its financial difficulties in its annual report and said it had defaulted on a couple of bank loan repayments, and that it was negotiating with debtors to convert debt into equity and had asked the government for help. One of its subsidiaries, Hangzhou Changjiang Automobile, had even stopped paying employees, the National Business Daily reported in July.
China's electric-car market, the world's biggest, is reeling from the partial withdrawal of government subsidies. Sales dropped 4.7 per cent and 16 per cent from a year earlier, in July and August, respectively, after an average 60 per cent cut in subsidies this year. Annual sales had increase at 51 per cent over the past two years.
Another of Li's investments, in We Solutions, a Hong Kong-based maker of new-energy cars, has not fared well either, with its share price below levels Li bought at in May. Li invested in We Solutions at 51 HK cents a share through a unit of Agile Group Holdings. The stock declined 1.1 per cent to 46.5 HK cents on Monday.
Li is the richest businessman in Hong Kong, with a net fortune of US$28.1 billion, according to Bloomberg.
There is mounting concern Beijing has created an electric-vehicle bubble that may be about to burst. Total sales fell for the first time in July after the government scaled back its subsidies. Deliveries dropped again last month, raising doubts that one of the final pillars of strength in China's broader car market, which has fallen in 14 out of the past 15 months, is wavering.
Additional reporting by Bloomberg
This article appeared in the South China Morning Post print edition as: Li Ka-shing given shock by maker of electric cars