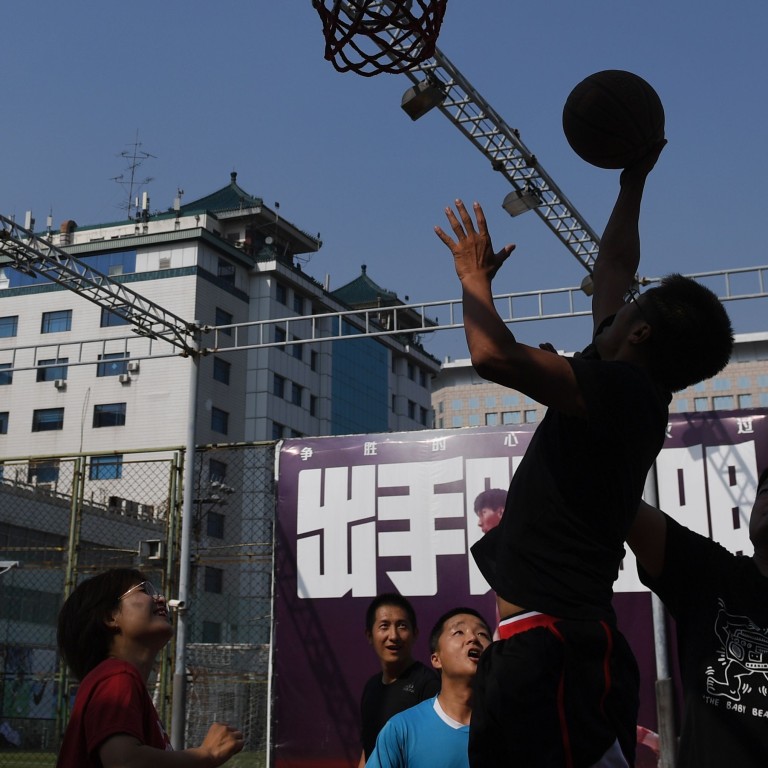 Sportswear maker Li-Ning and other sponsors of Chinese basketball see shares jump as country cuts ties with NBA and Houston Rockets
China has suspended broadcasts of NBA preseason games after Houston Rockets general manager Daryl Morey tweeted his support for Hong Kong protesters
Domestic brands have gained on expectations more Chinese fans will switch to watching the Chinese basketball league, which would bolster sales at home-grown sports gear makers
Shares of Chinese sportswear makers and other sponsors of the Chinese Basketball Association (CBA) have gained from a row that has put the US National Basketball Association (NBA)'s future in China in jeopardy.
The shares of Li-Ning, Dongguan Winnerway Industrial Zone and Qingdao Doublestar jumped by at least 4 per cent in Hong Kong and Shenzhen, on anticipation that more Chinese fans will switch to watching the domestic basketball league, which would bolster sales at home-grown sports gear brands.
Traders were quick to seize the opportunity, jumping onto the stocks on expectations that the CBA will gain an edge against the American basketball league after China's state television and Tencent Holdings suspended the broadcast of NBA's preseason games. A slew of Chinese companies including China Mengniu Dairy announced they would sever sponsorship deals with either the Houston Rockets or the NBA.
Houston Rockets general manager Daryl Morey infuriated the Chinese by tweeting his support for the anti-government demonstration in Hong Kong this week. Anger flared up again when NBA commissioner Adam Silver refused to apologise for Morey's tweet and voiced his support for freedom of speech.
Li-Ning, the sponsor of the CBA league, surged by as much as 6.4 per cent before closing 3.9 per cent higher at HK$25.05, lifting the stock almost threefold this year.
Morgan Stanley also upgraded the stock to overweight from "equal-weight". It said the company founded by the namesake Olympic gold-medal winning gymnast was set to benefit from the boom in the Chinese sports apparel industry.
Dongguan Winnerway, whose parent Guangdong Winnerway Holding owns the CBA title-winning club Guangdong Southern Tigers, soared by the 10 per cent daily limit to 3.14 yuan in Shenzhen. Shenzhen-listed tyre maker Qingdao Doublestar, the sponsor of CBA team Qingdao Eagles, also rose by that magnitude to 5.08 yuan.
Eleven Chinese companies have so far announced they will terminate their sponsorship of the NBA, with Mengniu Dairy, Anta Sports Products and Ctrip.com International among them. Mengniu dropped 0.8 per cent to HK$30.35 in Hong Kong on Wednesday, while Anta slipped 0.3 per cent to HK$67.80.
Shanghai Pudong Development Bank also said its credit-card unit suspended its marketing cooperation with the Houston Rockets. The stock rose 0.8 per cent to 11.99 yuan.
Brooklyn Nets, which was visiting China for its preseason game with the Los Angeles Lakers, had to cancel a media event on Thursday. The NBA China Games have been played regularly since 2004, becoming an annual preseason fixture since 2014.
The loss of the Chinese market will be a huge blow to the NBA, whose games are viewed by 800 million Chinese fans through various platforms every year. Tencent reportedly paid US$1.5 billion earlier this year for the digital broadcast rights for NBA games in the next five years. Tencent lost 1.7 per cent to HK$318.20 at the close on Wednesday.
This article appeared in the South China Morning Post print edition as: NBA row lifts shares in domestic sports firms