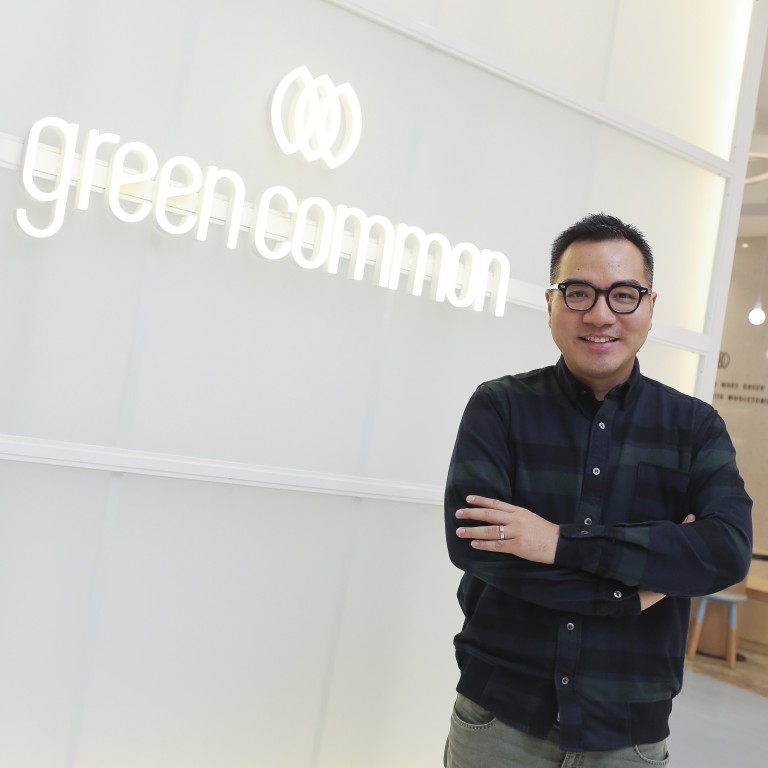 Hong Kong meatless meat firm Green Common opens Omnipork Tmall store with eye on China's pork shortage
Green Common's Tmall flagship store will officially launch on November 29, during the website's Black Friday event
Omnipork-based dishes will be offered in 180 restaurants and hotels in Beijing and Shanghai, as part of strategy also used in Hong Kong
Green Common, the Hong Kong-based provider and retailer of meatless meat products, is hoping to capitalise on depleting inventories and rising prices of pork in mainland China with the launch of a Tmall store.
The company, which distributes Beyond Meat products in Asia-Pacific, is betting on Omnipork, which was developed by founder David Yeung with Chinese tastes in mind. The Green Common Tmall flagship store will officially launch on November 29, during Tmall's Black Friday event, Yueng said in Beijing on Thursday.
"Our collaboration with Tmall Global is a milestone development in the China market, enabling local consumers to get a taste of the future. With our store's inauguration on November 29, we are going to start a new page in leading a healthy and sustainable food consumption trend in China," Yeung said. He added that offline sales in China would follow soon.
Tmall.com, formerly Taobao Mall, is a Chinese-language online retail website operated in China by South China Morning Post parent Alibaba Group Holding. It will feature 40 different plant-based food items, some of which are already available to buy, while others – including Omnipork – will launch on November 29.
Yeung said he expected Omnipork sales to benefit from the pork shortages in China. Retail prices rose 78 per cent month on month in September, according to a report by Dutch multinational bank Rabobank this month. The report added that pork inventories were depleted during the fall holidays, and that African Swine Flu had limited the ability of pork suppliers to meet demand. The bank also said pork consumption would be hit as high prices would limit interest.
Omnipork is currently available for sale, online and in supermarkets, in Hong Kong, Singapore, Thailand and Taiwan.
It benefits from research and development in the United States and is produced in Thailand, making it a much cheaper meatless meat alternative than other brands such as Beyond Meat and Impossible Foods. In Hong Kong, Omnipork retails at a cheaper price than compared with imported US or Australian minced pork.
Over the next two months, Yeung plans to offer Omnipork-based dishes in 180 restaurants and hotels in Beijing and Shanghai, following a strategy he used to distribute Beyond Meat and Omnipork in Hong Kong. The Grand Hyatt Beijing will be the first hotel partner to offer Omnipork dishes.
Chinese cuisine, which makes liberal use of tofu in its dishes, is no stranger to vegetarian dining. And while beef is a favourite of North American and European consumers, pork is by far the preferred meat in China.
Yeung cited market research by Euromonitor for the 2015-2020 period, which forecasts China's vegan market to grow at a compound annual growth rate of 17.2 per cent.
The success of companies such as Beyond Meat, which enjoyed a highly successful IPO in May and has grown revenues ahead of expectations, has attracted major food companies to develop their own meatless meat products. Tyson Foods, which was an original investor in Beyond Meat, sold its shares and began developing its own meatless meat product. Meanwhile, fast food chains in the US have added meatless meat burgers to their menus.
Hong Kong, which Green Common used as a testing ground for Beyond Meat and Omnipork products, has seen the number of restaurants offering meatless meat alternatives increase dramatically.
This article appeared in the South China Morning Post print edition as: Omnipork developer counts on Tmall store