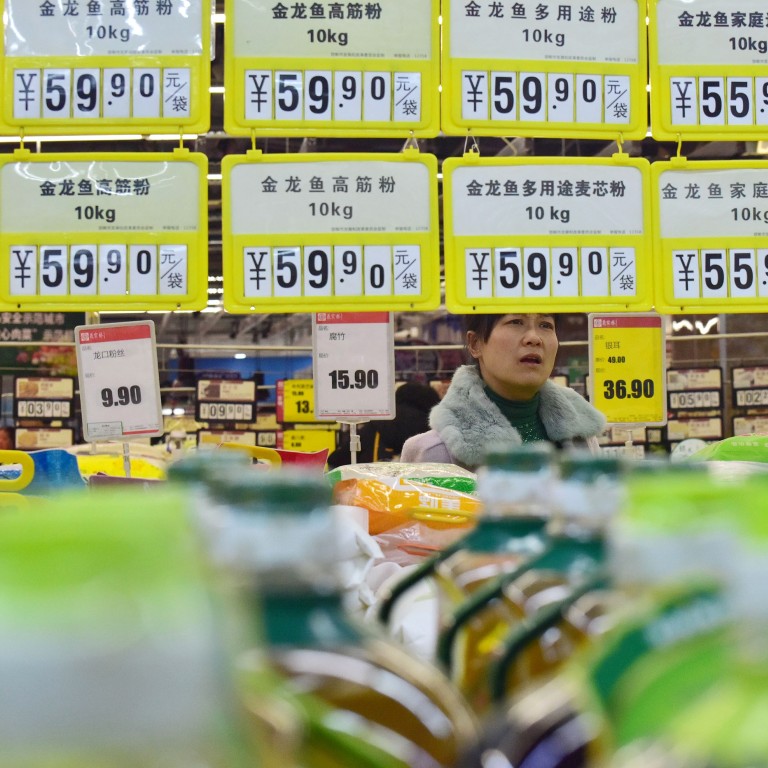 Chinese consumers spend more on essentials like oyster sauce but cut down on wine as they tighten spending amid slowing economy
Average price of fast-moving consumer goods in the first nine months of this year on the mainland increased 3.7 per cent, much slower than the 4.6 per cent a year earlier, according to China Shopper Reporter 2019
Sales of oyster sauce jumps 30 per cent, while that of wine falls 3 per cent
Chinese consumers are buying fewer expensive items amid an economic slowdown and trade war with the United States.
The average price of fast-moving consumer goods (FMCG) in the first nine months of this year on the mainland increased 3.7 per cent, much slower than the 4.6 per cent in the same period last year, according to China Shopper Reporter 2019 released jointly by US consulting firm Bain & Company and Spanish consumer insights provider Kantar WorldPanel.
"Sellers are under a lot of pressure to stimulate demand and to lure buyers, and so we see a lot of discounts and promotions. As a result the average price increase is much slower than previous years, and more significantly it is taking care of the inflation rate," said Jason Yu, general manager of Kantar Worldpanel Greater China.
Still "China continues to be the biggest consumer story in the world," said Derek Deng, partner with Bain & Company.
China's consumer price index, a key measure of inflation, rose to 3.8 per cent in October from 3 per cent in September, nearly the same as the average selling price growth seen in the joint report.
The report showed that wine sales in the first nine months dropped 3 per cent. Sales of butter too fell by the same extent, while leather care products plunged 10 per cent.
However, the sales value of oyster sauce saw the biggest increase at 30 per cent, as consumers are cutting down on the use of MSG in cooking.
Chinese consumers have become price conscious and are looking for bargains. They are turning to e-commerce platforms, such as Pinduoduo, that offer goods at extremely low prices, discounts and even refunds.
Discounts on Pinduoduo can be as much as 90 per cent on some daily use items. Recently, more than 6.4 million units of tissue paper were sold at 12.9 yuan (US$1.6) for a box of 10. This bulk sales model helped Pinduoduo, founded only four years ago, to surpass JD.com in gross merchandise value (GMV) in October, the company said.
China's policymakers have turned to boost consumption to lift economic growth, implementing tax cuts close to 2 trillion yuan this year as the country's gross domestic product slowed to 6 per cent in the third quarter – the weakest pace in more than 27 years.
However, economists expect growth to slow below 6 per cent next year. "Things will get much worse before getting better," economists at investment bank Macquarie said in a research note on Monday.
Retail sales in China grew by 8.2 per cent to 30 trillion yuan in the first nine months of 2019, according to China's National Bureau of Statistics. The Singles' Day shopping bonanza at Chinese e-commerce giant Alibaba Group Holding last month provided a small boost as GMV hit a record US$38.4 billion. Alibaba owns the South China Morning Post.
However, not everyone is convinced prioritising consumption is the best way to boost the economy.
"It is more difficult than ever to reach Chinese consumer's pocket," said Pedro Yip, partner at consulting firm Oliver Wyman. "A slowing economy is impacting the sentiment of consumers when they spend."
This article appeared in the South China Morning Post print edition as: Chinese spending more on essentials, less on luxuries