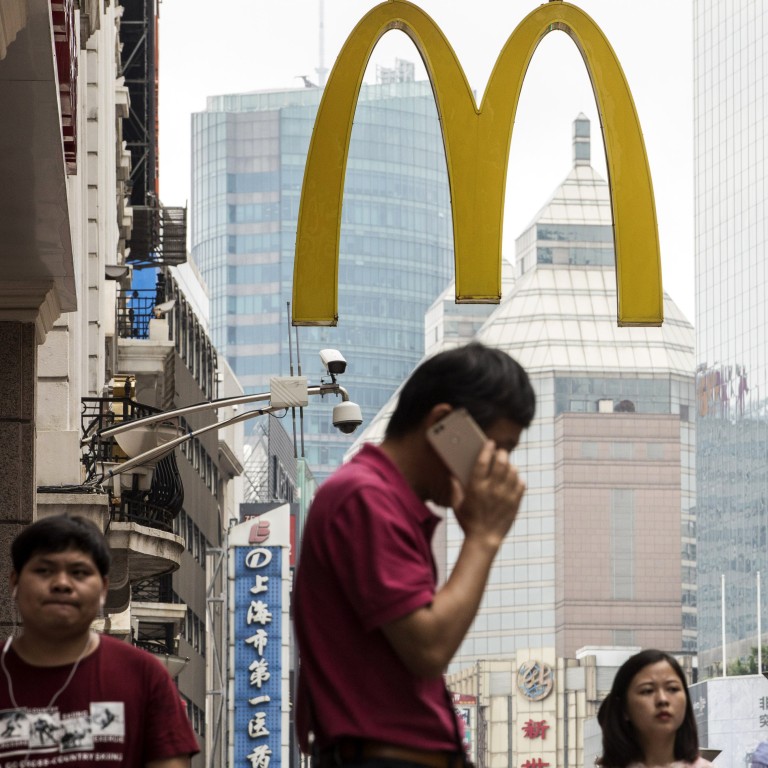 Citic to trim McDonald's China stake as 'Vision 2022' targets come under pressure amid competition, costs
Citic puts a 22 per cent stake in its China and Hong Kong franchises up for bidding, potentially lowering its ownership to 10 per cent
Planned sale comes with data suggesting sales and profits are stalling amid competition, rising costs
China's state-owned conglomerate Citic Limited is seeking to sell a substantial stake in its McDonald's fast-food operations in mainland China and Hong Kong, as reported data indicates the venture is lagging behind its "Vision 2022" sales growth plan amid rising competition and costs.
Citic is putting up 22 per cent stake in the unit McDonald's China for a minimum of 2.17 billion yuan (US$313 million) through a bidding process, the company said in a filing on the China Beijing Equity Exchange on Wednesday. A successful sale will reduce its ownership to 10 per cent.
Citic Capital Partners, which already owns 20 per cent of the venture, may bid for the stake, according to a company spokeswoman. The asset management affiliate the conglomerate is optimistic about the franchise, the spokeswoman said.
The bidding will be opened for 20 working days, according to the filing. The outcome may be known by mid-February given the long Lunar New Year holiday, people familiar with the process.
The stake auction comes less than three years after Citic teamed up with its asset management unit and US private equity firm Carlyle Group to
buy 80 per cent stake
in the mainland and Hong Kong franchises for US$2.08 billion. Carlyle took a 28 per cent stake, while Chicago-based McDonald's Corp. retained a 20 per cent share as part of its restructuring and turnaround plan.
The July 2017 agreement handed the parties control over some 2,500 restaurants in mainland China and 240 in Hong Kong. It also came with a strategic plan termed "Vision 2022" to ramp up its presence to 4,500 restaurants in mainland China, with the aim of driving double-digit sales growth in each of the next five years.
Data provided by Citic Limited in its filing suggests the venture is falling behind its ambition, if 2019 revenue is annualised. Analysts say fierce competition from home-grown operators and an outbreak of African swine fever that pushed up pork prices have clouded its prospects.
Fast Food Holdings, the joint venture between Citic and Citic Capital Partners that controls a 52 per cent stake in McDonald's China, reported a net profit of HK$856 million for the first 11 months of 2019, compared with HK$1.2 billion for the whole of 2018, according to the filing. Its revenue was HK$24.4 billion for the first 11 months of 2019 versus HK$24.8 billion in 2018.
KFC, which entered the mainland China market some 32 years ago, now boasts over 6,000 stores in more than 1,000 cities. McDonald's has built over 3,000 stores in 29 years, while Burger King has just over 1,000 across the nation since setting foot there in 2005.
Western-style fast-food businesses in China grew by 7.4 per cent in 2018 to 82 billion yuan, according to an estimate by London-based market research company Mintel. The pace may cool to 2.6 per cent in the five years through 2023.
McDonald's Corp. itself is having a tough time too, as fewer consumers visited its US stores. Its third-quarter earnings fell short of Wall Street's expectations, with income little changed at US$. 1.6 billion from a year earlier. Analysts polled by Refinitiv expected a 5 per cent growth.
In China, McDonald's has expanded fast into the online delivery space to drive growth. More than one-fifth of McDonald's China's overall revenue on the mainland came from delivery services, Yichen Zhang, chairman and chief executive of Citic Capital, said during a conference in September last year.
McDonald's China opened over 430 new stores in mainland cities last year, which was a record high, according to Regina Hui, its vice-president of communications. Over 1,000 new stores have been added since its acquisition in 2017, she added, compared to an average of 200-250 new stores before 2017, she said on Wednesday.
Hui said same-store sales and same-store traffic have also recorded positive growth for three consecutive years, without revealing specific figures.
The stake sale plan by Citic "is purely a commercial decision," according to Tammy Li, vice-president of corporate communications at the Carlyle Group. The related transactions will not affect the business strategy and daily operation of McDonald's in mainland China and Hong Kong, she said in an email statement.
(Corrects currency denomination in eighth paragraph to HK$)
This article appeared in the South China Morning Post print edition as: Citic to put 22pc of McDonald's China up for sale