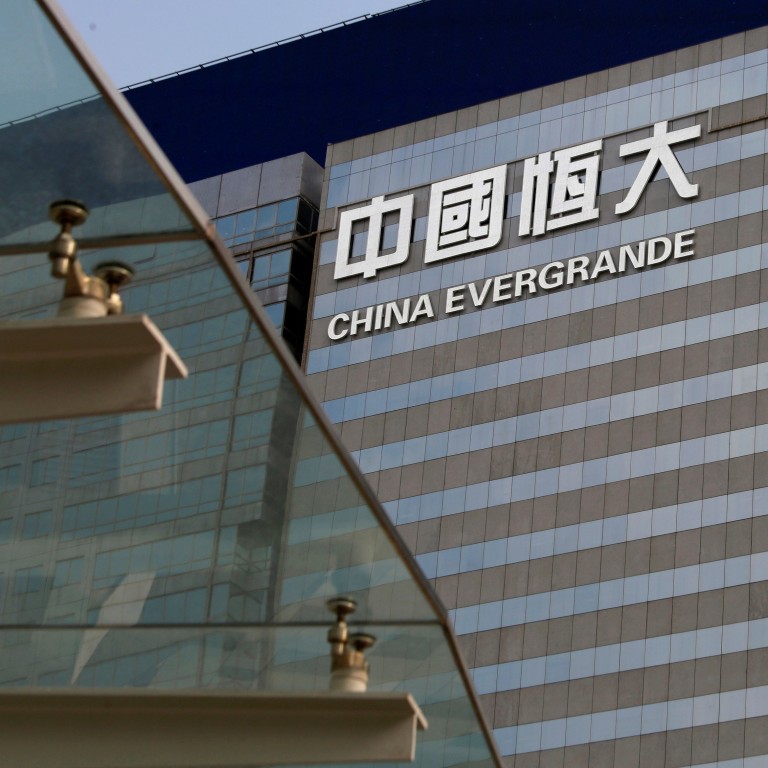 China Evergrande slashes prices of new flats by a quarter as coronavirus leaves developers struggling with plunging house sales
China Evergrande says it will offer a 25 per cent discount until the end of February, narrowing to 22 per cent in March, at all 811 of its projects
Developers are grappling with a cash-flow crisis and mounting debts as the viral outbreak threatens to derail China's vital property market
One of China's largest developers will slash the prices of all its new flats by a quarter in what it says is the biggest ever nationwide price cut, as the coronavirus outbreak threatens to derail China's all-important housing market.
China Evergrande, the country's third biggest builder by value, said it will kick off a one-and-a-half-month campaign offering discounts of up to 25 per cent at all of its projects across the country.
The company, chaired by China's third-richest person, Xu Jiayin, said in a statement that "to cope with the changes of the new period, Evergrande will offer special big discounts at all of our projects, starting from February 18."
All flats will be offered at a 25 per cent discount until the end of February, narrowing to 22 per cent in March. The scale, and the size of the discounts, makes this a much bigger campaign than one Evergrande carried out last year.
The company currently has 811 projects on sale, according to its latest annual report.
The move is seen as an attempt to raise cash and ease the finance crunch faced by Evergrande and its peers as home sales plunge amid the novel coronavirus, which broke out in China in January.
"No single developer would like to cut prices, considering that their profit is already very thin. But they have no choice when they cannot sell their flats," said Gan Li, a professor at Southwestern University of Finance and Economics.
The viral outbreak, which has infected more than 70,000 people in mainland China and killed more than 1,775, has put the country's housing market on a cliff edge.
More than 110 cities in 12 provinces have told developers to shut down property sales centres, according to China Real Estate Information Corp, a Shanghai-based property research and consulting firm.
Many developers are being hobbled by plunging sales, shrunken cash flow and, most importantly, loan repayments piling up.
Some market observers see more developers following Evergrande's lead as they struggle to survive.
"They have to slash prices, otherwise how can they sell amid such a bad housing market?" said Yan Yuejin, research director at E-house China Research and Development Institute. "Developers need to collect money back as soon as possible to survive the current situation."
Evergrande reported a 6 per cent drop in home sales in January from a year ago, to 40.5 billion yuan.
It is not a good start for the home builder, which set a 650 billion yuan sales target on February 1, higher than its 601 billion yuan sales completed in 2019.
In August last year, Evergrande became the first builder to launch a nationwide campaign to cut prices, offering discounts of up to 22 per cent at its 532 projects.
The heavily leveraged company was weighed down by more than 813.2 billion yuan in debt as of June 30 last year, according to its interim report and recently raised US$2 billion through bonds with interest rates of up to 12 per cent.
The property sector – a key pillar of China's extraordinary growth over the past four decades – contributes 25 per cent of domestic economic output, including all the sectors along its supply chain, such as cement and steel, according to Moody's Investors Service.
Moody's said the coronavirus outbreak will dent China's property sales and the whole year sales will decline slightly this year as a comparison to last year's 10.3 per cent increase.
Purchase the China AI Report 2020 brought to you by SCMP Research and enjoy a 20% discount (original price US$400). This 60-page all new intelligence report gives you first-hand insights and analysis into the latest industry developments and intelligence about China AI. Get exclusive access to our webinars for continuous learning, and interact with China AI executives in live Q&A. Offer valid until 31 March 2020.
This article appeared in the South China Morning Post print edition as: Evergrande cuts prices at projects by 25pc