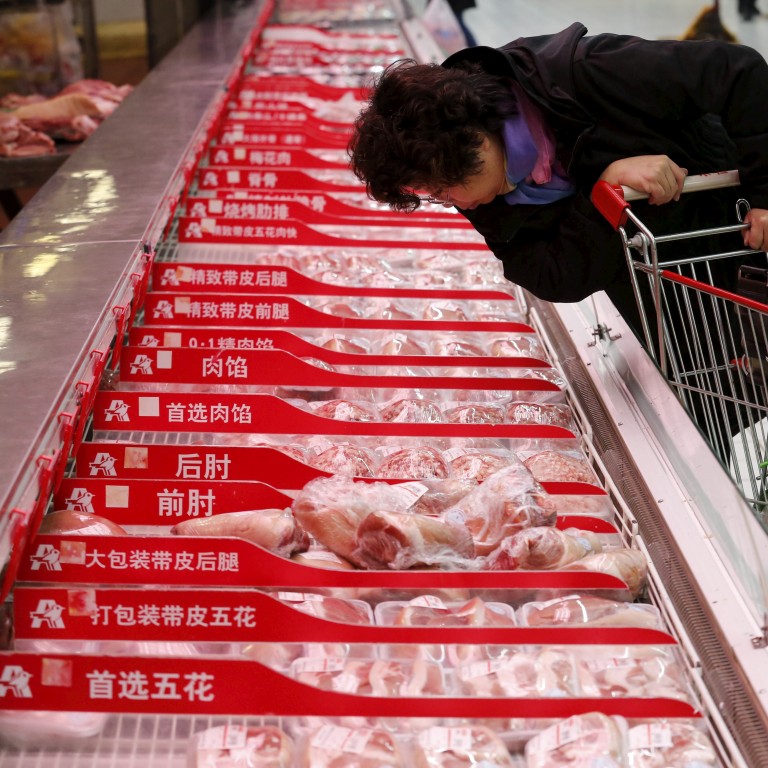 More of China's local governments, companies resort to coupons to boost flagging consumer spending
Suning.com, Nanjing city hand out coupons worth millions
Beijing calls on government heads, officials to lead local consumption
More local governments in mainland China are relying on coupons and public appearances by officials at shops and restaurants to boost consumption, which has been hit hard by the Covid-19 outbreak.
Over the weekend, Shenzhen-listed retailing giant Suning.com, which has e-commerce platforms as well as bricks-and-mortar stores, handed out coupons worth 500 million yuan (US$71.4 million) to boost shopping on its online and mobile platforms as well as about 200 Carrefour shops. It will give consumers as much as 500 yuan each to promote sales of home appliances, electronics, clothes and jewellery until month end.
Consumer spending has fallen during the epidemic and thus "proper management of demand is reasonable", said Zhang Wenlang, analyst at Everbright Securities, who added that this was despite the outbreak's impact being felt "mainly on the supply side".
"Only when employment is ensured could we have more consumption," said Xu Hongcai, deputy director of the Economic Policy Commission at the China Association of Policy Science, an organisation that advises the Chinese government.
Coupons could have a limited affect on consumption, but could push inflation up higher. "It might not lead to other local authorities flocking to issue similar policies, as cities like Nanjing are relatively rich, while almost all local governments' fiscal conditions are hit" by an economic slowdown that has been exacerbated by the epidemic, he added.
The measures follow a guidance issued by 26 central government departments last week about increasing consumer spending, especially on tourism and culture. Meanwhile, Beijing has called on officials to lead local consumption. As a result, government heads in various jurisdictions, including Nanjing city, Shandong, Hunan, Guangdong and Hainan, have in recent weeks appeared in public and dined at restaurants and gone shopping. The Qinhuai district of Nanjing city, for example, required that district heads spend at least 100 yuan locally.
Consumer spending contributed to more than 57 per cent of China's gross domestic product (GDP) growth in 2019. But revenue generated by domestic tourism, for example, could drop by 1.2 trillion yuan, or 20.6 per cent, for the whole year of 2020, according to the China Tourism Academy. In the first quarter alone, revenue has declined 69 per cent, with 932 million fewer trips when compared with the same period last year.
Losses during the seven-day Lunar New Year holiday exceeded 1 trillion yuan for the cinema, catering, retail and tourism sectors, according to the Evergrande Research Institute. This equals 4.6 per cent of China's first-quarter GDP growth last year.
Coupons could boost overall consumption by 20 per cent on average, said Everbright Securities' Zhang, based on the experience of Japan in 1999, during its "Lost Decade", and in Taiwan in 2009.
Over the weekend, Nanjing City gave out e-vouchers worth 318 million yuan to residents as well as non-residents, in a move reminiscent of action taken by the cities of Hangzhou and Chengdu during the 2007-2008 financial crisis. People have been invited to participate in lotteries for coupons that can be used in restaurants, gyms as well as to shop books, electronics, etc. The city's government has also designated coupons for low-income individuals and employees registered in certain labour unions.
Other local governments have been issuing coupons since February, when Macau gave away vouchers totalling 2.2 billion patacas (US$275 million) to local residents. Earlier this month, Jinan city in Shandong province handed out coupons worth 20 million yuan to boost spending on tourism and culture. Other local governments resorting to coupons include those of Zhejiang province, Ningbo city, Hebei province and Liaoning province.
This article appeared in the South China Morning Post print edition as: local officials issue coupons to boost spending