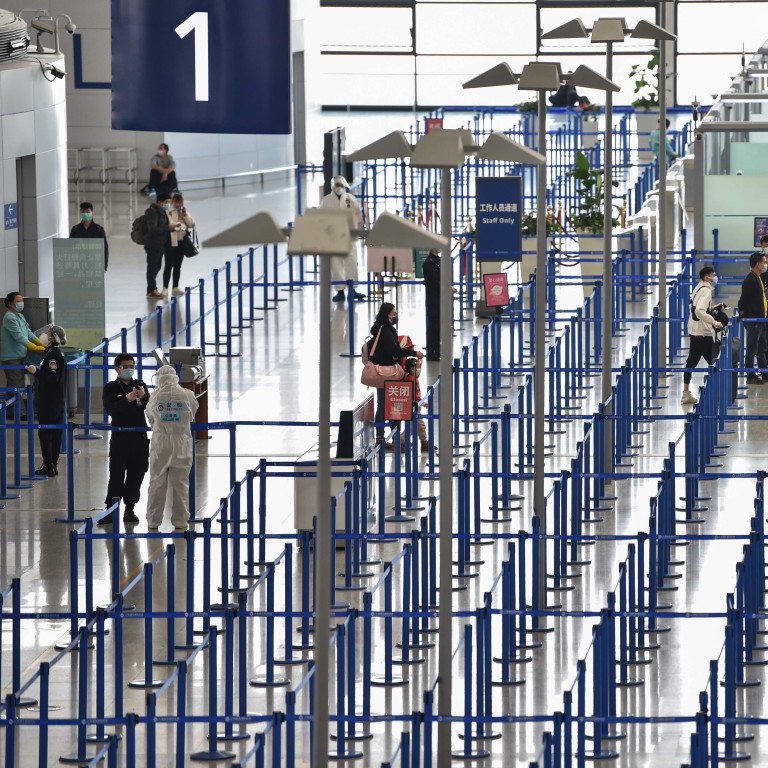 Shanghai Airport divides traders, analysts as stock slumps below price target by widest margin in 13 years
The difference between Shanghai Airport's stock price and analysts' price target is the widest since 2007
Fund managers and equity analysts are at odds on the valuation as pandemic slams global travels and stock prices
The slump in the world's biggest airport operator is dividing traders and analysts about the value of one of the market's favourite picks, as the
coronavirus
pandemic causes unprecedented damage to travel and trade.
Shanghai International Airport, the operator of the Shanghai Pudong International Airport, has fallen 21 per cent on the local bourse this year to 62.54 yuan, while 14 analysts tracked by Bloomberg lowered its 12-month price target by only 6.5 per cent on average to 81.86 yuan.
The gap is the widest in 13 years. Such a discrepancy for Hong Kong-listed Beijing Capital International Airport was close to the biggest in more than a year.
The divergence underscores the difficulty in evaluating the impact on the
aviation industry
, with estimates for losses among experts differing from US$88 billion to US$2 trillion as travel bans and border closures forced airlines to ground more than 90 per cent of flights. For Hengsheng Asset Management, the situation is beyond forecast.
"We are facing a question no one can answer: how long the epidemic will last exactly," said Dai Ming, a fund manager at Hengsheng in Shanghai. "All the investment-bank research is now based on the assumption that the disease will be contained soon and economic activities will pick up subsequently. We do not know whether that will be true."
The slide this year has erased 31 billion yuan (US$4.4 billion) from Shanghai Airport's market capitalisation and pushed its valuation to 24 times earnings, near its five-year average of 26 times, according to Bloomberg data. Even so, the stock is still three times more expensive than Beijing Capital Airport on the yardstick.
Some analysts are reluctant to make bearish calls on the company, which has posted profit growth every year since 2010, predicting that its business will pick up next year as the pandemic fades and profits surge.
HSBC is the most aggressive on the stock among the analysts tracked by Bloomberg, with a price target of 97 yuan. Goldman Sachs is the most bearish of the lot, with a 72.40 yuan target and a sell recommendation.
Shanghai Airport this week reported a 19 per cent jump in 2019 earnings, reflecting its performance before the viral outbreak. Citic Securities and China International Capital Corp forecast its earnings to more than double next year, recommending a long-term buy.
"The pandemic has almost no impact on the long-term value of Shanghai Airport," said Zhao Xinyue, an analyst based in Shanghai at CICC. Zhao, though, trimmed its price target by 6 per cent to 78 yuan.
Airport and airline operators are among the worst hit by the current health crisis, which has so far claimed more than 46,000 lives worldwide. China has blocked almost all non-residents from entering the country since last month, and limited international flight frequency.
Until recently, Shanghai Airport had been one of the market darlings. It handled 76 million passengers in 2019, making it the second busiest in China after the 100 million managed by Beijing Capital, according to government data. The cargo volumes handled by Shanghai Airport, though, almost doubled its rival's.
Both Shanghai and Beijing airports lagged the industry average in punctuality last year, according to the industry data. The average delay of flights for Shanghai was 28.6 minutes and that for Beijing was 31.4, compared with the industry average of 28.1 minutes.
The stock has also risen more four folds over the past six years, so much so that it was suspended from overseas buying via the cross-border investment channel in 2015 when the foreign ownership limit was breached. Its price-earnings reached 40 times in August.
There is no love lost, though, as the pandemic slammed stocks worldwide. Foreign investors have dumped a combined 2 billion yuan of them last month on the trading link known as Stock Connect, according to data by the city's exchange data.
For Hengsheng Asset's Dai, only a further decline will make shares of Shanghai Airport more attractive and spur buying interest under the backdrop of global bearish sentiment.
"In the current scenario, probably no one will buy the stock, unless it falls to an unreasonably low level," he said.
Sign up now and get a 10% discount (original price US$400) off the China AI Report 2020 by SCMP Research. Learn about the AI ambitions of Alibaba, Baidu & JD.com through our in-depth case studies, and explore new applications of AI across industries. The report also includes exclusive access to webinars to interact with C-level executives from leading China AI companies (via live Q&A sessions). Offer valid until 31 May 2020.
This article appeared in the South China Morning Post print edition as: airport stock fall a quandary for investors