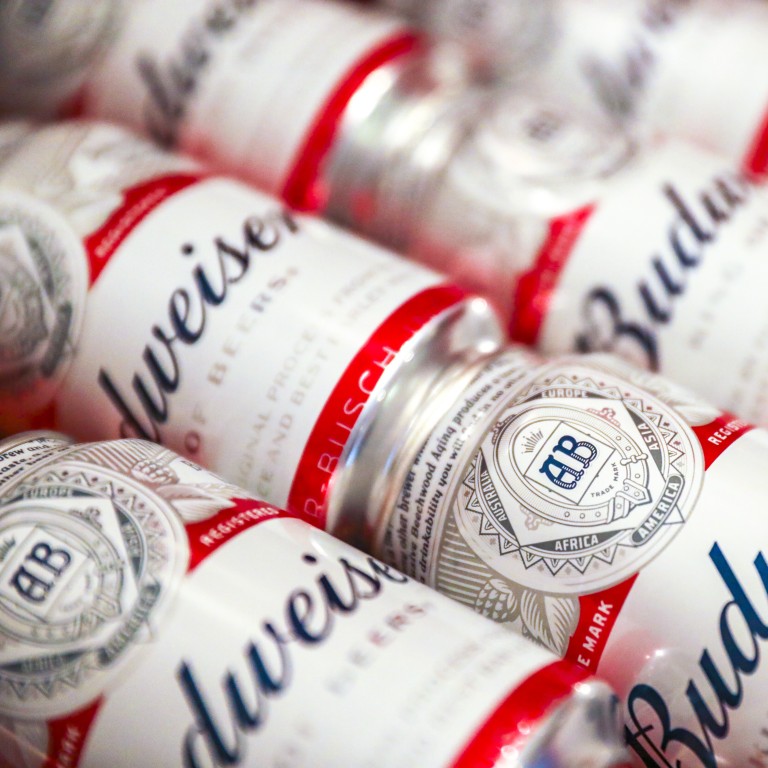 Hong Kong, China stocks stumble as sentiment turns negative on stubborn Covid-19, US-China tensions
Mood in Hong Kong sours, leaving even earlier upbeat tech stocks like Tencent in the hole
Budweiser Brewing APAC sees 'strong recovery' in China
Hong Kong and China stocks stumbled Thursday, with investor sentiment weighed down by the stubbornness of the coronavirus pandemic and ongoing US-China tensions.
The Hang Seng Index rose as much as 1.3 per cent, before closing down 0.7 per cent to 24,710.59. That left it below the psychologically important 25,000 mark for the fifth straight session and snapped a two-day winning steak.
Earlier Hong Kong sentiment was boosted by the US Federal Reserve vowing to do whatever it takes to bolster the world's largest economy as it slogs through the unrelenting turmoil of the coronavirus. But sentiment in the city soured as a record 150 Covid-19 cases were reported in Hong Kong and overseas investors pulled money out of China stocks through the Stock Connect.
"Worries in China spread to Hong Kong, both of which are seeing outbreaks of Covid-19. Also, with US-China tensions on top of that, some traders just wanted to get their money out," said Kenny Wen, wealth management strategist at Everbright Sun Hung Kai.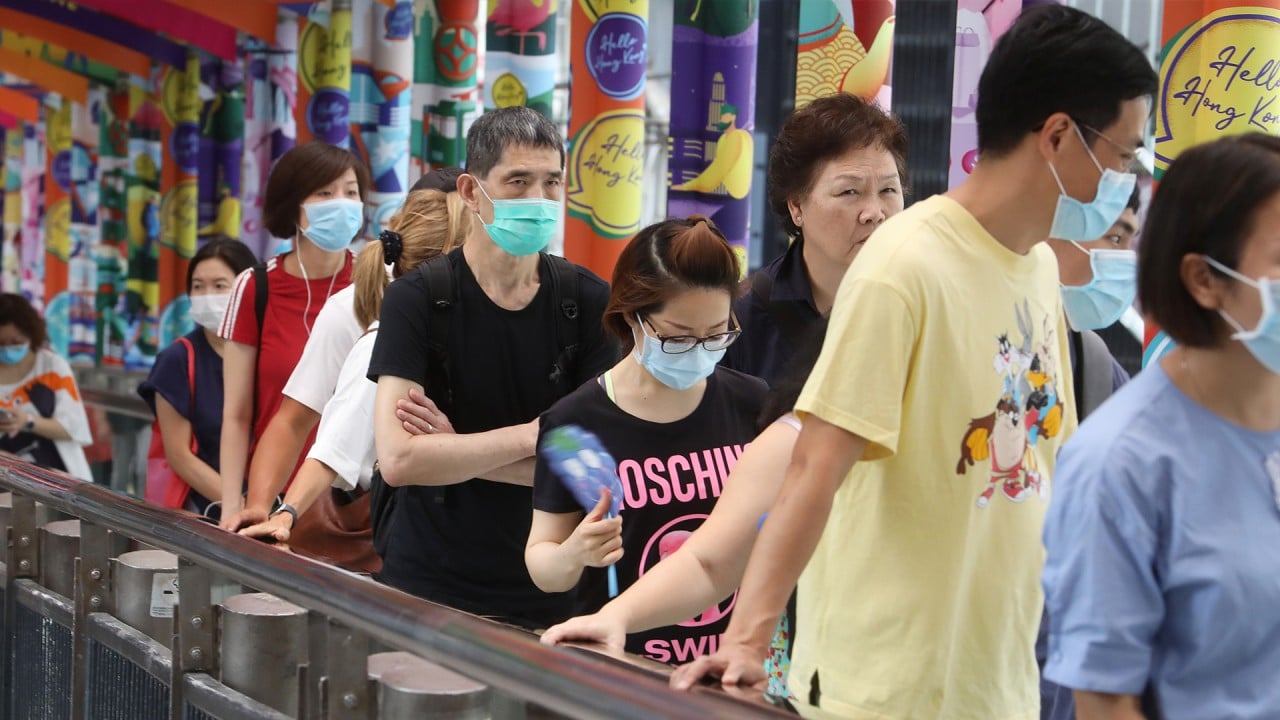 03:10
Hong Kong battles third wave of coronavirus infections
Hong Kong battles third wave of coronavirus infections
On the mainland, the Shanghai Composite Index bounced between small gains and small losses, but closed down 0.2 per cent, breaking a three-session winning streak. The CSI 300 of large stocks traded in Shenzhen and Shanghai fell 0.5 per cent.
Overseas investors pulled money out of Chinese shares, with a net outflow of 6.3 billion yuan (US$904.8 million), the most in a week, according to Bloomberg data.
Biotech companies were among top gainers on the mainland, with Beijing Wantai Biological soaring to the 10 per cent daily upside limit on investor expectations that the US Food and Drug Administration will soon approve its Covid-19 treatment – using antibody-rich blood plasma from recovered Covid-19 patients to treat infected people – for emergency use.
Kweichow Moutai, one of the most popular stocks on the Stock Connect, rose 0.5 per cent to 1,680 yuan, marking its fourth straight session of gains.
Two debuting companies in the mainland – Xiamen Leading Optics, a lens maker, and Runner Xiamen, which manufactures home improvement products – hit the 44-per cent upside limit for most new stocks.
In Hong Kong, even the high-flying tech stocks ended mixed. The new board of 30 of the largest tech companies listed in the city had been up 2 per cent after lunch, expanding earlier gains. But by day's end, it only advanced 0.2 per cent, with mixed results for the top five heavyweights on the index.
Tencent fell 1.1 per cent, after having been up 1.5 per cent. Also losing early gains to end in the hole were Chinese smartphone maker Xiaomi, which fell 0.9 per cent, and lens maker Sunny Optical, which slipped 0.6 per cent.
Others on the new tech board, however, managed to eke out some gains.
Alibaba
climbed nearly 1 per cent and Meituan Dianping advanced 1 per cent.
Budweiser Brewery APAC rose as much as 10.2 per cent before closing ahead 4.9 per cent as it returned to profit in the second quarter. It reported its second quarter profit rose to US$226 million, following a US$41 million loss in the previous quarter.
"The improvement in 2Q20 was primarily driven by a strong recovery in China to almost the same level as last year, including the highest monthly volume in our China history in June 2020," the company said in a filing to the exchange.
Standard Chartered
surged as much as 3.6 per cent on its lunchtime report of a first-half adjusted profit of US$1.96 billion, easily topping the US$1.53 billion expected by analysts tracked by Bloomberg, as it set aside a smaller-than-expected potential bad loan provision for the period. But it closed with a 1.9 per cent decline, leaving it down 42 per cent in 2020.
In the US overnight, the Federal Reserve kept key interest rates at near zero, while chairman Jerome Powell warned data suggested a slowing in the pace of the recovery as US deaths soared past 150,000, representing about one of every four deaths globally.
"The path forward for the economy is extraordinarily uncertain, and will depend in large part on our success in keeping the virus in check," Powell said.
Meanwhile, Hong Kong's economy contracted 9 per cent in the second quarter. That was more than expected and was the fourth straight quarter of downturn as the coronavirus deepened the city's recession.
UBS cut its forecast for Hong Kong GDP growth this year to minus 8 per cent, from minus 6.8 per cent previously, as it sees the latest wave of Covid-19 cases causing a further slump in economic activities. Analysts based the prediction on the assumption that the virus would be brought under control by the end of the third quarter, with social distancing measures relaxed.
Hongkongers are hunkered down
trying to stay safe
amid the worst outbreak yet of Covid-19, which has killed five people in the city just since Monday. China, where the global pandemic started, is suddenly seeing clusters of outbreaks after bringing the highly contagious virus under control through then-unprecedented lockdowns and other measures.
Meanwhile, the Hong Kong Monetary Authority intervened in the market again by selling HK$3.1 billion as the Hong Kong dollar rose over the strong end of its allowable trading band. This marked the 30th intervention this year and comes amid markets questioning the US dollar as a reserve currency. Joseph Yam Chi-kwong, the city's former longest-serving
monetary chief
, has repeatedly defended the city's 37-year-old currency peg to the US dollar as helping it maintain its role as an international financial centre.
Additional reporting by Yujing Liu