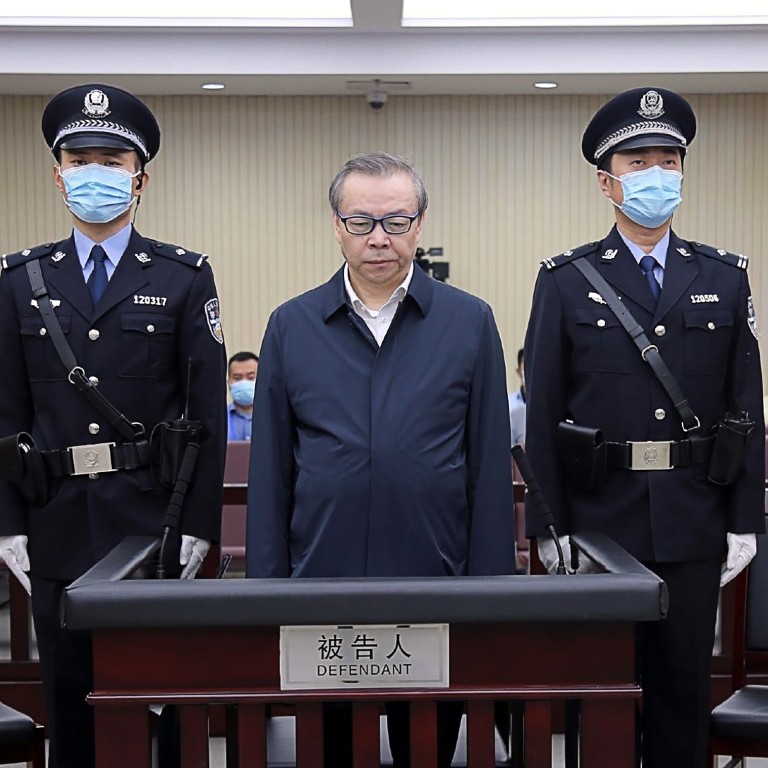 Ex-chairman of Hong Kong-listed bad asset manager Huarong pleads guilty to accepting US$257.7 million in bribes
Lai Xiaomin is the former head of China Huarong Asset Management and director general of the People's Bank of China's banking supervision department
He pled guilty to all charges during a public trial in Tianjin on Tuesday
The former chairman of one of China's four big bad asset managers has pled guilty to accepting 1.79 billion yuan (US$257.7 million) in bribes over a period of 10 years during a public trial in the northern city of Tianjin.
Lai Xiaomin was accused of exploiting various professional positions and accepting ill-gotten gains, including money and goods worth 1.79 billion yuan, of which 104 million yuan was eventually not received, between 2008 and 2018, when he headed Hong Kong-listed China Huarong Asset Management and was the director general of the People's Bank of China's banking supervision department, Tianjin No. 2 Intermediate People's Court said on its Weibo account on Tuesday.
Lai, who turned 58 last month, was also accused of colluding with others to illegally embezzle public assets worth more than 25.13 million yuan between the end of 2009 and January 2018. Meanwhile, he was also accused of living as husband and wife with a woman other than his wife. Lai pled guilty to all charges.
The details of the case were disclosed in a documentary series aired by state-owned broadcaster China Central Television on January 13. Lai appeared in part two of the five-episode series, which showed a room with more than 200 million yuan in cash that weighed about three tonnes. The documentary also revealed the 300 million yuan kept in a bank account under his mother's name, and details of more than 100 of his lovers.
Lai was taken away by the Central Commission for Discipline Inspection of the Communist Party of China in April 2018 for the "serious violations of disciplinary rules and laws", and was expelled from the party and removed from public office six months later. He was then charged with bribery, corruption and bigamy by the Supreme People's Procuratorate in February 2019.
Lai, who comes from China's eastern Jiangxi province, started his career at the PBOC in July 1983 and has held key positions at the China Banking Regulatory Commission and the Beijing Banking Regulatory Bureau.
He joined China Huarong Asset Management in January 2009 as deputy party chief and president. Shares of the company, which is valued at HK$24 billion, dropped 1.03 per cent and closed at HK$0.96 on Tuesday. The stock has declined 63 per cent since April 2018, when the investigation into Lai first started.