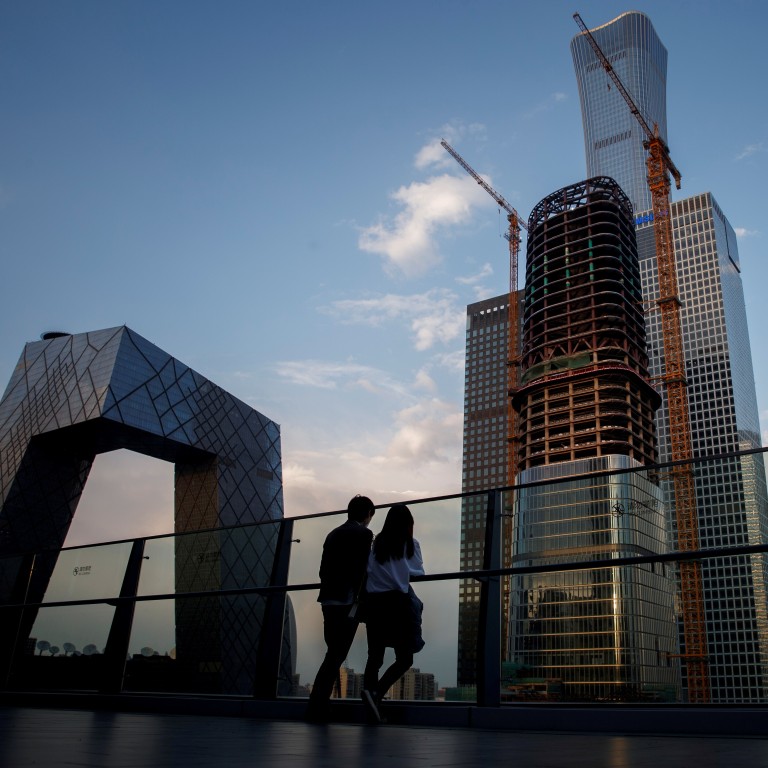 China's antitrust regulator fines affiliates of Alibaba, Tencent and SF Holding for 'monopolistic behaviour'
'The online economy has become increasingly concentrated by market share, with resources fast concentrating in leading platforms,': State Administration for Market Regulation
Regulator hopes to create deterrence with 500,000 yuan fine and to signal that enforcement against internet monopolies was strengthening
China's antitrust regulator has fined three of the country's largest technology companies for failing to disclose acquisitions of smaller competitors, stepping up its enforcement against what it called monopolistic corporate behaviour to protect consumer interests.
A subsidiary of e-commerce giant Alibaba Group Holding, a unit of social-media and gaming juggernaut Tencent Holdings, and an affiliate of express delivery company SF Holding were fined 500,000 yuan (US$76,457) each for a breach of China's anti-monopoly law, the State Administration for Market Regulation said in a statement on Monday.
"The online economy has become increasingly concentrated by market share, with resources fast concentrating in leading platforms," the regulator's anti-monopoly bureau said. "Complaints about platform monopoly have been increasing day by day, indicating competition risks and problems in the online economy."
The companies fined are Alibaba Investment, e-book publisher China Literature and express locker system operator Shenzhen Hive Box Technology. Tencent owns a 59 per cent stake in China Literature and SF Holding owns a stake in Hive Box's parent company.
The fines are a latest indication that Beijing was serious about reining in malpractice among China's fast-growing internet giants. The market regulator in November published a draft guideline that for the first time defined what constituted anti-competition practices among these internet companies.
They also come after China's Politburo, the Communist Party's top decision-making body, on Friday vowed to step up anti-monopoly efforts and prevent "disorderly capital expansion."
The 500,000 yuan penalty is the highest stipulated by the law. Even though the fine was small, the disciplinary action sends a signal that enforcement against internet monopolies was strengthening, the regulator said. It will stop companies from hoping they will not get caught for wrongdoings and will create a deterrence effect, it added. It was also looking into amending the penalty amount in an upcoming amendment of the antitrust law.
The regulator acted after it received complaints about the three companies' failures to report their acquisitions of competitors between 2014 and this year, according to the statement. The deals were large enough for the three to have a legal obligation to report their plans and gain approvals before they were executed, based on the law and government guidelines.
In Alibaba Investment's case, it failed to seek approval for the acquisition of a combined 73.8 per cent stake in department store operator Intime Retail Group, through three deals between 2014 and 2017, according to the statement. China Literature failed to report its purchase of New Classic Media, a producer of TV shows and films, in 2018. Hive Box took over a competitor owned by China Post Corporation in May.
Based on an antitrust guideline updated in 2018, companies need to gain approvals for acquisitions or mergers if they post a combined annual revenue of more than 10 billion yuan globally, or 2 billion yuan in China.
The regulator also pointed out companies operating under the so-called VIE (variable interest entity) structure are not exempted from the antitrust rules, as in the cases of Alibaba, China Literature and Hive Box.
This was a rare official comment about a corporate shareholding structure widely adopted by Chinese companies listed in the US and Hong Kong which has yet to gain official or legal recognition. The companies use such a structure partly to allow overseas shareholders to own a stake in industries that are restricted to foreign investors.
Monday's move has weighed down major Chinese technology stocks. In Hong Kong, Tencent fell 2.9 per cent to close at HK$571. The stock has lost more than 8 per cent since the release of
the antitrust guideline
on November 10. China Literature plunged 4.1 per cent to HK$55.85. Alibaba declined 2.6 per cent to HK$251.60. SF Holding, however, edged up 0.3 per cent to 78.50 yuan in Shenzhen.
The market regulator also said it was reviewing
a proposed merger
of video game live-streaming platforms Huya and Douyu, according to the statement.
This article appeared in the South China Morning Post print edition as: China tech firms fined over non-disclosure