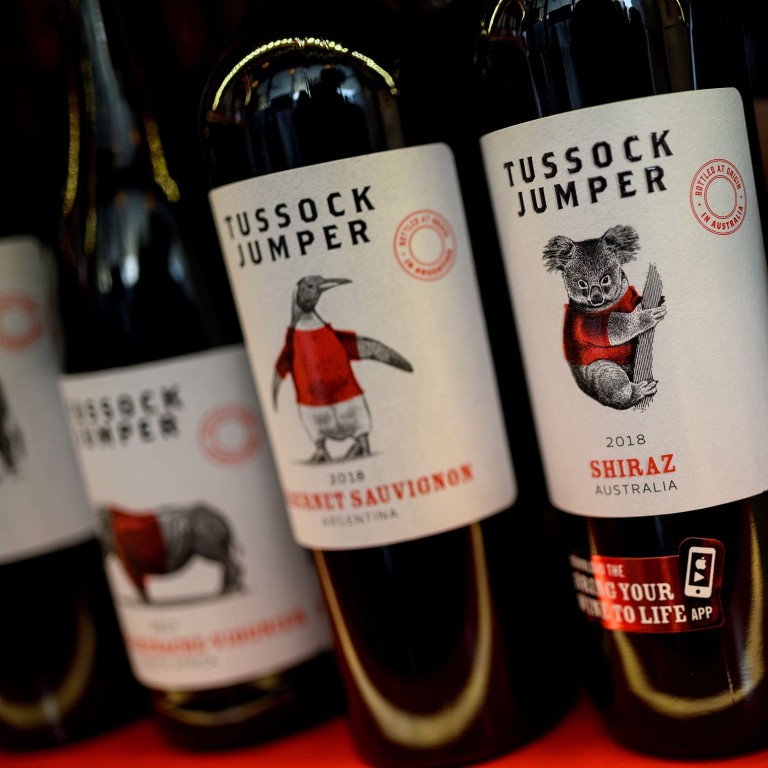 Mainland China's tariffs may see cheaper Australian wines destined for Hong Kong after Lunar New Year, merchants say
Australian reds and whites have found themselves among products hit by sizeable import tariffs in one of their most lucrative markets
Some discounts may be seen after the holiday period as distributors unwilling to pay hefty tariffs decide to divert their inventory to Hong Kong instead
Australian reds and whites have found themselves on an expanding list of products hit by sizeable import tariffs in one of their most lucrative markets, as Beijing has upped the ante in
a worsening trade spat
involving commodities from barley to timber and lobsters.
With distributors unable to import into the mainland without paying hefty tariffs, they may decide to divert their inventory to Hong Kong instead, flooding the city with cheap Australian wine, some analysts believe.
However, wine buffs and investors may have to wait until after the Lunar New Year to see prices drop, because most of the wines needed for the festive season have already arrived in mainland China, merchants said.
Any impact might emerge in a month or two, said Eric Man Tak-wing, general manager of Wai Shing Wine International, a retailer and wholesaler.
"Wines intended for the Christmas and New Year peak season have already been imported into the mainland," said Man, who is also the Hong Kong General Chamber of Wine and Spirits vice-president.
Late last year China's commerce ministry imposed temporary anti-dumping and countervailing, or anti-subsidy, duties of up to
218.5 per cent
on Australian wine that comes in containers smaller than 2 litres (68 oz).
Canberra has denied the Australian wine industry was dumping in China or was subsidised.
As well as wine,
Australian exports
of beef, lobster, coal, cotton and timber to China have faced significant blocks since early summer. Though denied by Beijing, many observers believe the tariffs are in retaliation for Canberra leading international calls for an
investigation
into the origins of Covid-19, which first broke out in the Chinese city of Wuhan.
For the Lunar New Year peak season in February, some companies have imported fewer Australian wines and stored bottles that have already arrived in mainland China in bonded warehouses, where goods are temporarily exempt from taxes.
Some wines that were already on their way because of existing contractual obligations had been redirected to Hong Kong but only for temporary storage, said Henry Ho Yiu-hong, president of the Hong Kong Wine and Spirits Association.
"Optimistic importers who believe that the trade conflict won't last might one day shift their Hong Kong stock back to the mainland," Ho said. "They won't abandon the mainland market for Hong Kong."
Grace Li Lai-yin, the president of the Hong Kong Wine Chamber of Commerce, said the markets were too different for the mainland tariffs to have a knock-on effect on prices.
"Hong Kong might be able to consume half a container but the mainland could consume three," she said.
Australia exported US$911 million worth of wine to mainland China in the 12 months ended September, according to regulator Wine Australia. Hong Kong trade statistics show the city imported US$692 million worth of Australian wine in the same period.
Australian winemaker Treasury Wine Estates announced in a filing that its popular Penfolds Bin and Icon ranges would be reallocated from mainland China to the US, Australia, Europe and other Asian markets.
The winemaker, which faces a 175.6 per cent tax on its mainland China imports, declined to say if the duties have affected stock and prices of Hong Kong's Australian wines.
Watson's Wine, the Hong Kong's largest specialist wine retailer, offered steep discounts of 30 to 43 per cent in December and January for 28 wines, including a 2017
Penfolds RWT Shiraz
and a 2018 De Bortoli Gamay.
Supermarket chain Wellcome sold a 2019 Penfolds Koonunga Hill Chardonnay at HK$83 (US$11) a bottle, down from an original price of HK$200.
But Grace Li said the vendors were probably pursuing small profits and quick returns because of pressure from high store rents and employee wages during the pandemic-related recession.
Watson's Wine declined to comment and supermarket chains City'super and Wellcome did not respond to requests for comment.
This article appeared in the South China Morning Post print edition as: City's wine lovers may benefit from Beijing tariffs