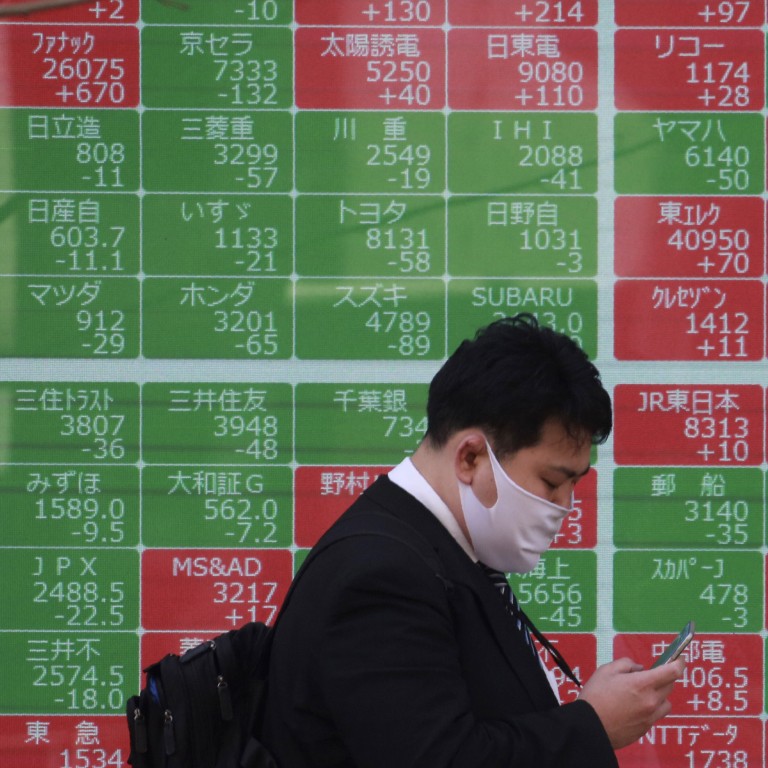 Hong Kong stocks track gains on Wall Street momentum as Fed outlook, recovery hopes keep rally alive
Hang Seng Index advances for a second day with Xiaomi, China Mobile powering gains, while mainland markets tag along
Benchmarks in Asia-Pacific track gains in overnight US markets amid optimism surrounding the Fed guidance ahead of rate meeting on Wednesday
Hong Kong and mainland China
stocks rose
, mirroring gains in Asian markets after US equities charted new records amid lower bond yields and economic recovery hopes.
The Hang Seng Index climbed for a second day, rising 0.7 per cent to 29,027.69 at the close of trading Tuesday. The Shanghai Composite Index added 0.8 per cent, rebounding from a 1 per cent slump on Monday sparked by concerns that improving economic conditions will lead to policy normalisation.
Stock benchmarks from Japan to South Korea advanced by at least 0.5 per cent. All the three key US indices reached fresh highs in overnight trading after 10-year Treasury yield retreated from a one-year high before a Federal Reserve rate meeting on Wednesday.
Trades are keeping a close watch on the Fed guidance regarding the economy and future path of borrowing costs, after a bout of
"taper tantrums" rocked global markets
last month. Bets on faster recovery in economic activity have already pushed one gauge of inflation expectation to its highest level since 2008.
"More signs of improvement in the US economy appeared, with small- and mid-sized companies reporting that jobs are hard to fill," said César Pérez Ruiz, chief investment officer at Pictet Wealth Management. "We expect the Fed to remain dovish."
While surging bond yields are seen as a positive economic signal by Fed officials, the scenario has unnerved equity traders recently, spurring them to switch into the value stocks from lofty technology and consumer companies.
Chinese smartphone maker Xiaomi surged 8 per cent to HK$26.30 in Hong Kong after
FTSE Russell said that the stock will be added
to its indexes again. Shareholders enjoyed the best rally this year when the stock surged 7 per cent on Monday. A US court halted a ban on American investment in the company for its alleged ties to the Chinese military.
China Mobile rose 1.9 per cent to HK$53.05 on speculation that the world's biggest wireless carrier is mulling a plan to list its shares at home,
after getting booted out from the New York Stock
Exchange earlier this year under a US executive order.
Cofco Joycome Foods jumped 8 per cent to HK$4.99 on expectations that parent Cofco plans to create a new unit by combining its international trading arm with several domestic businesses for a listing, possibly on the Shanghai Stock Exchange.
Two stocks debuted on Tuesday. QingCloud Technologies rallied 29 per cent to 82.13 yuan on Shanghai's Star Market, while Jiujiuwang Food International dropped 27 per cent from its initial public offering price to HK$0.55.