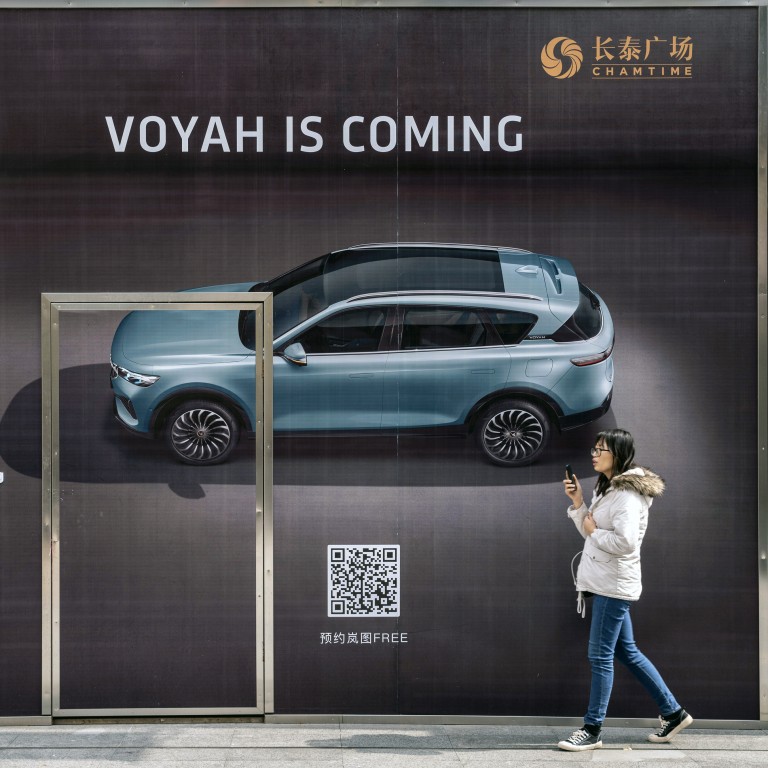 EVs could make up 45 per cent of car market globally by 2040, Fitch says
An expected annual retirement rate of 7 per cent of conventional cars will boost EVs, ratings agency says
China and EU were ahead of the pack thanks to strong incentives aimed at reaching low carbon emissions goals
Electric vehicles' (EVs) market share could rise to 45 per cent globally by 2040, according to Fitch Ratings.
"The [EVs] market has already outpaced expectations," the ratings agency said in a research report published last week. "The pace of retirement of existing [internal combustion engine cars] will play a crucial role in the evolution of market shares."
An expected annual retirement rate of 7 per cent of conventional cars will boost EVs, Fitch said. Last year, EV sales jumped 30 per cent to 3.1 million units, or 4 per cent of the global total.
The report comes as various countries around the world, including China, take drastic actions to meet their carbon emissions goals. China, which has pledged to achieve carbon neutrality by 2060, has been playing a leading role in growing the EV market, Fitch said.
According to the report, China as well as the European Union (EU) were racing ahead of other markets by introducing strong incentives aimed at reaching low carbon emissions goals. In China, for instances, Beijing as well as local governments had granted cash subsidies to consumers. Last year, 1.17 million EVs were delivered in the country, an increase of 12 per cent year on year.
The EU was catching up, after reporting 122 per cent sales growth last year, Fitch said. Countries in northern Europe have rolled out strong regulatory and policy incentives to spur EV growth as a way of cutting pollution.
The agency added that even conservative analysts now estimated that EV sales would reach 70 million units in 2035. Fitch itself did not forecast an absolute sales figure for EVs in 2040.
Last month, Swiss bank UBS said that there was a chance that by 2040,
all new cars around the world could be EVs
. The bank said that decreasing battery costs would be a driving force for rising EV use. As the cost of batteries comes down, carmakers will be able to achieve margin parity between traditional cars and EVs by 2025, the bank added.
Tesla,
the global EVs leader
, as well as conventional car making giants Volkswagen (VW) and Ford Motor, have been ramping up plans as electrification of cars gathers pace around the world. UBS said that VW would be another EV leader worldwide, because it has the best scalable EV platform.
In China, a clutch of
new models by domestic players
are banking on a rapid expansion of the charging infrastructure, analysts said. The country is the world's largest EV market.
In March, Tesla delivered 35,478 vehicles made at its Shanghai Gigafactory 3, which comprised 25,327 Model 3s and 10,151 Model Ys. Its sales jumped 93.7 per cent over the previous month.
Guan Mingyu, a partner with global consultancy McKinsey, said that brand awareness played a critical role in Chinese consumers' decision-making process. "They focus on just two or three brands when they decide to buy a car," he said. "Car manufacturers are advised to build their brand image to make sure that key information about their products can be sent to targeted customers."