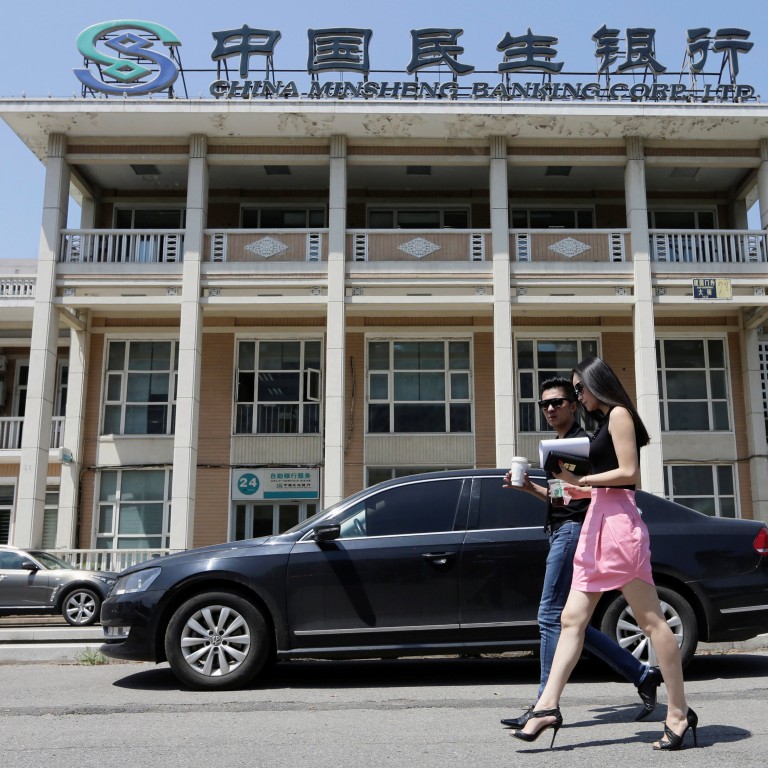 China Evergrande's creditor Minsheng Bank pares loans to developer amid concerns about leverage, default
China Minsheng has reduced its exposure since September to 'within controllable range', bank says in reply to investors
Lender's comments came a day after Fitch Ratings downgraded Evergrande's rating to B with a negative outlook
China Evergrande's top bank creditor has reduced its exposure to the nation's
most-indebted developer
to assuage its own investors, a sign that local lenders have started to raise their guard against the risk of defaults.
China Minsheng Banking Group, a major commercial lender, said its loan exposure to Evergrande has been lowered since September last year following a scrutiny of lending to the developer, it said on the Shanghai Stock Exchange's investor interaction platform late on Wednesday. "The risk is maintained within a controllable range."
Investors have also retreated by selling down the stock by 27 per cent this year, clipping its market value by as much as HK$85.7 billion (US$11 billion) in the period. The uneasiness has also infected its most actively traded dollar-denominated bonds, which have slumped from 85 cents on the dollar to 69 cents in the past one month alone.
China Evergrande, which had 670 billion yuan (US$104.1 billion) of borrowings at the end of 2020, has become the lightning rod for criticism and the focus of regulatory clampdown to contain systemic risk to the mainland's financial industry. Last August, China's central bank and the housing ministry imposed the so-called "three red lines" to curb excessive corporate leverage among developers.
Several major lenders are said to have told their branches to avoid writing new unsecured loans to Evergrande as the developer faces bouts of liquidity squeeze. Market regulators have also ordered bank creditors to stress test their capital and liquidity buffers in case of a crisis at Evergrande.
Evergrande had earlier responded to these speculations by calling such reports are severely inaccurate.
It said on Thursday that it has arranged HK$13.6 billion for repayment of its offshore bonds due to mature on Monday and it "does not have any further domestic and foreign public bonds due before March 2022."
China Minsheng's comments came a day after Fitch Ratings downgraded the developer's rating to B with a negative outlook, citing ongoing pressure to downsize and reduce its debt load.
"We believe the company's debt reduction plan is achievable, but it is subject to meaningful execution risk and may also negatively affect the company's business profile in the medium term," Fitch said in a statement. The negative outlook reflects Evergrande's weakened access to debt capital markets and heavy reliance on trust loans."
The property developer may continue to struggle to shake off negative headlines. Reports of banks rejecting commercial acceptance bills (CABs), or so-called short-term IOUs issued by Evergrande to its suppliers, have gone viral on Chinese social media.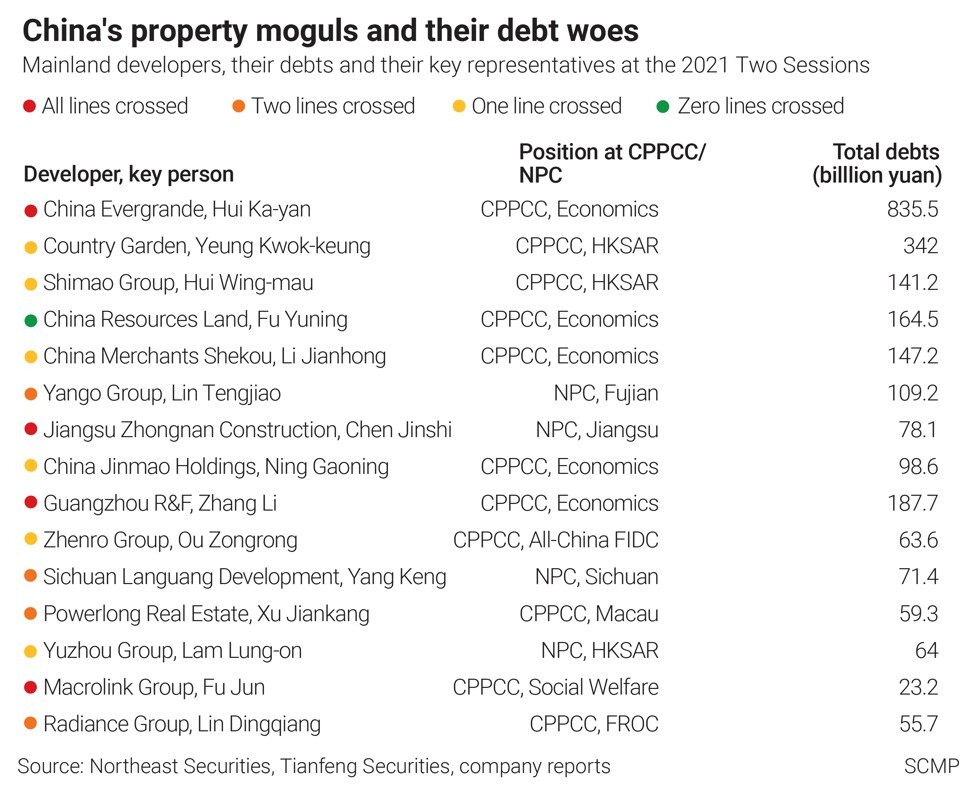 The Post earlier talked to an Evergrande contractor who is saddled with 1 million yuan of unsettled CABs issued in June, and another 5 million yuan maturing in July. The contractor, based in Nantong in southwestern Jiangsu province, declined to be named because of the sensitive nature of the matter.
China's tough "three red lines" are said to have restricted access to credit for Evergrande. It was the only firm among top 10 Chinese developers in breach of all three leverage ratios and is thus barred from piling on new debt.
Minsheng said on Wednesday that Evergrande has so far fully paid its loans and interest on time and its major collaterals are assets that can be monetised easily, including lands, properties and projects under construction.
"We will continue to keep close monitoring on Evergrande and its affiliated companies and their financial conditions," the bank said. "If we notice any potential risk, we will actively adopt risk management measures."
This article appeared in the South China Morning Post print edition as: Minsheng Bank pares loans to China Evergrande