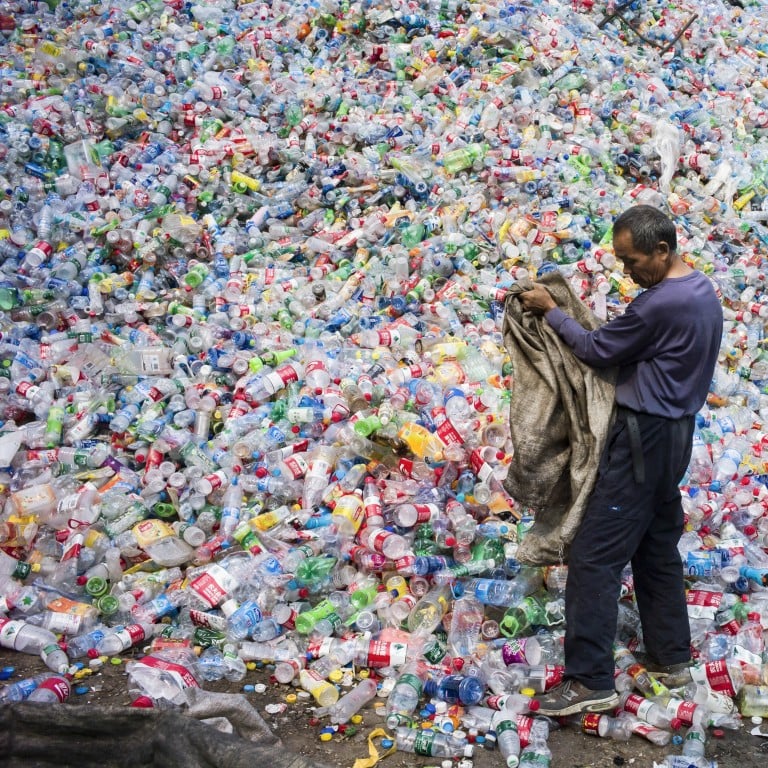 China ramps up efforts to tackle plastic pollution with five-year action plan
The government plan sets out targets for phasing out single-use plastics, boosting recycling and promoting alternatives to plastic
A fifth of the world's single-use plastic came from China in 2019, according to a study in May this year by the Australia-based Minderoo Foundation
The National Development and Reform Commission (NDRC), China's central economic planner, published a five-year action plan for reducing plastic pollution on its website on Wednesday.
Jointly issued by the NDRC and the Ministry of Ecology and Environment, the plan for 2021 to 2025 aims to "further improve the management of the entire chain of plastic pollution".
It provides detailed measures and specific targets for cutting the
production and use of plastics
, promoting alternatives, developing a recycling system, and reducing landfill plastic waste while boosting incineration capabilities.
"Plastic pollution has become a focal environmental issue, raising common concerns around the world," said Zhang Deyuan, deputy director of the research institute under NDRC, in a policy interpretation of the plan published by NDRC on Thursday. "The core of plastic pollution control is to build strong dams [against] plastic leakage to the environment."
The action plan assigned responsibilities to several state departments.
The Ministry of Industry and Information Technology (MIIT) will take charge of curbing the production of ultra-thin plastic shopping bags and products containing plastic microbeads that are harmful to the environment and human health. The State Administration for Market Regulation (SAMR) will be responsible for the supervision and restriction of excessive packaging of commodities.
The plan stipulates that by 2025, sectors including retail, e-commerce and express parcel delivery should cut out the "unreasonable" use of disposable plastics.
The country aims to have at least 10 million reusable boxes for express delivery in use by 2025, and central departments including the Ministry of Commerce and the State Post Bureau will be responsible for the supervision and implementation of those measures.
The nationwide capacity for urban domestic waste incineration should reach 800,000 tons per day by 2025, according to the plan, and the amount of plastic waste that goes directly to landfill must be greatly reduced. The targeted recycling rate of agricultural plastic film is 85 per cent, the plan states.
It also aims to clear plastic waste from key lakes and rivers, tourist attractions and rural areas.
The plan orders the promotion of alternatives to plastics, such as bamboo, wood and paper, and calls for more scientific research into degradable plastic technologies. Information departments such as the Cyberspace Administration of China are also ordered to promote public awareness of green consumption habits, plastic waste reduction, and rubbish-sorting.
Since Chinese president Xi Jinping surprised the world a year ago by announcing the country's climate goals of peak carbon emissions by 2030 and carbon neutrality by 2060, China has enacted environmental measures ranging from new policies to recently launching a national carbon trading market.
As well as being the world's largest emitter of carbon dioxide, China is also the biggest generator of plastic waste. A fifth of the world's single-use plastic came from China in 2019, according to a study in May this year by the Australia-based Minderoo Foundation.
Single-use plastics are made almost entirely from fossil fuels, and are eventually burned, buried in landfill sites or discarded, leaving large carbon footprints from production to incineration. In 2020, China produced about 60 million tonnes of plastic wastes, of which about 16 million tonnes was recycled, according to the China National Resources Recycling Association.
Roughly 300 companies own the world's single-use plastic production facilities, and a third of them are from China. The state-owned oil and gas firm Sinopec is the world's third-largest single-use plastic waste producer, pumping out about 5.3 million tonnes of the product in 2019, according to Minderoo.
This article appeared in the South China Morning Post print edition as: China steps up fight on plastic pollution