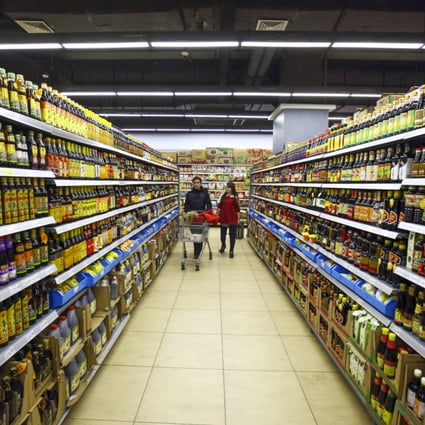 With an increasing number of Chinese consumers shopping online, sales at hypermarkets in the world's second-largest economy are on a downward spiral. Photo: Bloomberg
Hypermarket stores in China closing at a rapid clip as consumers shift spending online
Hypermarket sales have declined at an annualised pace of 7 per cent over the past three years, compared with a 24 per cent growth in e-commerce sales
Walmart closed more than 80 stores from 2016 to 2020, and had only 34 left at the end of September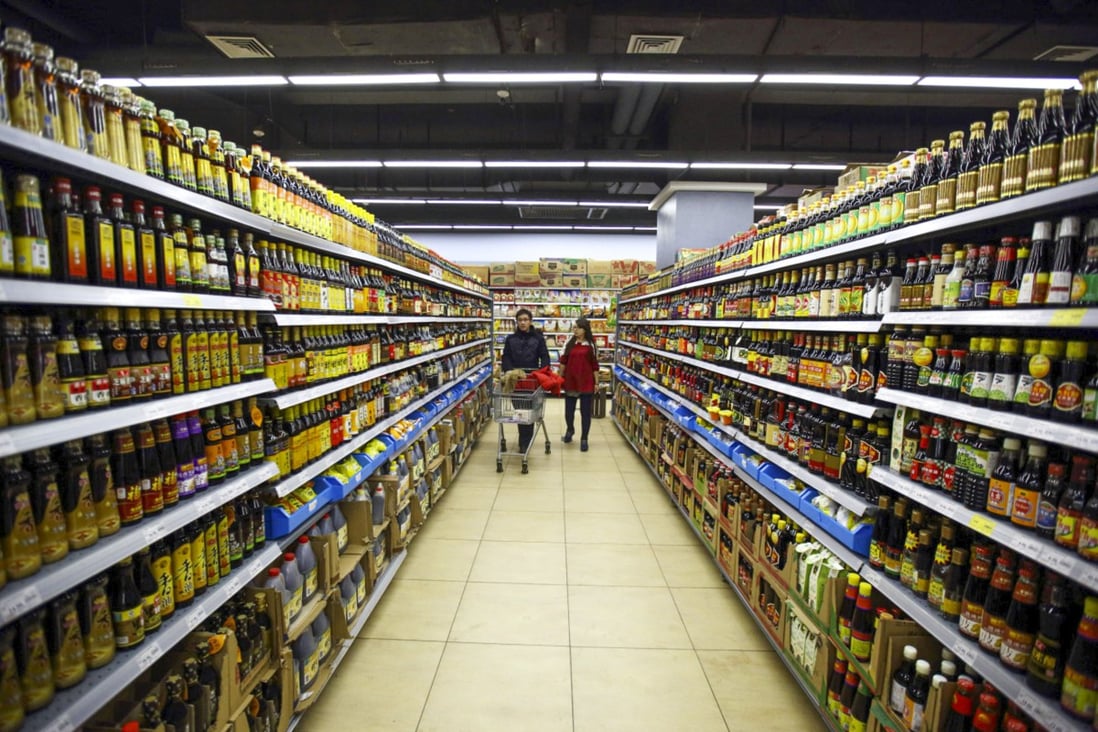 With an increasing number of Chinese consumers shopping online, sales at hypermarkets in the world's second-largest economy are on a downward spiral. Photo: Bloomberg
China's bricks-and-mortar operators are struggling to survive as booming e-commerce has led to a wave of store closures, altering the retail landscape on the mainland.
Sales at hypermarkets in mainland China have fallen at an annualised pace of 7 per cent over the past three years, compared with a 24 per cent growth recorded by online retailers in the same period, according to a joint study on fast-moving consumer goods (FMCG) by global consultancy Bain & Co and market research firm Kantar Worldpanel.
"[Store closures] by large-scale supermarkets and hypermarkets over the past few years has become a trend as they experience painful adjustment of strategies," said Jason Yu, general manager of Kantar. "Some of the stores have had to relocate to suburban areas or cut their size to survive a market where consumers' shopping habits have changed dramatically."
The study did not give a number for absolute number of store closures.
But the report said that physical outlets, which include hypermarkets, supermarkets, groceries and convenience stores, were losing market share to e-commerce platforms, as mainland consumers were increasingly ordering items online, all the way from vegetables and soft drinks to cosmetics and health care products.
The Covid-19 pandemic has only accelerated the digitalisation of consumer lifestyles. E-commerce firms now account for more than 30 per cent of China's FMCG market, up from less than 10 per cent a decade ago, the report said. In contrast, hypermarkets, once the subject of awe and envy on the mainland during the early days of the country's experiment with market capitalism, have seen the market share decline to 15.7 per cent this year, down 6.2 percentage points from 2016.
Analysts say that unless hypermarkets take significant remedial action, they will lose further market share as a result of changing consumer habits, hastening store closures.
US retail giant Walmart, which was the first hypermarket operator to enter China more than 25 years ago, has seen its operations shrink in the country. From 2016 to 2020, Walmart has closed more than 80 stores. At the end of September, it only had 34 outlets in operation across the mainland.
French retailer Carrefour retreated from China in 2019, selling an 80 per cent stake to Chinese electronics retailer and e-commerce giant Suning.com for 4.8 billion yuan (US$753 million). Suning closed at least three hypermarkets in Hangzhou, Xiamen and Dongguan last month.
Meanwhile, e-commerce giant Alibaba Group Holding has seen success as an omnichannel retailer. Omni-channel strategy involves a presence on every link of the business chain, providing customers with a fully integrated shopping experience through online and offline services.
In October 2020, Alibaba paid HK$28 billion (US$3.6 billion) to take control of Sun Art Retail Group, China's largest hypermarket operator from France's Mulliez family, intensifying efforts to integrate online and offline shopping.
Last year, Alibaba, which also owns this newspaper, accounted for 49 per cent of the FMCG sales growth recorded by Chinese e-commerce platforms, the study said. This year, the company has seen 35 per cent growth in e-commerce.
Bruno Lannes, a partner at Bain & Co in Shanghai, said that "channel capability", which features a consumer centric, omnichannel presence and extensive geographic reach empowered by digital tools, will play a pivotal role in the success of a consumer brand in China.
Any economic slowdown that is likely to deter consumers from spending could ratchet up pressure on physical stores in China.
The mainland's retail sales in November grew 3.9 per cent to 4.1 trillion yuan from the same period in 2020. But the year-on-year growth was one percentage point lower than the 4.9 per cent increase in October.