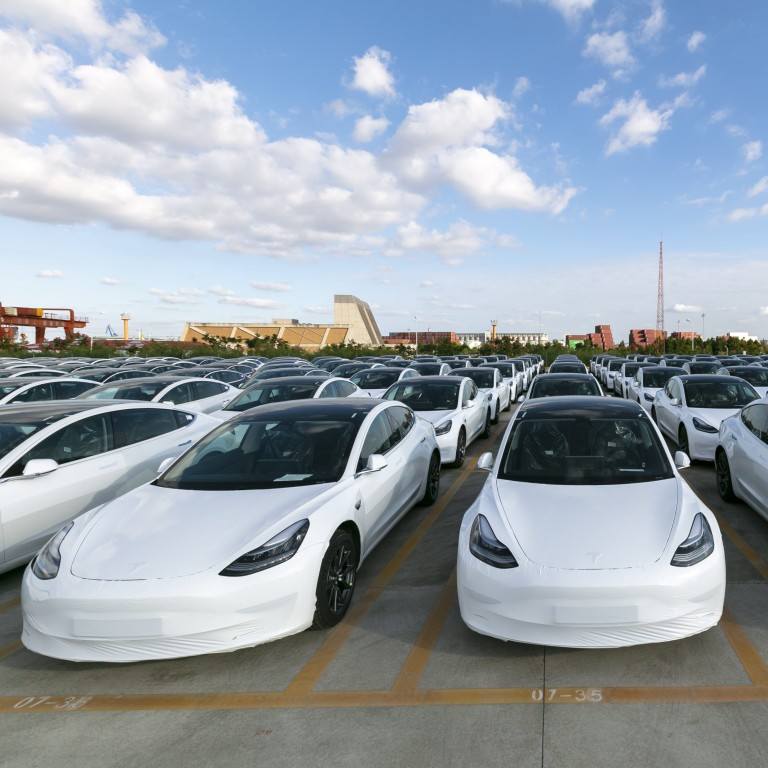 China's 2021 electric car sales soar, putting world's largest EV market on track to reach 20 per cent penetration target ahead of schedule
Sales of so-called new energy vehicles (NEVs) more than doubled in November and December
Full-year deliveries rose by 169 per cent to a record 2.99 million units, or 14.8 per cent of new sales
China's electric cars are on track to reach the 20 per cent nationwide penetration goal this year, well ahead of the government's 2025 forecast, as new models by dozens of competitors lured new buyers and spurred owners to switch to zero-emission vehicles.
Sales of so-called new energy vehicles (NEVs) more than doubled in November and December, increasing full-year deliveries by 169 per cent to a record 2.99 million units, or 14.8 per cent of new sales in the world's largest vehicle market, according to data compiled by the China Passenger Car Association (CPCA).
"December was when promotional activities were carried out at auto dealers," said Cui Dongshu, general secretary of the vehicle industry guild, whose data excludes commercial trucks and buses. "Sales growth by NEVs largely outpaced internal combustion engine-driven (ICE) cars, suggesting that NEVs will continue to replace oil-guzzlers at a quick pace."
China, which surpassed the United States in 2009 as the world's largest market for vehicles, also has more automobiles running on electric batteries than anywhere else, helped by generous subsidies to slash gaseous emissions and avert
climate change
.
Three in five new cars
to go on China's roads may be powered by electricity instead of fossil fuel in 2030 according to UBS, while the government's forecast is for a
20 per cent penetration rate by 2025
.
China's monthly NEV sales broke through the 20 per cent market share for the first time in November, when deliveries jumped 122.3 per cent from a year earlier to 378,000 units. December deliveries jumped 138.9 per cent to 505,000 NEVs, or 22.6 per cent of total sales for the month.
The CPCA saw signs of the robust growth pace, revising its 2021 NEV sales target to 2.4 million units in June, from a February forecast of 2 million.
China's car sales increased 4.4 per cent last year to 20.15 million units, the first annual growth since 2017, according to CPCA's data.
Up to
200 vehicle assemblers
and start-ups now compete in
China's NEV market
, where monthly sales are dominated by a small elite comprising
Tesla
, the Warren Buffett-invested
BYD
, General Motors' three-way venture SAIC-GM-Wuling, as well as a trio of New York-listed start-ups
NIO
, Xpeng Motors and
Li Auto
.
Mini NEVs with a driving range of less than 200 kilometres (124 miles) and smart cars fitted with high-performance batteries that can go as far as 600km on a single charge are all well received by customers.
Tesla is the sales bellwether in the premium EV segment, but Chinese brands such as
Xpeng
and NIO are snapping at its heels with intelligent cars that feature autonomous driving and advanced in-car entertainment systems.

"Beijing's efforts to encourage purchases of green cars have paid off and the upward momentum will pick up pace in 2022," said Cao Hua, a partner at private equity firm Unity Asset Management. "The consensus forecast is that NEV sales could double last year's number in 2022."
In 2009, the Chinese authorities began offering cash subsidies for NEV buyers, but sales were weak until the subsidies peaked at 100,000 yuan (US$15,710) in 2014. An all-electric car with a driving range of more than 400 kilometres is now eligible for a 12,600 yuan subsidy.
The subsidies were slashed in 2019 as policy makers sought to wean carmakers off rebates to foster the survival of the fittest in the overcrowded market place. The Ministry of Finance announced that cash subsidies would drop to 30 per cent in 2022 before being scrapped altogether next year.
Slashing subsidies would have a minimal impact on NEV sales in 2022, said Cui, adding that sales could top 6 million NEVs this year.