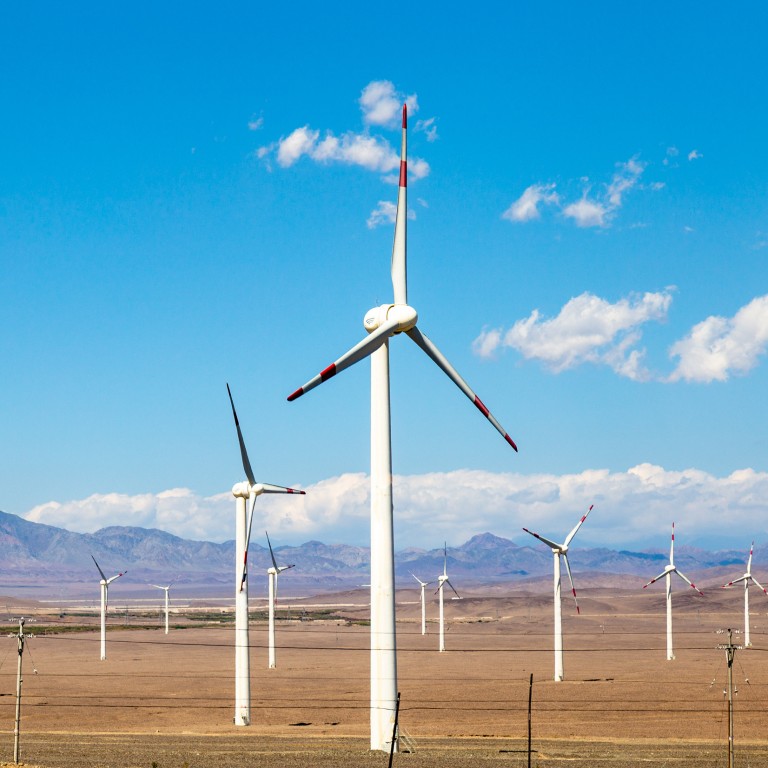 Climate change: green hydrogen to get cheaper by 2030 as China drives policies favouring clean fuel to control emissions
The cost of green hydrogen could fall to around US$1.40 to US$2.30 per kg by 2030 from US$6 recently, according to Shell Hydrogen
China has prioritised hydrogen as an emerging industry under its 14th five-year plan
Green hydrogen, the expensive clean energy, could get cheaper by as much as three-fourths over the next decade as China cranks up investments for clean energy under its long-term
climate-change
commitments.
The cost could drop to around US$1.40 to US$2.30 per kg by 2030 in regions with abundant renewable wind and solar resources such as the Middle East, Australia and northwestern part of China, according to Shell Hydrogen, versus as high as US$6 in recent trades. They may converge with other grades of hydrogen by 2032 or 2034.
"Those regions will be able to reach a level of very attractive prices by producing green hydrogen at a level comparable to grey hydrogen today," Tobias Chen, its head of Asia Pacific, said during the virtual Asian Financial Forum on Tuesday.
China, the world's largest producer of hydrogen, has been stepping up efforts to transition to cleaner fuels under its net-zero emissions goal by 2060. It has prioritised hydrogen as an emerging industry under the 14th five-year plan.
The output value for hydrogen in China could reach 1 trillion yuan (US$157 billion) by 2025, according to China Hydrogen Energy and Fuel Cell Industry Alliance. By 2030, demand for hydrogen will reach 35 million tonnes, and the fuel will make up at least 5 per cent of the energy-consumption mix by then, it added.
Green hydrogen is produced using low or zero-carbon energy sources such as wind, solar, hydro or nuclear. Blue hydrogen indicates production using fossil fuels with carbon capture or storage, while grey hydrogen is based on carbon-emitting fossil fuels.
It remains too expensive currently to commercialise green hydrogen as cost, infrastructure and policy hurdles remain challenging, according to Winnie Fan, managing director of sustainable finance at Bank of China (Hong Kong).
Bringing down the cost of green hydrogen depends on technological innovation, such as sufficient and cost-effective supply of renewable electricity, as well as storage and transportation technologies, Fan said at the virtual forum.
"Despite green hydrogen technology being available, the whole value chain is still under development to commercialise the technology," she said. "The market is still in the early stage" of progress, she added.
Around two-thirds of China's supply of hydrogen comes from coal gasification, not green hydrogen. To scale up, the industry would require state support in the form of favourable policies and funding, according to Chen of Shell Hydrogen.
"Government subsidies and other forms of support over the whole supply chain will be a good incentive to saturate the pace of development of the hydrogen industry," he added.
Although there has not been a nationwide regulation on hydrogen, some provincial governments have drafted their own blueprints to develop local industries, led by Guangdong, Beijing, and Shanghai. Some state-owned enterprises are also doing their share of work.
Top solar manufacturers in China are also targeting the hydrogen industry. LONGi planned to build 1.5 gigawatts of production capacity of electrolysers by the end of 2022, up from 500 megawatts in 2021, or 60 per cent of new global installations this year.
"For emerging markets with abundant renewable resources, they can play a role as the hydrogen production hub in future, where hydrogen can be produced and exported at a low cost," Chen said. "We believe that it can become a commercial reality in the next five to 10 years."