A-shares
Get more with myNEWS
A personalised news feed of stories that matter to you
Learn more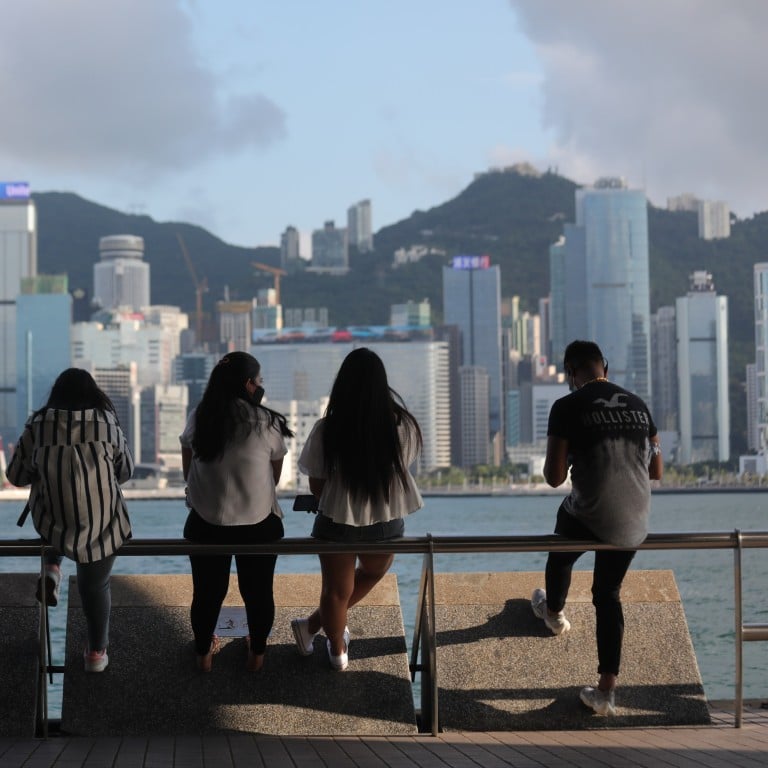 Morgan Stanley says Hong Kong stocks may trail China shares for fourth year in a row
US investment bank 'continues to prefer A shares to offshore China', given their better positioning to benefit from potential easing and long-term growth opportunities
Investors should take a cautious and selective approach in picking up Hong Kong stocks, CCB International says
Hong Kong stocks
will probably lose out to
China's yuan-traded shares
in 2022 for a fourth straight year, with the onshore market set to benefit more from Beijing's policy loosening and a flurry of government drives ranging from infrastructure investment to carbon neutrality and data security, Morgan Stanley said.
The city's US$5.1 trillion stock market, despite being the world's second-cheapest after Brazil, will continue to reel from a regulatory overhang arising in China and policy tightening in the United States, the US investment bank said. Mainland Chinese shares are, on the other hand, relatively isolated from overseas flows, it added.
In its base-case scenario, the CSI 300 Index of onshore stocks will gain 10 per cent through the end of June next year, while the Hang Seng Index will rise 7 per cent and the
MSCI
China Index of mostly Chinese companies trading in Hong Kong and the US will advance 9 per cent in the same period.
A bear scenario suggests that the Hang Seng will fall 15 per cent versus a 13 per cent decline by the CSI 300.
"We continue to prefer A shares to offshore China, given their better positioning to benefit from potential easing in the near term and alignment with long-term growth opportunities, such as the green economy," said Laura Wang, a strategist at Morgan Stanley in Hong Kong.
Morgan Stanley's call highlights the risk that Hong Kong's market, which has lost 36 per cent of its value since a high in February last year, may still be a valuation trap for value investors and dip buyers who bet that their beaten-down price-to-earnings ratios have priced in all headwinds. The 66 members of the Hang Seng Index trade at an average of 7.2 times earnings, only more expensive that the multiple of 5.9 times for Brazil's Ibovespa index, according to Bloomberg data.
While the Hong Kong market is grappling with persistent concerns about China's regulatory crackdowns and rising yields on US Treasuries, the lockdown in Shanghai and 40 other cities in China has put an additional drag on local stocks. The correlation between Hong Kong stocks and the mainland's yuan-traded shares has risen to its highest level in eight months.
The recent sell-off has sent the Hang Seng Index sliding by 15 per cent this year, approaching the 19 per cent decline in the Shanghai Composite Index, the mainland's stock benchmark.
Risks from a faster pace of policy tightening at the US Federal Reserve are also building up for Hong Kong stocks, and it will probably further compress their already battered valuations. The Hang Seng Index has dropped 5.7 per cent this month, after a reading of an April US inflation report heightened concerns that the Fed will be more aggressive in reining in prices that recorded accelerating month-on-month increases.
Hong Kong's monetary authority had to
intervene in the currency market
for the first time in 18 months last week to stave off capital flight, as the interest-rate spread between the US dollar and the Hong Kong dollar widened, spurring arbitrage trade.
"Hong Kong's stocks will continue to trade sideways in the short term and volatility will remain elevated," brokerage China Merchants Securities said in a report on Thursday. "We need to closely monitor the inflationary pressure in the US and the risk of a faster pace of interest rate increases in the following months. A pullback in US stocks will have a spillover effect on the Hong Kong market."
China's onshore stocks will provide some shelter from tightening policy in the US, as these shares are less sensitive to a stronger US dollar due to their relative isolation from global markets, and overseas investors are committed to their ownership after tentatively trimming holdings, Morgan Stanley said.
Materials and industrial stocks are the investment bank's top picks for the mainland market, as the sectors stand to benefit from Beijing's drive to step up infrastructure investment to cushion a slowdown in growth.
Among the three key macro drivers of China's gross domestic product, headwinds to consumption and exports have been building, leaving investment as the sole pillar, said Morgan Stanley's Wang. "Within investment, infrastructure spending is something that the government could control directly."
While admitting that China's markets are already at the late stage of a bear market, Morgan Stanley maintained an equal-weight rating in its outlook for equities. To upgrade the call, China will need to speed up a recovery in growth, stabilise its property market, step up policy easing and enact follow-up measures after the Politburo last month softened its stance on the scrutiny of technology platforms, it said.
Investors should take a cautious and selective approach in picking up Hong Kong stocks, said CCB International, the investment banking unit of China Construction Bank.
"We recommend buying banking stocks, property developers, infrastructure ones and industry leaders in telecoms and auto industries. Namely, those with healthy balance sheets, attractive valuations and dividend yields," said Cliff Zhao, a strategist at CCB International in Hong Kong.