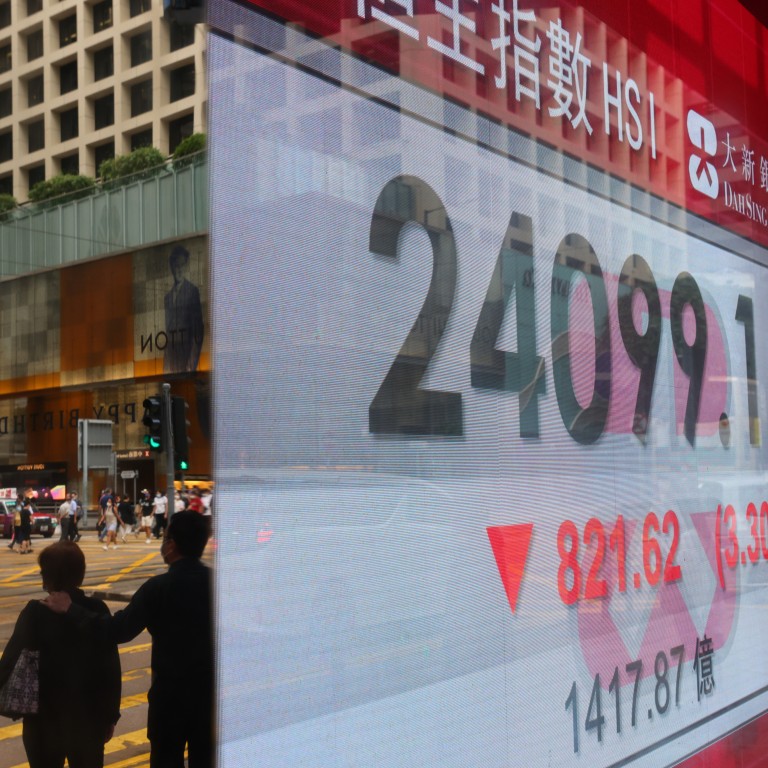 China stocks dip after data shows economy's contraction, while cuts in mortgage rates boost property developers in Hong Kong
Shanghai Composite Index drops 0.3 per cent while Hang Seng Index rises 0.3 per cent as property developers such as Country Garden and Longfor Group rallied
Both Chinese industrial production and retail sales contracted last month
China's stocks
dropped by the most in more than two weeks, after official data showed that economic activity contracted in April, offsetting a cut in mortgage rates and an announcement about the phased lifting of Shanghai's lockdown. A rally in property developers lifted Hong Kong stocks.
The Shanghai Composite Index lost 0.3 per cent to 3,073.75 at the close, the biggest loss since April 26. The Shenzhen Composite Index in southern China fell 0.3 per cent to 1,926.01. The Hang Seng Index rose 0.3 per cent at the close to 19,950.21 in see-sawing trading, with the benchmark changing directions 10 times throughout the trading day.
The Hang Seng Tech Index was little changed after JPMorgan Chase upgraded the rating on some of China's biggest technology companies, saying that uncertainty had receded in the industry. Two months earlier, the bank said the sector was "
uninvestable
," a description that the bank said was published "
in error
."
Alibaba Group Holding, China's largest e-commerce platform an owner of this newspaper, rose 2.9 per cent to HK$84.60. Xiaomi, one of China's largest maker of smartphones, rose 0.7 per cent to HK$11.12. Baidu, China's dominant internet search engine, rose 2.1 per cent to HK$113.20 in Hong Kong.
Hong Kong's
currency weakened to as low as 7.8500
against the US dollar, hitting a mark for the fifth day that will prompt more intervention from the Hong Kong government, which will defend the local dollar's peg to the US dollar to ward off capital flight.
Country Garden Holdings rose 10.4 per cent to HK$4.88, while Longfor Group Holdings advanced by 4.8 per cent to HK$38 on the Hong Kong exchange, Chinese regulators cut mortgage rates for first-time homebuyers in a bid to spur growth. China Overseas Land and Investment (Coli) gained 2.2 per cent to HK$23.70.
Sentiment remained skittish after official data – released on Monday morning after markets opened – indicated that both Chinese industrial production and retail sales contracted last month, underscoring the damage that lockdowns and China's zero-Covid policy have inflicted on its economy.
Industrial output dropped 2.9 per cent from a year earlier and retail sales slumped 11.1 per cent, according to the data released by the statistics bureau. Fixed-asset investments were the only bright spot in the economy, rising by 6.8 per cent because of increased government spending on infrastructure projects.
"The impact and the blow inflected by the pandemic to the economy will be reflected by the second-quarter economic data," said Bruce Pang, a strategist at China Renaissance Holdings in Hong Kong. "The downside pressure on the economy will be increasing in the following one or two months, unless there's more scientific classification of areas with medium and high risk, and an orderly push to resume production."
Shanghai will lift its almost two-month lockdown in phases starting June 1 and aim to fully reopen the economy in the latter part of next month, the local government said on Monday. On Sunday, the city's new infections dropped below 1,000 for the first time since March 24, official data shows.
A move by the central bank over the weekend to cut the mortgage rate for first-time homebuyers generated some buying interest in property stocks. The People's Bank of China lowered the borrowing cost by 20 basis points in an effort to reverse a decline in home sales across the country.
Bailing out the troubled property market is among investors' prerequisites before they can become more upbeat about stocks. Other requirements include interest rate cuts and the easing of a crackdown on the technology sector and Beijing's zero-Covid approach.
Morgan Stanley predicts that Hong Kong stocks will probably
lose out to China's onshore shares
for a fourth straight year in 2022, with yuan-traded stock set to benefit more from Beijing's policy loosening and a flurry of government drives, ranging from infrastructure investment to carbon neutrality and data security.