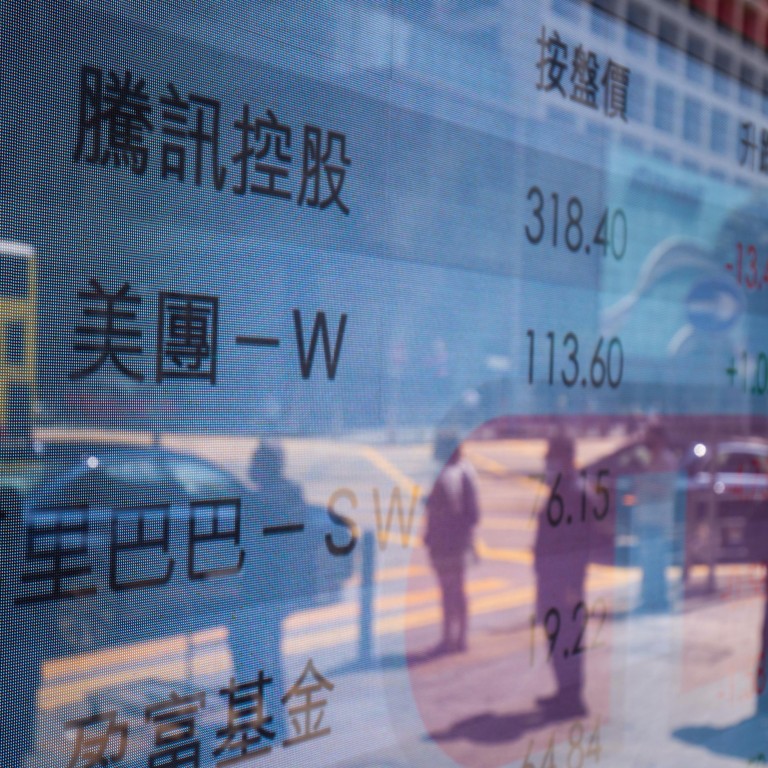 Hong Kong tech stock rebound stalls as juggernauts from Meituan to JD.com slip
Hong Kong tech stocks dropped from a two-week high, as a rally powered by regulatory support and an improved outlook for China's growth took a pause
Traders are reassessing whether a 23 per cent rebound in the Hang Seng Tech Index is sustainable
Hong Kong's tech stocks
dropped from a two-week high, as traders weighed the sustainability of a rally powered by regulatory support and an improved outlook for China's growth.
The Hang Seng Tech Index slipped 0.3 per cent at the close on Wednesday, snapping a stretch of gains in the last three days. The
Hang Seng Index
added 0.2 per cent to 20,644.28, reversing an intraday loss, while China's Shanghai Composite Index retreated 0.3 per cent.
Technology stocks surrendered some of their gains of recent days, as Meituan, JD.com and Tencent Holdings all fell by at least 0.8 per cent.
Confidence in China's tech sector, which accounts for the biggest weighting on Hong Kong's benchmark index, has received a boost recently. JPMorgan Chase upgraded its rating of China's biggest technology stocks from Alibaba Group Holding to Tencent Holdings this week, and a political advisory meeting attended by Vice-Premier Liu He on Tuesday reaffirmed the importance of the digital economy.
The Chinese People's Political Consultative Conference (CPPCC) meeting saw members pledge to support the listings of digital platforms both at home and aboard. While it was seen by some analysts as a sign of a softening of the year-long regulatory onslaught, some said the gathering had simply rehashed policymakers' earlier promises and was short on meaningful details.
"Relaxation may be, but a reversal of the trend of tightening regulation is unlikely," said Redmond Wong, a strategist at Saxo Markets. "We suspect that the CPPCC, which is purely consultative, will not be the platform for conveying important policy messages."
Meanwhile, traders are also keeping a close eye on whether there will be a cut in
China's loan prime rate
on Friday. The key benchmark lending rate has been left unchanged for the past two months. A further reduction in the interest rate is something investors are keen to see before they turn bullish on stocks.
Among the biggest declines among tech stocks, JD.com eased 1.1 per cent to HK$212.40 and Meituan slid 1 per cent to HK$172. Alibaba, which owns the Post, fell 0.6 to HK$90. The trio had jumped at least 6.2 per cent on Tuesday.
Other markets in Asia all rose on Wednesday, tracking an overnight rally that sent US stocks to their highest level in a week after strong retail sales data. Still, Treasuries declined on the back of more hawkish comments by the Federal Reserve, as it stressed the urgency of reining in inflation.