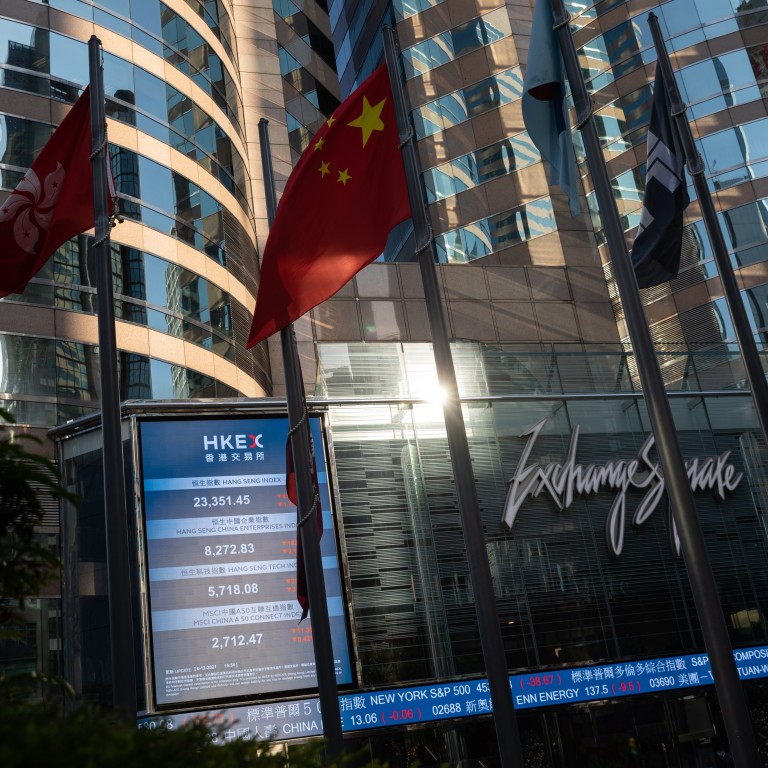 Hong Kong stock index tumbles the most in two weeks, weighed down by Tencent's earnings miss and US rout
The Hang Seng Index tumbled 2.5 per cent to 20,120.68 at the close on Thursday
The Hang Seng Tech Index sank 4 per cent, while the mainland's Shanghai Composite Index added 0.4 per cent despite the city's Covid-19 lockdown
Hong Kong's key stock index slumped by the most in two weeks, weighed down by more than a 6 per cent slump in one of its biggest constituents, after
Tencent Holdings
missed its earnings estimates.
Sentiment in the broader market worsened amid the biggest declines in US equities in two years.
The Hang Seng Index tumbled 2.5 per cent to 20,120.68 at the close on Thursday, the steepest one-day decline since May 6. The Hang Seng Tech Index sank 4 per cent, while the mainland's Shanghai Composite Index gained 0.4 per cent, the only winner among the key benchmarks in Asia.
Tencent plunged 6.5 per cent to HK$341.80, making it one of the biggest drags on the benchmark gauge. The operator of the omnipresent Chinese super app, WeChat, posted
no growth in revenue in the first quarter
and a 51 per cent decline in net income. The disappointing result reflected the drawn-out effect of China's year-long regulatory crackdown and the fallout of the most severe Covid-19 flare-up since the Wuhan outbreak in 2019.
"Its earnings will continue to be under pressure in the short term as a result of the headwind from the macroeconomy and the ravaging from the pandemic in some parts of China," said Ren Jie, an analyst at Citic Securities in Beijing.
Citic Securities cut its earnings forecasts for Tencent this year by 6.3 per cent and for 2023 by 5.9 per cent.
Tencent is the fourth-largest stock on Hong Kong's Hang Seng Index, with a 7.6 per cent weighting. Its decline spilled over to affect other tech giants.
Alibaba Group Holding, the owner of the Post, sank 7.4 per cent to HK$83.35 while Meituan lost 3.8 per cent to HK$165.50 and NetEase shed 2.7 per cent to HK$148.40. Smartphone maker Xiaomi slid 5 per cent to HK$11.08 before the release of its first-quarter results later on Thursday.
Traders may have shifted their focus to corporate earnings from regulatory consideration. China's regulatory curbs appeared to be relenting, after Vice-Premier Liu He
adopted a positive tone
this week to affirm the role of internet platform companies in China's economy. Still, the result of more than a year of regulatory clampdown is wending its way into woeful numbers in corporate earnings, putting the Hang Seng Tech Index's 20 per cent rebound on the back foot.
Sentiment also soured in other markets in Asia, most of which fell after the S&P 500 index dropped by the most since June 2020 on earnings concerns. A flurry of disappointing corporate results and hawkish comments by the Federal Reserve fuelled concerns that runaway inflation will erode margins and pave the way for faster interest rate increases, which will weigh on stocks and hurt economic growth.
Some 53 of the 66 members on the Hang Seng Index headed south on Tuesday. Leading the decliners, Techtronic Industries plummeted 7.5 per cent to HK$98.65 and Shenzhou International Group Holdings retreated 6.2 per cent to HK$104.80.