Xpeng
Get more with myNEWS
A personalised news feed of stories that matter to you
Learn more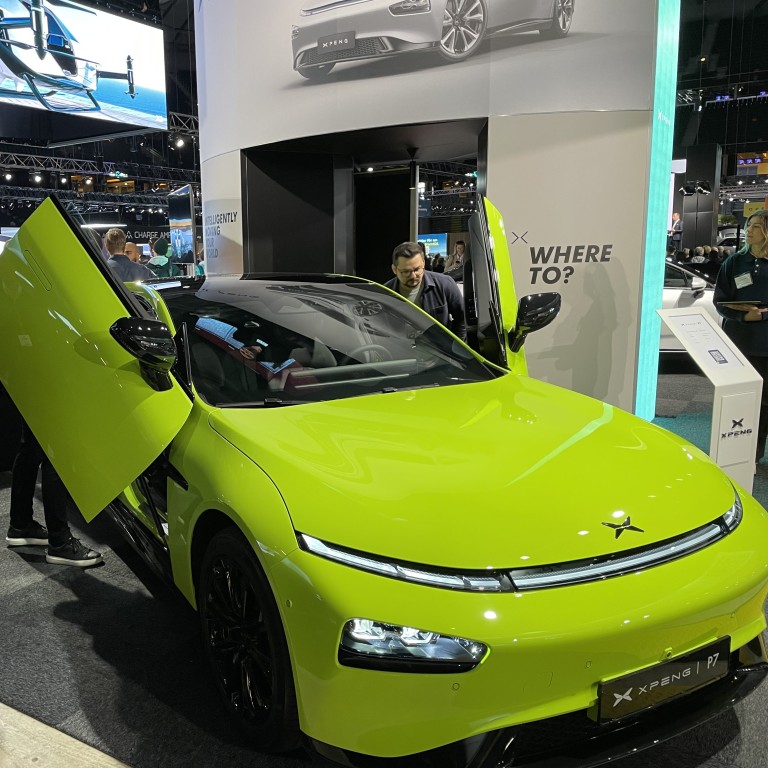 XPeng meets US$1.2 billion revenue forecast for first quarter, but net loss widens as supply chain disruptions bite
Guangzhou-based company says revenue stood at 7.4 billion yuan for the quarter, in line with forecast by eight analysts polled by Bloomberg
The impact on Xpeng of the lockdown in Shanghai turned out to be the smallest among smart EV companies, analyst says
Chinese smart electric vehicle (EV) start-up
XPeng Inc
met an analysts' forecast for the first quarter after reporting a 152.6 per cent increase in revenue on Monday.
The Guangzhou-based company said its revenue stood at 7.4 billion yuan (US$1.2 billion) for the quarter, in line with the 7.4 billion yuan consensus forecast by eight analysts polled by Bloomberg. Its net loss, however, widened to 1.7 billion yuan from 786.6 million yuan a year earlier, and was slightly worse than the analysts' estimate of 1.67 billion yuan.
"Our first-quarter performance marked a strong start to 2022," chairman and chief executive He Xiaopeng said on Monday. "Demand for our high-quality EVs was robust and our proprietary suite of technologies continues to lead the industry."
Superior in-house technology development capabilities and proactive supply-chain management enabled XPeng to meet supply chain challenges more efficiently, he added. The carmaker is confident of expanding its market share despite the impact of the semiconductor shortage and Covid-19, he said.
The EV maker's quarterly results come on the heels of huge supply-chain disruptions caused by China locking down major cities such as Shanghai to contain outbreaks of the more infectious Omicron variant.
China's automobiles industry lost 1 million vehicles in production last month amid severe lockdown measures,
the Post reported.
The industry is one of China's biggest employers, providing jobs for one in every six people in the nation's 800-million strong workforce, according to analysts.
XPeng said deliveries for the quarter ending on March 31 jumped 159 per cent to 34,561 from the same period a year earlier. The carmaker is backed by e-commerce giant and South China Morning Post parent Alibaba Group Holding and smartphone maker Xiaomi Corp.
"Despite falling production volumes and deliveries in the EV sector overall, XPeng outperformed
its biggest rival, Tesla, and domestic peers Nio and Li Auto
in April," said Chen Jinzhu, CEO of Shanghai Mingliang Auto Service, a consultancy. "The negative impact on XPeng from the lockdowns in Shanghai turned out to be the smallest among smart EV companies here."
Nio's April deliveries declined by 49.2 per cent to a six-month low of 5,074 vehicles, after it halted its assembly for five days in Hefei, the capital of Anhui province, as Covid-19 lockdowns in Shanghai, Jiangsu and Jilin disrupted its supply chain.
Li Auto in Beijing handed over 4,167 EVs to buyers last month, 62.3 per cent fewer than in March. Customers received 9,002 EVs from XPeng, 41.6 per cent fewer than a month earlier.
These numbers still beat Tesla, which delivered only 1,500 vehicles to mainland Chinese customers in April, the lowest since it started operations in Shanghai in December 2019. Its Gigafactory 3 lost about 50,000 vehicles in production between March 28 and April 18, as it idled assembly amid a citywide lockdown.
For the second quarter, XPeng expects to deliver between 31,000 and 34,000 EVs, representing a year-on-year increase of around 78.2 per cent to 95.4 per cent, it said in its earnings report.