A-shares
Get more with myNEWS
A personalised news feed of stories that matter to you
Learn more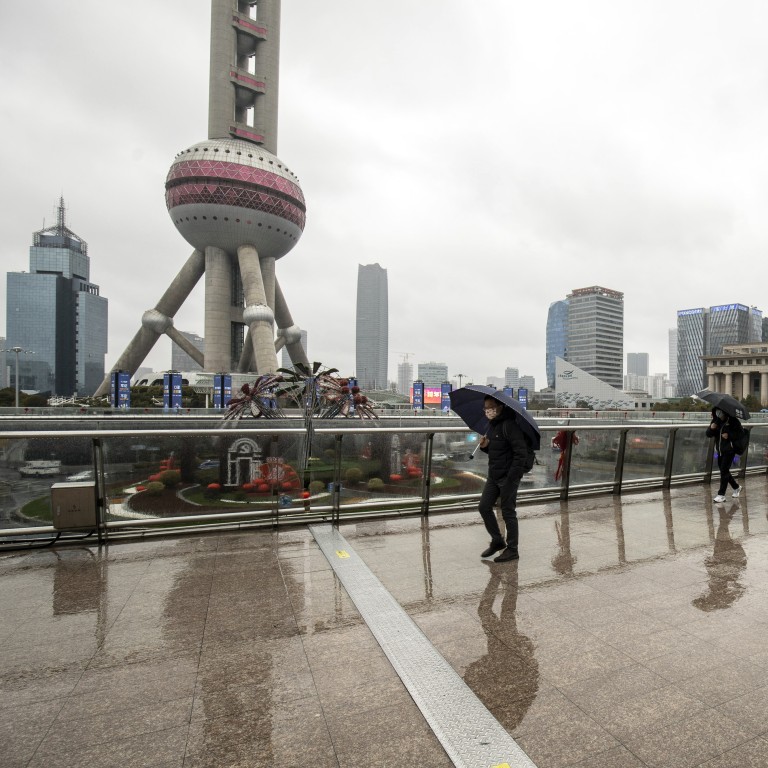 'Wholesale policy U-turns' needed in China, JPMorgan says, as global banks point to economic contraction in second quarter
Banks' negative forecast contrasts with prediction of 3.3 per cent growth by economists polled by Bloomberg
Lockdown induced supply-chain disruptions and imported inflation from higher commodity prices may lead to further earnings and margin deterioration in second quarter, says head of investment strategy for Asia at US bank
China's
stock
markets, which are already feeling the strain of a two-month long lockdown in Shanghai, might have more room for decline, with US bank
JPMorgan Chase
and Swiss private lender
Union Bancaire Privee
(UBP) forecasting a contraction in the second quarter for the world's second-largest economy.
The Swiss bank said it expected a 1.1 per cent decline in growth to reflect a collapse in consumption and manufacturing since the start of the lockdown in Shanghai in March. JPMorgan, meanwhile, said China's economic expansion will be negative in the period without giving a specific number, and cautioned against both onshore and offshore stocks. In contrast, a forecast by economists compiled by Bloomberg pointed to 3.3 per cent growth.
"In the second quarter, the China equity-market outlook remains challenging," said Alex Wolf, head of investment strategy for Asia at JPMorgan. "Lockdown induced supply-chain disruptions and imported inflation from higher commodity prices are all valid concerns that may lead to further earnings and margin deterioration in the second quarter, which may delay the earnings recovery and reopening timetable."
The bearish calls on growth have led traders to question whether the current bout of sell-offs in stocks has already priced in the worst of China's economy, which is reeling from a double-whammy of the country's most severe flare-up in the pandemic in two years and global policy tightening. While some domestic brokerages argued that stocks had already hit rock bottom on prospects of policy loosening, institutional investors ranging from hedge funds to insurance companies have largely refrained from buying, and have kept equity holdings at relatively low levels.
On Thursday, Hong Kong's Hang Seng Index
dropped 0.3 per cent
after Premier Li Keqiang highlighted the
severity of China's economic situation
. At an emergency meeting attended by thousands of representatives from local governments on Wednesday, Li said that the economy was worse in some aspects than in 2020, when growth decelerated to 2.2 per cent after the Covid-19 outbreak in Wuhan. First-quarter growth was 4.8 per cent, trailing the annual target of about 5.5 per cent set in Li's government work report.
JPMorgan forecast 3.9 per cent growth on the condition that no further lockdowns will be implemented in the second half and strong stimulus packages will be enacted.
"Macroeconomic confidence in China has now deteriorated to the point where what is required is not a loosening around the edges of these broad policy priorities, but wholesale policy U-turns," said JPMorgan's Wolf.
While an immediate reversal of
China's zero-Covid approach
seemed unlikely, because of low vaccination rates among the elderly, low efficacy of existing vaccines and a fragile health system, possible stimuli included cash or coupon handouts to consumers and small businesses, and more reductions in mortgage rates similar to the aggregate 226 basis points cuts from 2014 to 2015, which successfully turned around a down-cycle in the property market, Wolf said.
Green-economy stocks were the only sector the US bank recommended buying, because of government policy support.
UBP cut its projection for China's growth this year to 3.7 per cent from 5 per cent previously. It forecast that the People's Bank of China will lower the reserve requirement ratio by 10 basis points next month, and enforce more targeted loosening measures going forward, such as monetary aggregates, an additional 50 to 75 basis points cut in the ratio and liquidity injections through open-market operations.