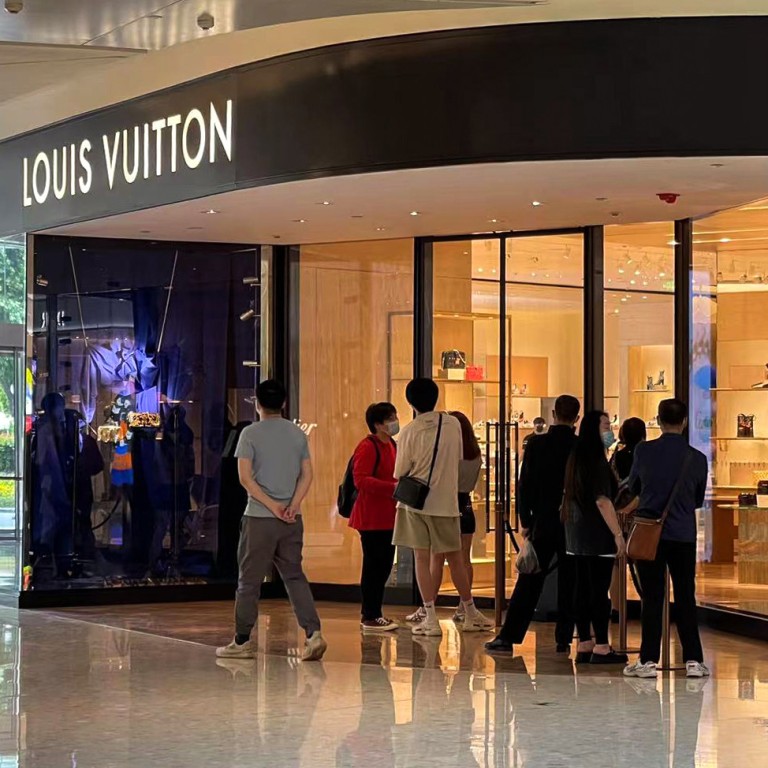 Shanghai reopens: LV, Prada, Dior, other luxury stores see queues as shopping centres reopen to bouts of revenge spending
There are 10 major shopping centres, owned by some of Hong Kong's largest developers, that reopened in Shanghai on Wednesday
Sun Hung Kai Properties, Swire Properties and Kerry Properties expected to reopen more than 800 stores at their malls
There are 10 major shopping centres, owned by some of Hong Kong's largest developers, that reopened in Shanghai on Wednesday.
Sun Hung Kai Properties
(SHKP),
Swire Properties
and
Kerry Properties
expected to reopen more than 800 stores at their malls, according to written confirmation they sent on Tuesday to the
South China Morning Post
.
"More than 430 stores at five shopping malls will reopen on June 1," said Maureen Fung Sau-yim, executive director of the chairman's office at Sun Hung Kai Real Estate Agency, a unit of SHKP. "For Shanghai IFC Mall [in Pudong district] alone, more than 90 per cent of shops will resume business."
SHKP owns a retail portfolio of 630 stores in five shopping malls including Shanghai IFC Mall, Iapm Mall, One ITC, Two ITC and Shanghai Central Plaza.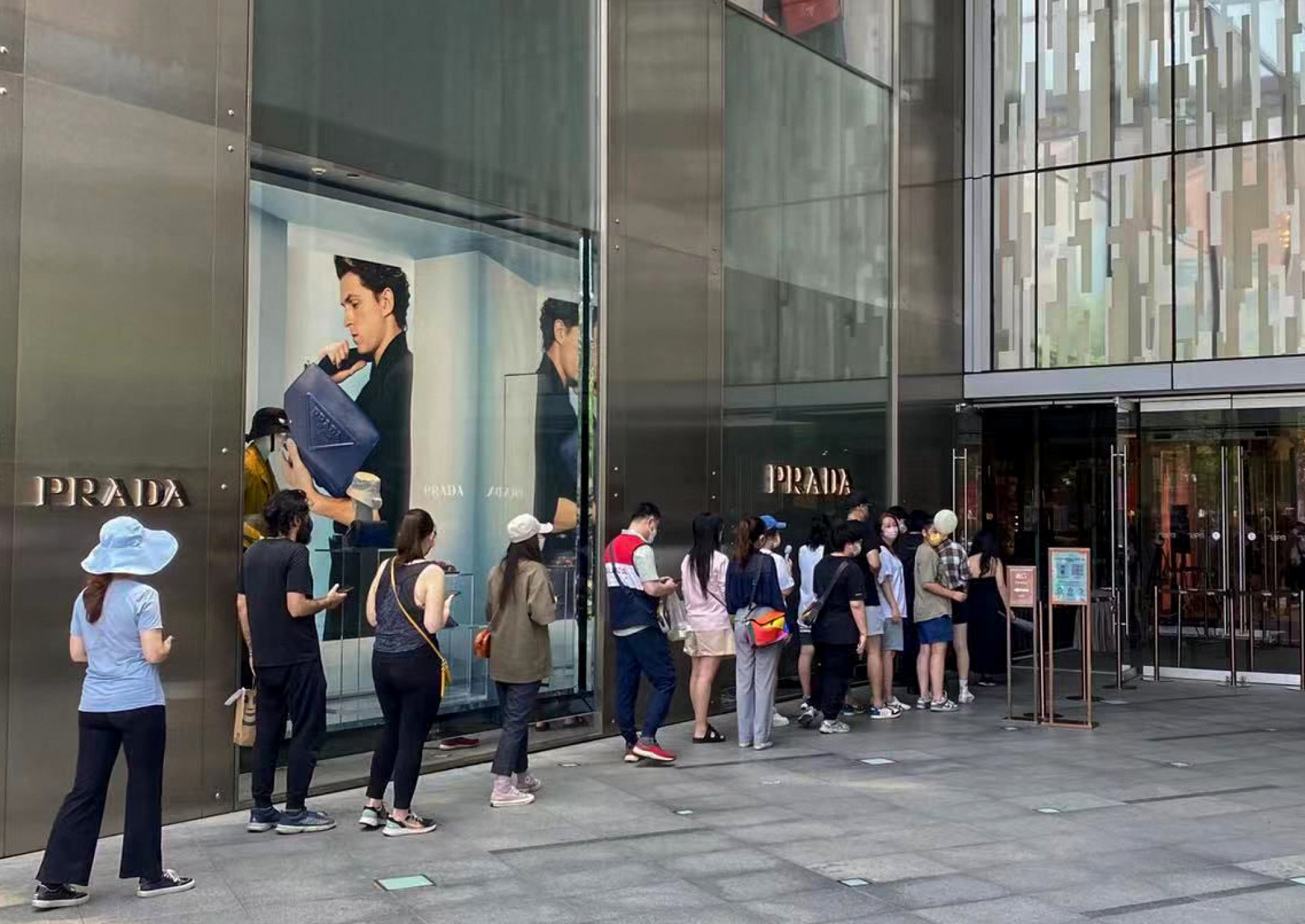 About 200 stores are expected to reopen at Swire Properties'
Taikoo Li Qiantan
shopping complex in Pudong, while more than 150 stores are to reopen at HKRI Taikoo Hui in Puxi, according to a company spokeswoman.
"In addition to maintaining basic operations to keep the malls operating throughout the period of closure, preparation works include ensuring the highest standards of hygiene and cleanliness throughout the mall," she said.
The Bund Financial Centre, which is owned by Fosun International, said nearly 200 outlets or 99 per cent of total outlets have reopened. "All the tenants are quite proactive in reopening," said Yang Bokai, deputy general manager of the Bund Financial Centre joint venture. He said there was high demand on Wednesday for the reopening of fast-food chains like
McDonald's
and traditional Chinese restaurant Songhelou, where people queue up for takeaway meals.
Overall, about 2.67 million businesses across Shanghai are expected to resume operations on Wednesday. Dine-in services, however, are still prohibited from operating because stringent anti-pandemic measures remain in place.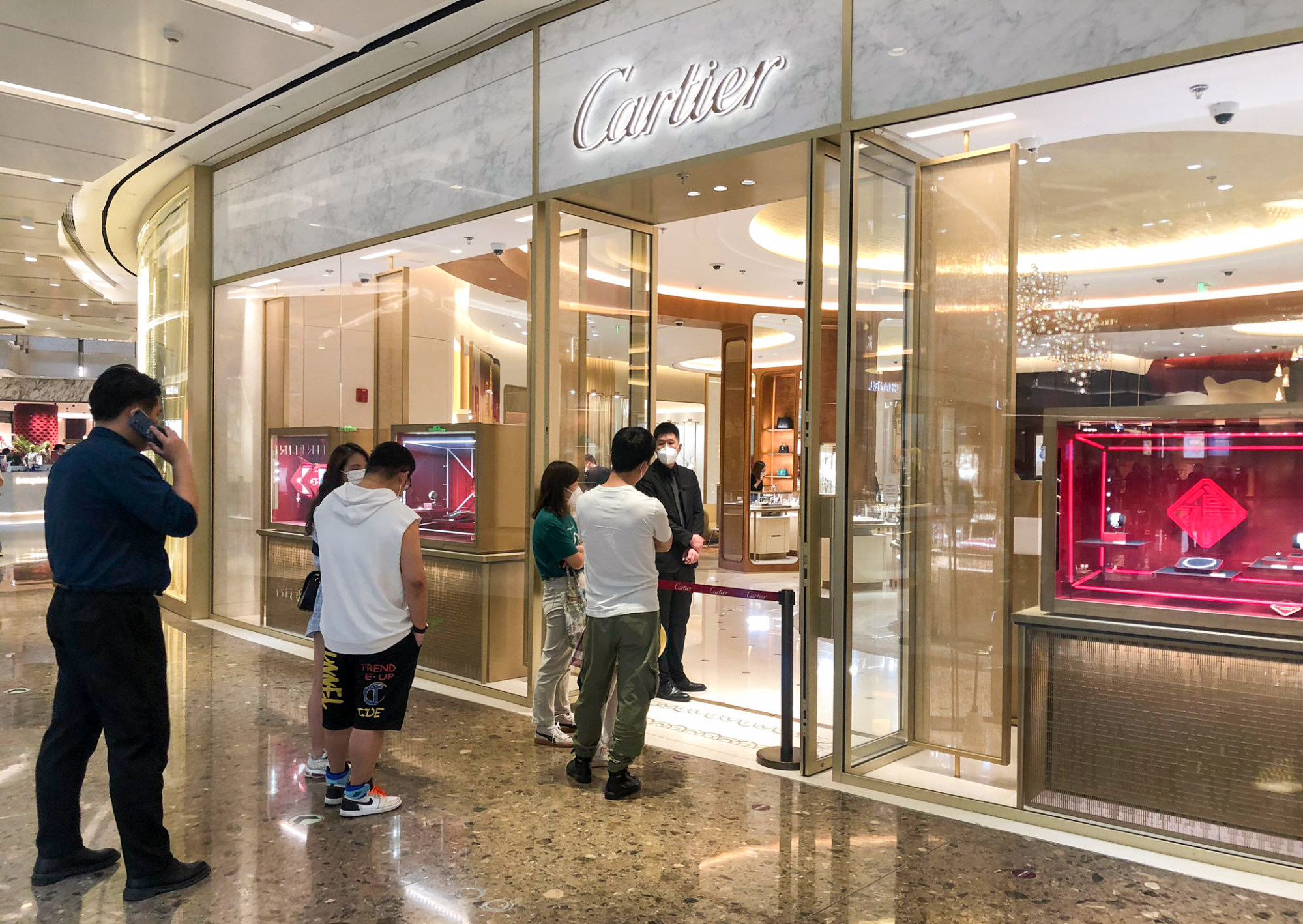 A luxury handbag was the first recorded purchase on Wednesday's formal reopening of the Louis Vuitton store inside the Shanghai IFC Mall, according to an employee who declined to be identified because he was not authorised to speak to media. There were also plenty of shoppers interested in the French fashion house's clothing and shoes for the latest season, said the employee, one of more than 60 clerks who returned to work at the store.
Customers had each spent around 10,000 yuan (US$1,499) on average during the store's soft reopening on Monday and Tuesday, the clerk said.
At the Shanghai outpost of London-based luxury jeweller De Beers, the number of shoppers who visited on Wednesday was smaller compared to the those before the city went on lockdown, according to Lulu Han, manager at the firm's store inside Iapm Mall in Xuhui district.
Han expected the number of shoppers visiting to "recover in a short time", as the store keeps good sanitation practices and young couples resume marriage plans after the lockdown. "We are excited to see customers return to store and most have expressed interest in our one-carat diamond rings," she said.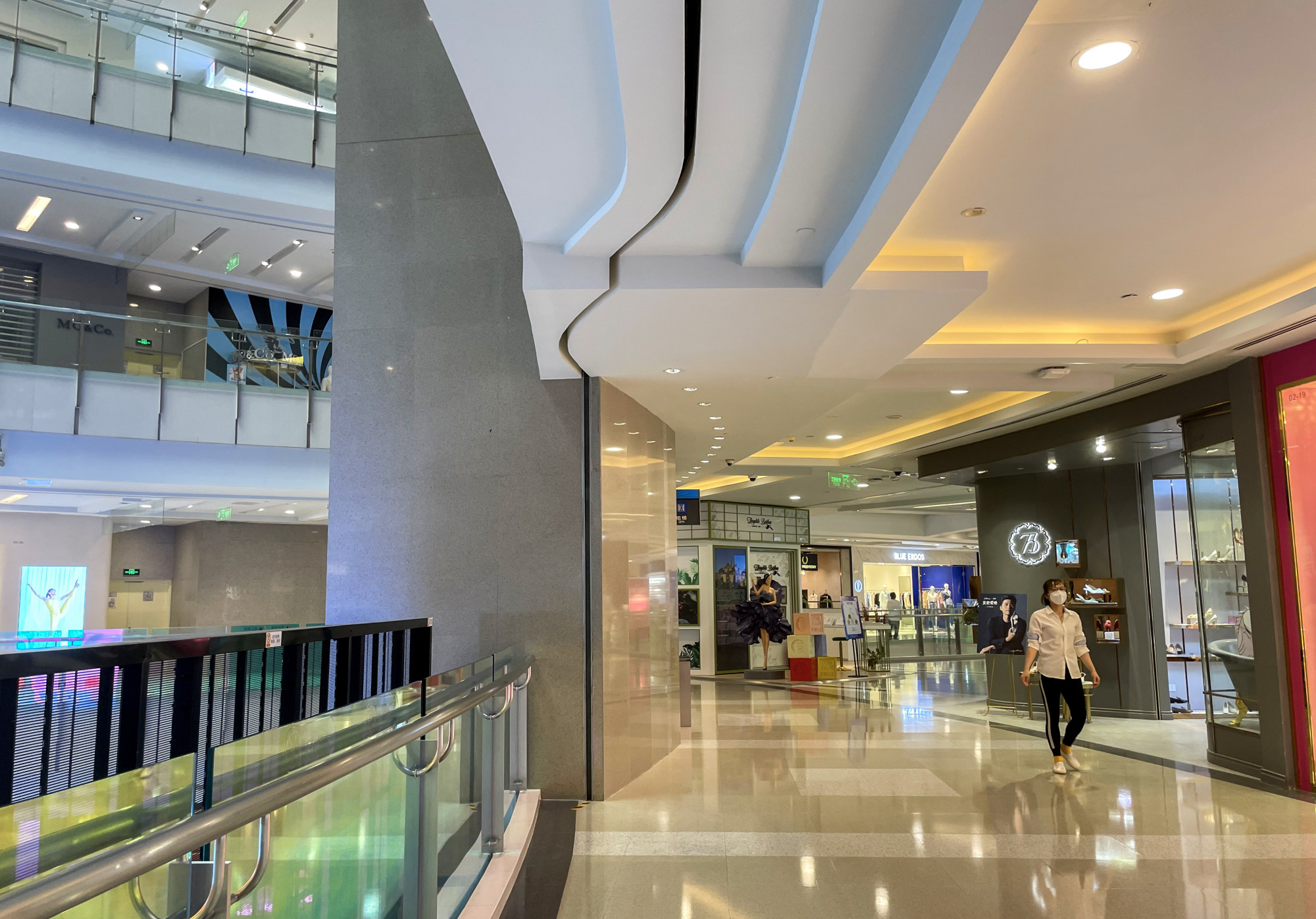 While the sight of long queues at various shopping centres reflect a welcome return to business as usual in Shanghai, there is still a feeling of trepidation because some
Covid-19 control measures
continue to be observed.
There were very few consumers seen inside the reopened Raffles City, a mall located at People's Square in Huangpu district, as its management requires every person to scan their health code at each store they visit. The health code records the visit and helps track down close contacts in case of a positive Covid-19 case.
Wang Yuanyuan, a 29-year-old saleswoman at a perfume shop inside Raffles City, said she suddenly received a notice to resume work on Tuesday night.
"I think exhaustion is psychological. I was resting all the time in the past two months and all of a sudden, I have to stand here for 10 hours," Wang said. "I literally did nothing during the lockdown. At first I still binge-watched TV dramas, but as time went by, I almost lost interest in everything."
Wang, who grew up in eastern Anhui province, said there were no consumers who stopped by the shop this morning. "I think it's impossible for the city to go back to normal immediately on June 1, but it will happen gradually," she said.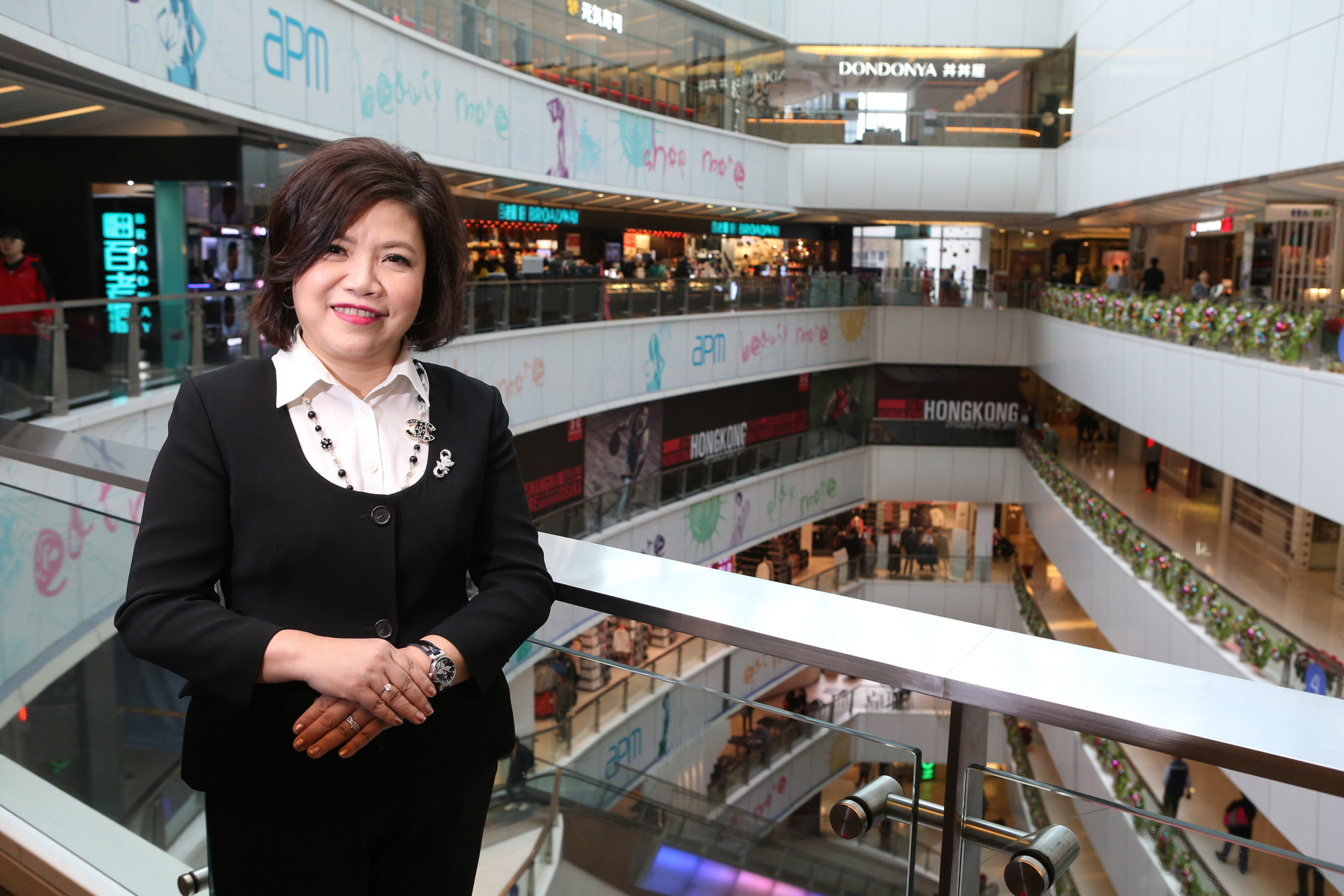 To ensure a safe shopping environment for returning customers, SHKP employees "are carrying out regular epidemic prevention and sterilisation inside and outside the malls comprehensively every day", said Sun Hung Kai Real Estate Agency's Fung.
She said all entrances, exits and car parks at SHKP's shopping centres have installed more than 40 all-in-one health verification units called "digital sentinels".
For Kerry Properties, its three reopened shopping malls – Jing An Kerry Centre, Kerry Parkside and Kerry Everbright City – have met requirements for staff health management and venue conditions, according to the company. In addition to enhanced disinfection, cleaning and ventilation, these properties have also set up entry control points for scanning of visitors' health codes.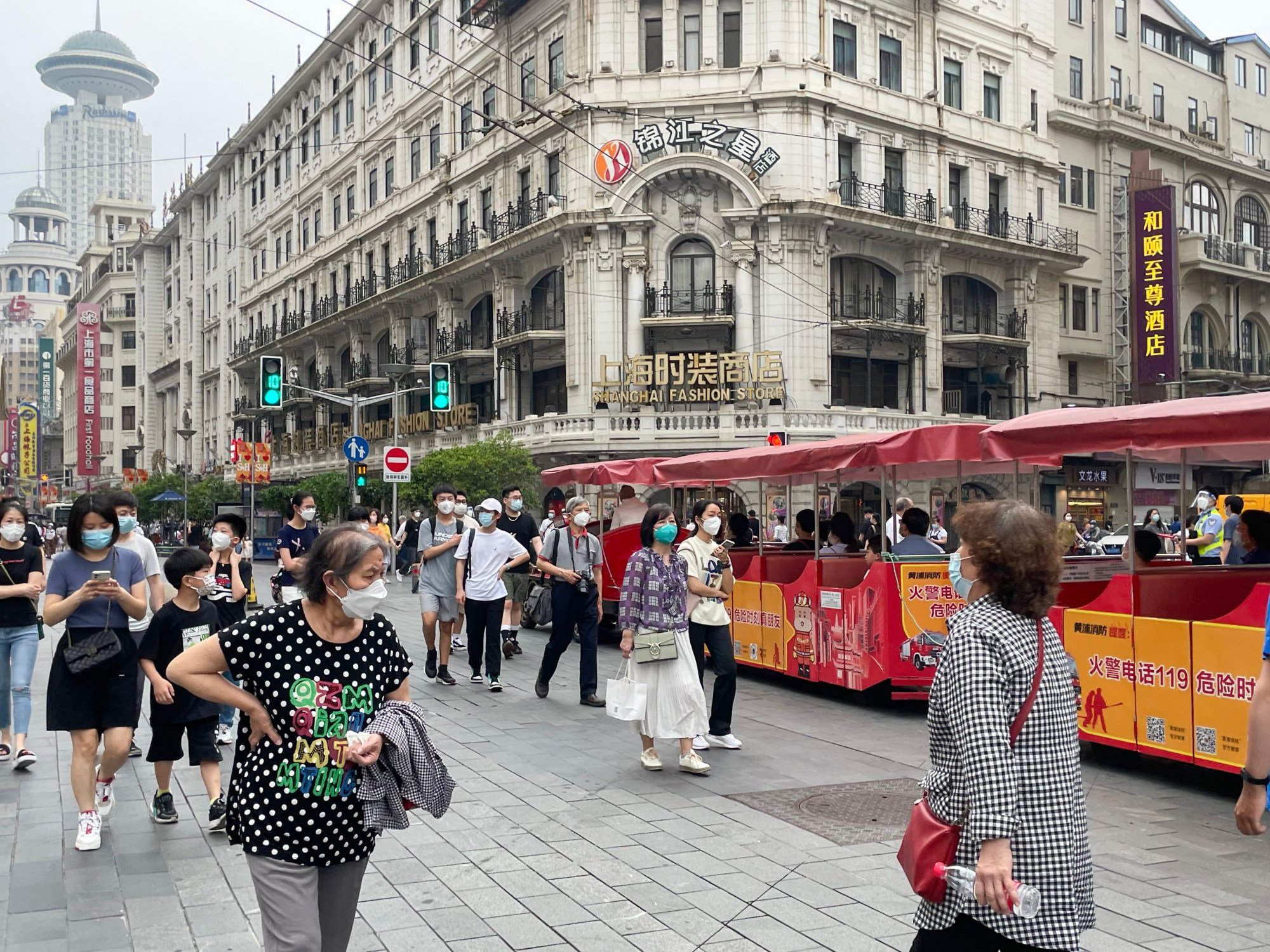 Ji Jinxiang, a 80-year-old Shanghai citizen, walked an hour with his wife to visit Jing An Kerry Centre after their neighbourhood lifted all movement restrictions on Wednesday morning. "It's a big relief for us to walk on the street again, and see the car flow on the road return to normal," he said.
Trendy Jing'an district, which is known for its namesake temple, also saw the return of travellers from nearby suburbs.
"We are the bold ones," said 32-year-old Frank Wang, a resident of Jiading district, who drove 30 minutes with his family to visit the shopping centres near Jing' an Temple. But he admitted that his mother was still worried about hygiene, such as good ventilation inside malls, and food safety in terms of whether older food stock is used by restaurants.
"I think most people are still cautious about coming out in the first week [after the citywide lockdown]," Wang said.