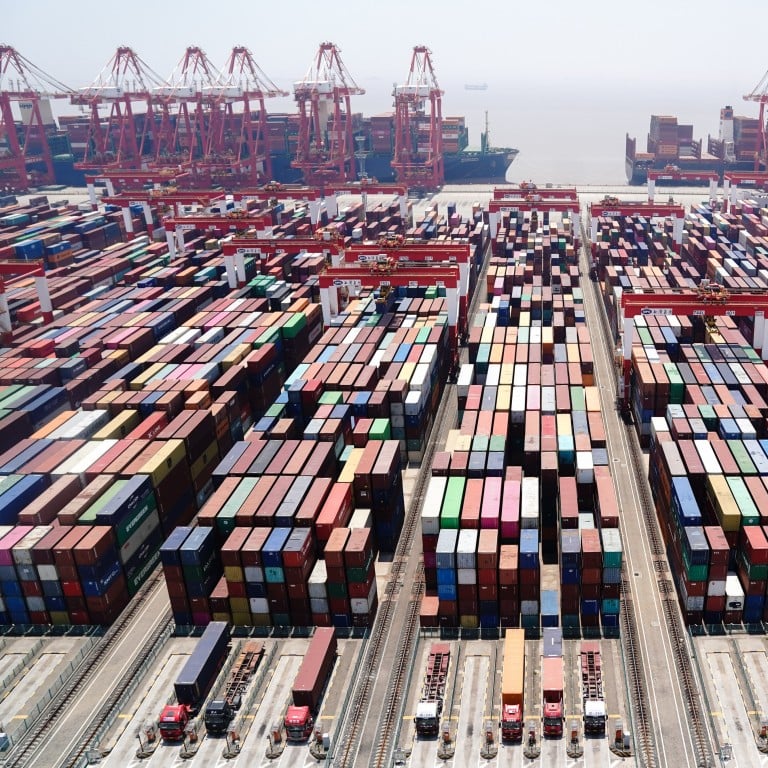 Shanghai reopening: world's biggest port reaps benefits of higher freight rates as exporters get back on their feet after lockdown
Most major shipping lines have made plans to return to Shanghai's ports, looking to secure orders from exporters getting back on their feet after lockdown
Shipping industry officials say it was not until this week that a large volume of imported and exported goods finally flooded the terminals
Though the world's largest container port is not yet back to its pre-lockdown handling capacity, most major shipping lines have made plans to return to the
dozens of harbours
along Shanghai's 200-kilometre coast, looking to secure more orders from exporters getting back on their feet.
Ocean freight rates have increased in the last few days, according to a weekly index compiled by the Shanghai Shipping Exchange. On June 2, the index hit 4,208.01, 0.8 per cent higher than a week earlier.
"There has been fanfare surrounding
port operations in Shanghai
because container cargoes and carriers are returning to the city in droves," said Xiong Hao, an assistant general manager at Shanghai Jump International Shipping. "Exporters are eager to send their shipments overseas, even with the higher freight costs."
Many global shipping carriers had turned to Ningbo port in Zhejiang, which is a three-hour drive from Shanghai, in recent weeks to avoid the gridlock at Shanghai's harbours.
Shanghai formally lifted its lockdown on June 1, allowing all manufacturers to resume production and try to make up the ground they lost to the Covid-19 pandemic.
"More importantly, the city will [be able to] defend its role as a global shipping hub," said Lu Ming, an agent at the Shanghai Ocean Shipping Agency. "Many carriers and cargo owners turned to Ningbo in the past two months, and it is time to call them back."
The municipal government said in late May that Shanghai's ports were back up and running at 90 per cent capacity. But shipping industry officials said it was
not until this week
that a large volume of imported and exported goods finally flooded the terminals. The surge is likely to have boosted ocean freight rates.
Yangshan and Waigaoqiao, the two major container ports in Shanghai, switched to a so-called closed loop system on March 28 when the mainland's financial and manufacturing hub
embarked on a two-phase lockdown
. It meant workers largely slept on site to avoid contact with the public.
The ports lost nearly half their handling capacity in April because of a lack of lorries and manpower.
According to VesselsValue, a shipping data provider, the average waiting time for a container vessel is now 31 hours at the Shanghai Port, down from a peak of 69 hours in late April.
"This is what a global shipping centre needs to be like," said Bob Li, owner of a Shanghai-based leather goods manufacturer. "Shanghai is the gateway city and plays the role of transport hub. We are expecting higher freight rates as more cargo needs to be shipped abroad."
The container throughput volume at Shanghai Port was 3.4096 million twenty-foot equivalent units (TEUs) in May, down 10 per cent from a year ago.
But there are clear signs that things are picking up: the average daily throughput was 7 per cent higher than April, according to data from the Ministry of Transport.
"Shanghai Port has waded through troubled waters during the lockdown," said Zhu Zhengrong, who owns a logistics company in the city. "Congestion and long waiting times for vessels and containers will be seen in the coming weeks, but industry officials are confident that the local ports will maintain their leading position worldwide."
Shanghai has been the world's largest container port in terms of handling volume since 2010.
Its total throughput hit 47 million TEUs last year.